S u m m a r y

Title and Author
British Military Aviation
1960s in Colour No.1 - Meteor/Valiant/Beverley
by Martin Derry
ISBN:

1-905414-09-3

Media:
Soft, glossy, laminated colour covers; 21.5cm x 28cm portrait format, 48 good quality satin-finish pages.
Price:
GBP£9.95 plus postage and packing available online from Dalrymple & Verdun Publishing
Review Type:
First Read
Advantages:
Around 75 good quality colour photographs, the majority having rarely or never been published before. Range of subject matter.
Disadvantages:
Recommendation:
Highly Recommended
Reviewed by Steve Naylor


HyperScale is proudly supported by Squadron.com
Inevitably for many, the 1960's may seem like a very long time ago now.
For those of us of a certain age however (myself included), those decades feel like they were only yesterday.
Viewed from this distance, of course, and enhanced by greater personal knowledge and experience, those years were the highwater mark in aviation history. Then, the skies were filled with myriad aircraft types, the many independent manufacturers still plied their trade and airshow crowds still marvelled at the latest futuristic prototypes. Luckily for us, some people also photographed what they saw, leaving behind them a rich legacy of images to show us what was, and what has now gone.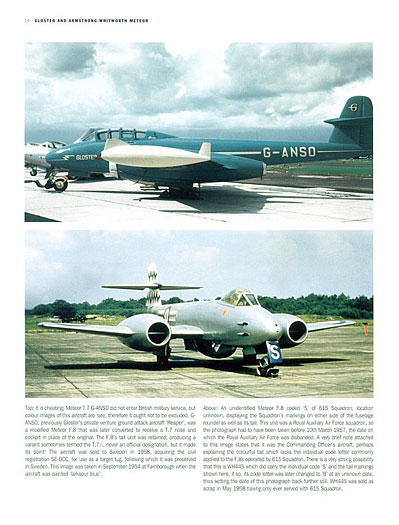 In Martin Derry's introduction to this first book in a new series from Dalrymple & Verdun, he sets out it's remit as providing, "...a flavour of the past for enthusiasts and inspirational images for the modeller". To that we might also include, 'an introduction to the past for the younger reader', for whom the 1960's are indeed 'ancient history'.
In this proposed series of six or more books, the aim is to provide modellers and enthusiasts with access to a collection of 35mm colour slides, of mainly British military aviation subjects, held by the Newark Air Museum in Nottinghamshire (UK). Most slides are from the 1960's, though a few have been included from the 1950's, and the majority have either rarely or never been published before.
Each book in the series follows a general theme of including at least three aircraft, broadly classified as fighter, bomber and transport/training. The mix of types in each book, allows the more well known aircraft (e.g. the Meteor and Valiant) to support a third (the Beverley) which would probably not justify its own publication. In addition, the publishers have also aimed to provide a mix of aircraft types, available at a sub-£10.00 (GBP) price point, so as to appeal to the novice and/or younger reader.
Getting to grips with the book itself then; firstly, there are actually four chapters in this book, though more about chapter four anon. The three main chapters cover (in order); the Gloster and Armstrong Whitworth Meteor, the Vickers Valiant and the Blackburn Beverley. Each chapter begins with a couple of pages by way of an introduction, including basic aircraft specifications, serial numbers allocated and details of military service, though it should be noted that this is not intended as an in-depth expose' on the type. The remainder of each chapter is devoted to the excellent colour photographs, each of which is briefly captioned with whatever information is known about the aircraft and location. In some cases, full information about the individual aircraft or location, etc. is not known, thus the author and publishers invite the reader to contact them with such information, for a possible future addendum. Full of fascinating images, one of the highlights of the first three chapters is Gloster Aircraft's own (civilian) Meteor T.7 registered 'G-ANSO', resplendent in 'Larkspur Blue' (see image of sample page).
Chapter four, which might be thought of as a 'bonus chapter', is entitled, 'Foreign Visitors to Britain'. One phenomenon which is true of both amateur and professional photographers alike, is that you go to an event to photograph one thing and end up taking photos of any other 'oddball' subjects that take your fancy. Inevitably, there will be images of aircraft that do not fit into any particular category, so what do you do with them? In this case, the publishers have elected to include such aircraft in a supplementary chapter at the end, allowing us to see images which might otherwise have remained unused. Subjects include; Danish and French Air Force's C-47's, RCAF Sabres and a Swedish SAAB J29 Tunnan, with the highlights being the three shots of a USAF Boeing Superfortress KB-50J tanker conversion from the 420th Air Refuelling Squadron and a Sikorsky HRS-3 rescue helicopter, stowed on the deck of an unidentified US warship, painted overall in Insignia Red rather than International Orange.
Containing around 75 colour photographs, all of very good quality, this modest book certainly does meet the publishers remit as outlined at the beginning. Speaking to the author at this year's Scalemodel World at Telford, I understand that there are photos (colour slides) available for at least six titles, possibly extending to eight, if the format proves popular. For my own part, larger pictures would, perhaps, have been preferable, but would almost certainly not have been possible at this price.
All in all, an excellent little publication, an ideal 'stocking-filler', which should suit most modeller's pockets. With such clear images, as opposed to the 'box brownie' photographs that most people at the time could have afforded to have taken, I think we can all look forward to the remainder of this series.
Highly Recommended.
Thanks to Dalrymple & Verdun Publishing for the sample
---
Copies should be available to order from most good book stores, but may also be ordered direct from:
Dalrymple & Verdun Publishing
33 Adelaide Street
Stamford
Lincolnshire
England
PE9 2EN
(UK)
mail@dvpublishing.co.uk

www.dvpublishing.co.uk
---
Review Copyright © 2007 by Steve Naylor
This Page Created on 06 December, 2007
Last updated 24 December, 2007
Back to HyperScale Main Page