Hind in Detail
by Frantisek Koran, Jaroslav Spacek, et al
Wings and Wheels Publishing
S u m m a r y

Title and Author
Hind in Detail
by Frantisek Koran, Jaroslav Spacek, et al
Wings and Wheels Publishing
ISBN:
80-86416-13-5
Media:
Landscape format soft cover
Price:
USD$49.95
Review Type:
First Read
Advantages:
Welcome and detailed walkaround of interesting aircraft; large photo reproduction; no page format limitations; includes photos in a maintenance setting.
Disadvantages:
Recommendation:
Highly Recommended
Reviewed by Saúl García


HyperScale is proudly supported by Squadron.com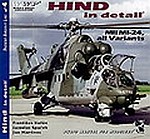 Wings & Wheels Publications made a name for itself many years ago by releasing incredibly detailed walk around photo series. Over the years, the books have grown in size but are not to a set limit of pages. This is a major selling feature as other walk around photo books, such as Squadron Publications, have set limits.
This Wings & Wheels publication, from their Blue Present Aircraft line, is the perfect companion to anyone building Mi-24 Hind kits. Inside the softcover, we find 168 pages full of in focus photos. Seven hundred seventy eight (yes, 778) color photos and thirteen B&W photos cover every detail of the helicopter in all its guises. There are also two three-view color profiles, 24 detail sketches, and sixteen side views.

The book measures 9 by 9.5 inches in a landscape format with heavy card stock covers. The heavy pages have a semi matte finish which reproduces details well.

The first nine pages of the book begins with a simplified history of the helicopter and proceeds to introduce each of the versions it will cover. Then the book goes into a walk around of each version:
Mi-24A Hind B and Hind A pp. 10-17

Mi-24DU Hind D Trainer pp. 18-23

Mi-24D Hind D pp. 24-33

Mi-24V Hind E pp. 34-47

Mi-24P Hind F pp. 48-57

Mi-24D & V in hangar workshop pp. 58-147

Mi-24RKhR Hind G1 pp. 156-159

Mi-24K Hind G2 p. 160

Mi-24VP p. 161

Mi-24M pp. 162-165

Mi-24 Mission 24 (Israeli Modification) pp. 166-168
Pages 148 through 153 cover photos and color profiles of various users of the Mil product. The hangar workshop photos go into great detail of the various systems of the helicopter including in depth looks at the weapons and how they are mounted.

The various photos in the hangar are also inspirational for those daring enough to pull off a maintenance setting and some good information is gleaned from the text. While it is not perfect English, the gist of the information is there.

This book represents and excellent value for hard to find large format photos of the Hind and is a great companion to 4 Plus Publications book on the same helicopter. The latter book provides very good drawings which illustrate the twist of the helicopter's fuselage which is not prevalent in most scale plans.

More images can be found on Wings & Wheels web site.
http://www.wwpbooks.com/index.php?lang=en&page=showbook&book=42
Highly Recommended
Thanks to Wings and Wheels Publishing for the review copy.
---
This book is available from the North American exclusive distributor; 4+ Publications North America.
Author Frantisek Koran, Jaroslav Spacek, et al.
Editor Frantisek Koran
Artwork Dusan Simek
Drawings N/A
Format Landscape format softcover.
Pub. year 2005
ISBN 80-86416-13-5
Price 49.95 USD
Availability In print
---
Review Copyright © 2007 by Saúl García
This Page Created on 20 April, 2007
Last updated 24 December, 2007
Back to HyperScale Main Page