S u m m a r y

Publisher and Catalogue Details:
Osprey Aircraft of the Aces #77 Albatros Aces of WWI Part 2
ISBN:

9781846031793

Media and Contents:
Soft cover, 96 pages
Price:
GBP£12.99 online from Osprey Publishing

Review Type:
FirstRead
Advantages:

Coverage of lesser known Aces, easy to read text, respected author, plenty of first-hand accounts, superb artwork.

Disadvantages:
Recommendation:
Highly Recommended

Reviewed by Rob Baumgartner

Osprey's Albatros Aces of World War 1 Pt.2 is available online from Sq
uadron.com
There were many examples built of this famous fighter and it also fought on many Fronts. A large number of Aces applied their trade in this family of aircraft, all of which provides plenty of scope for another book.

When the first "Albatros Aces…" title was published in 2000, there was no indication that it would be anything other than a one off edition.

Norman Franks authored that first volume and now as a follow-up, Greg VanWyngarden has written a second book to expand on that contribution.

So as not to repeat the previously mentioned work, the author concentrates on some of the lesser known aces. As a result, legendary men such as Manfred von Richthofen are given limited space. This is appropriate as their stories can be found in the earlier work.

The 96 page format is preserved which contains over one hundred black and white photographs. Although many will have been seen before, there are still plenty of images that will be new to most readers.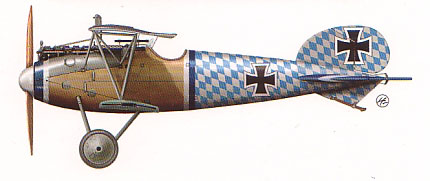 Harry Dempsey does a great job with the artwork and supplies 32 colour profiles. Each is carefully chosen so as not to duplicate any of the schemes found in the previously mentioned work. Also included are six extra plan views to allow the reader to see additional details where necessary.
The text is in the writer's usual relaxed style which makes it a pleasure to read. Much of the passage comes from the participants themselves and makes enlightening reading.
The captions to the images compliment the book very well and contribute to, rather than repeat the text.

So that readers get a better appreciation of the different variants flown by these Aces, bookworms are given a series of general arrangement drawings. Done in 1:72 scale, they cover the Albatros fighter from the D.I to the D.Va, with various "early" and "late" details shown where applicable.
Considering the sheer number of airmen that became Aces in the Albatros fighter, their story was never going to be covered in a single volume.

Greg VanWyngarden has seen to it that some of the lesser known pilots get a chance to have their tales told. With the usual collection of entertaining first-hand accounts, excellent artwork and scholarly text, this title is a must for those that indulged themselves in the first volume.

Highly Recommended.