Focke-Wulf Fw 190 A-8/R2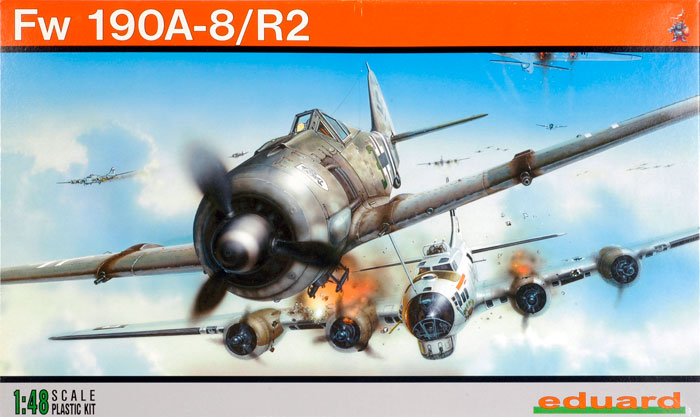 Eduard, 1/48 scale
S u m m a r y

Catalogue Number:
Eduard Kit No. 8175 - Focke-Wulf Fw 190 A-8/R2
Scale:
1/48
Contents and Media:
Around 170 parts in olive coloured plastic; 8 parts in clear; colour photo-etched fret; masking sheet; markings for six aircraft; instructions and eight page historical booklet.
Price:
USD$39.95 plus shipping, available online from Eduard
Review Type:
FirstLook
Advantages:
Beautifully detailed including engine and gun bays; superbly restrained surface featuring crisp panel lines and very fine lines of recessed rivets where appropriate; engineered without plugs/inserts; wing cannon access hatch not split along wing root join; plenty of ordnance options including drop tank, bomb, W.Gr.21 mortars (rockets); includes colour photo-etched parts for harness and instrument panel; clever design of clear parts with separate sliding sections for open and closed canopies; attractive marking options; very high quality plastic; narrow sprue attachments; excellent instructions and packaging; plenty of spare parts!
Disadvantages:
Modelling experience, patience and some extra time test fitting and aligning parts is required
Recommendation:
Highly Recommended to experienced modellers and Luftwaffe afficiandos

Reviewed by Brett Green

Eduard's 1/48 scale Focke-Wulf Fw 190 A-8/R2 will be available online from
Squadron.com

By 1943, American B-17 bombers had effectively penetrated the Third Reich's air defences.
Even without a fighter escort, a single "Flying Fortress" could direct fire from 12 x .50 calibre heavy machine guns at an attacking aircraft. A new method was therefore devised that would offer a better chance of survival and success for Luftwaffe fighters. By attacking in a group from the rear at close quarters, a formation of fighters could dilute the defensive capabilities of a "vierbomber" by spreading fire across several aircraft. Furthermore, greater firepower would be brought to bear on the vulnerable wings and engines of the B-17 by this group of attacking fighters.
There seems little argument about the logic of this tactic proposed by Hauptman von Kornatzi. However, he also proposed that fighters should ram the bombers when they ran out of ammunition. This was not rhetoric - the pilots of the new unit were volunteers who understood the requirement and had to sign a pledge to fulfill it.
The Focke-Wulf Fw 190A-8/R2 and R8 variants were designed as the ultimate heavily armed and armoured anti-bomber aircraft to execute this dangerous but vital duty. The heavy cowl ring and air-cooled engine already suited the Fw 190 to the task. Typical additional equipment included 30mm cannon fitted to the wings; with supplementary steel plates on the fuselage and thick armoured glass secured to the canopy. Some R2s had their cowl machine guns removed and the troughs faired over, while others were fitted with air-to-air rockets.
There were a number of variations in armour and armament to this basic configuration. Also, many Fw 190A-8/R2s and Fw 190A-7/R2s were fitted with similar equipment. Eduard's new model will be suitable for these variants with minimal modifications, so check your references carefully!
Eduard released their Royal Class offering of the heavily armed and armoured Focke-Wulf Fw 190 A-8/R2 Sturmbock in March 2007. This remarkable package contained two complete kits plus seven photo-etched frets, canopy and wheel masks, markings for nine aircraft, a genuine fragment from a Focke-Wulf Fw 190 A-8/R2 (markings for this specific aircraft are included on the decal sheet), a replica Iron Cross with Oak Leaves and ribbon, plus an eight page, all colour booklet entitled "Bloody Encounter Over a Forgotten Mountain".
This was a limited edition with a price tag of $160, which was not unreasonable considering the unique contents but will have put this popular Wurger out of the reach of many modellers' budgets.
Well, those modellers can now rejoice, as the Sturmbock is now available as part of Eduard's standard lineup at the very reasonable price of $39.99.
The plastic parts are exactly the same as those supplied in the Royal Class offering, but only one complete aircraft may be built. However, two sets of fuselage halves are supplied, one with the extra armour plates moulded in place.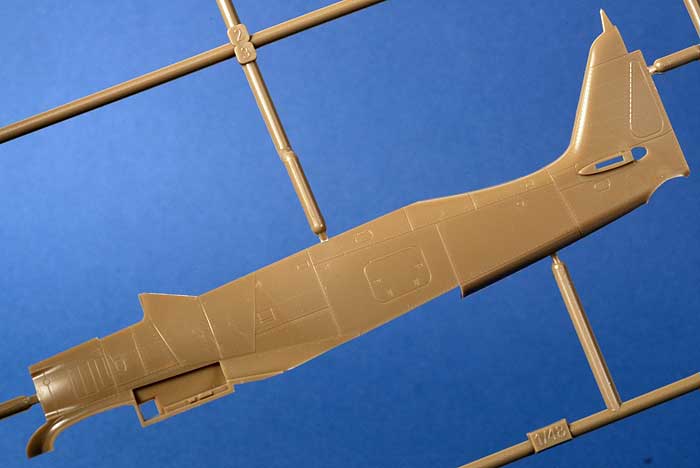 The bottom wing with the shell ejectors for the big 30mm cannon is included.
Eduard's 1/48 scale Focke-Wulf Fw 190 A-8/R2 kit comprises around 170 parts in olive coloured plastic; 8 parts in clear; colour photo-etched fret; masking sheet; markings for six aircraft; instructions and eight page historical booklet.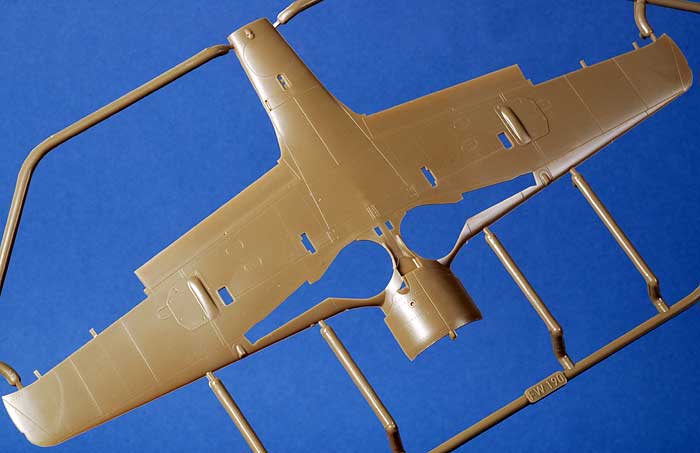 Click the thumbnails below to view larger images:
[../../../photogallery/photo00010555/real.htm]
---
Apart from the new parts specific to the R2 Sturmbock variant, the plastic parts are the same as the earlier excellent A-8. Check the earlier reviews for specifics, but in summary these kits feature superb surface texture, a very high level of detail, particularly in the cockpit with colour photo-etched parts, worthwhile options including centreline bomb or drop tank, W.Gr.21 rockets and different styles of canopies.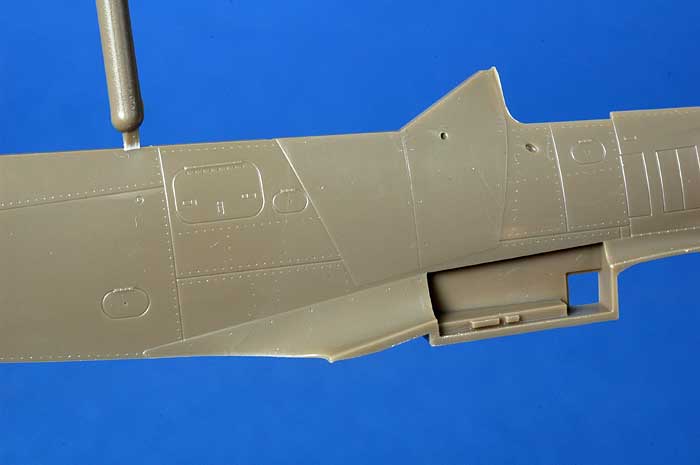 Click the thumbnails below to view larger images:
[../../../photogallery/photo00006999/real.htm]
---
Clear parts emphasize Eduard's innovation. Two styles of canopy are included - flat and blown - and two of each are attached to the clear sprue. On the real Würger, the canopy was somewhat flexible. This flexibility was further enhanced with a short hinge on the top. This was necessary because the canopy rails tapered inwards back along the fuselage, requiring the front bottom corners of the canopy to pinch inward when opening (ie, the width was narrower when the canopy was open). This attribute has been conveniently ignored by all Fw 190 models to date - an open canopy would simply overhang the sides of the canopy deck. Eduard, however, has supplied a closed (wide) and open (narrow) version for each canopy style. Clever stuff.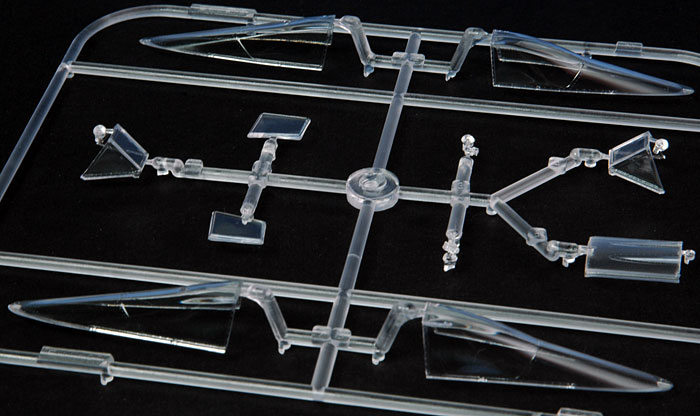 The colour photo-etched fret adds useful detail. In fact, it is impossible to imagine anyone being able to match the realism of these crisply printed parts with paint. This fret provides the harness, instrument panel and side consoles in full colour, plus supplementary metal detail parts for the cockpit and aircraft exterior. The instrument panel should look fantastic when assembled, incorporating all the tiny details of the dials and the characteristic coloured surrounds of the engine gauges.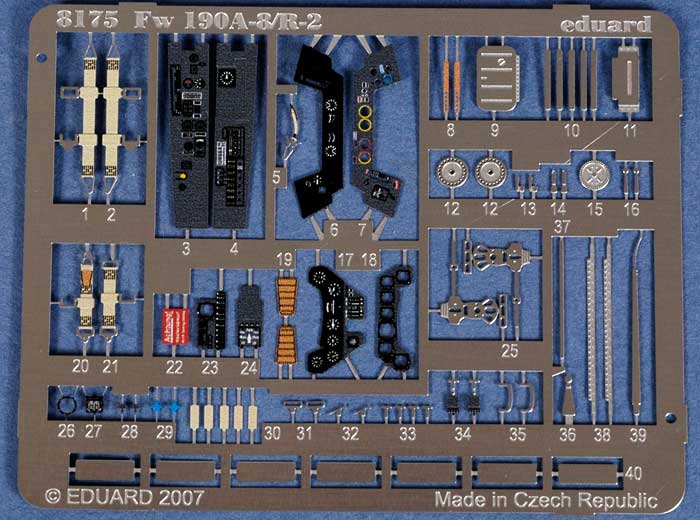 Another nice touch is the inclusion of canopy and wheel masks in Eduard's thin flexible yellow masking material.
Instructions are supplied in a 20 page A-4 size colour booklet, with a detailed history on the front page followed by a parts list and ten pages of construction steps and eight pages of full-colour marking guides, each with a four-view illustration.
Markings are provided for six interesting Sturmbocks. These are:
Hans-Günther von Kornatzki, Stab/II.(Sturm)/JG4, September 11th, 1944

Werner Gerth, II.(Sturm)/JG 3 "Udet", July, 1944

Karl Spenst, 8./JG 300, December, 1944.

Ewald Preiß, 6./JG 300, October, 1944

Walter Wagner, 5./JG 4, January 1st, 1945

Ex-white 11 of 5/JG4, Leo C.Moon, 404th FG, 9th USAF, February/March, 1945
Decals look to be very thin and of high quality.

Click the thumbnails below to view larger images:
[../../../photogallery/photo00001401/real.htm]
---
Eduard has also supplied an eight page booklet describing the battle above the Ore Mountains on 11 September, 1944. The booklet is in full colour, and its glossy pages contain maps, historical photos, description of tactics and the events of the day, plus eight nicely executed colour profiles of two P-51Ds, a Fw 190 A-8/R2, three Flying Fortresses and a Messerschmitt Bf 109 G-6.
In common with the Royal Class offering, you may also easily backdate this kit to a Fw 190 A-7/R2 by taking the following steps:
Use the short centreline rack (Part K23)

Use cowling parts H10, H14 and H26 (these depict the earlier "two up, one down" top fastener arrangement)

Fill the oval hatch under the fuselage (actually on the trailing edge of the bottom wing, Part E1)

Fill one more hatch each on the port and starboard fuselage side

Relocate the fuel filler hatch

Relocate the pitot inboard to mid-wing
Check your references for exact locations of hatches and pitot.
If you missed out on the limited edition Royal Class Fw 190 A-8/R2 offering, or you decided that the price was too high, now you have the chance to own the popular Sturmbock variant.
In common with the other Wurgers in Eduard's 1/48 scale Focke-Wulf Fw 190 A series, this kit is cleverly engineered and beautifully detailed, inside and out.
Keep in mind, though, that Eduard's 1/48 scale Fw 190 kits are not "shake and bake". Modelling skills are required. You will be advised to allocate plenty of time to test fit and make sure that all the parts are aligned correctly before committing to glue. If you have already assembled a few kits, however, you should not have any trouble finishing this wonderful Würger, as we have seen in several HyperScale Galleries over the last few months.
Highly Recommended.
Thanks to Eduard for the sample
---
Review Text Copyright © 2007 by Brett Green
Page Created 17 October, 2007
Last updated 24 December, 2007
Back to HyperScale Main Page
Back to Reviews Page