Vac-U-Box
Vacuum Forming Device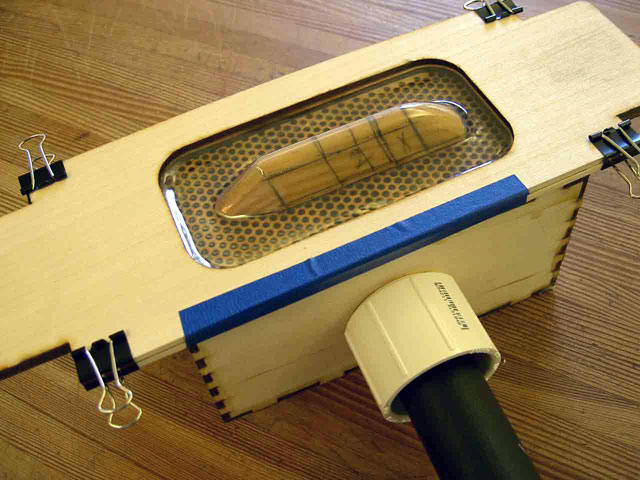 Nautilus Models
S u m m a r y

Catalogue Number:
Vac-U-Box
Contents and Media:
Wooden vacforming device
Price:
USD$27.50 available online from Nautilus Models
Review Type:
First Look
Advantages:
Inexpensive; very useful; will form up to 2 ½ x 6 ½ inches
Disadvantages:
Needs separate heat source
Recommendation:
Recommended

Reviewed by Frank Mitchell

As many know, I am on a perpetual crusade to get modelers to expand their horizons and prove to themselves that they can do major conversions and scratchbuilts. Thus, I am breaking my normal rule of no endorsements to mention this cool little tool called a Vac-u-Box. It costs $27.50, and can use any vacuum cleaner that has a hose.
The machine is made of wood, and incorporates high-tech ¾" paper clamps to hold the plastic. It comes assembled and painted (the photos are of the unpainted prototype). All that needs to be done is to find a means of heating the plastic. I have tried my wife's oven, a heat gun, and even the stove top (remembering that the box is wooden), and all work fine (after a bit of practice). Also, because of the relatively small size, the power of the vacuum is plenty to do anything that will fit within the practical working area of roughly 2 ½ x 6 ½ inch opening in the handles, meaning you will need to use a piece of styrene or clear vinyl of about 4 x 10 inches. I have tried a number of subjects, including a full canopy for a 32 nd Dauntless with no problems.
It will handle any thickness of styrene or vinyl, but anything over .030 really requires a lot of heat and probably is not practical for a wooden box.
It is available through Nautilus Models, which can be reached at: http://nautilusmodels.com/
Highly Recommended

The following hints and tips on how to use the Vac-U-Box have been reproduced from the tool's instructions:
Vacuum-forming is something that requires some experience to do properly every time, but it is quickly learned. You will rapidly learn how much "sag" you need for any given combination of material and subject. Further, if the object does not mold properly, the plastic can be simply be re-heated and used again.

The Vac-U-Box can use any thickness of material, but anything over .030 requires a considerably longer heating time and could therefore cause the wooden frame to warp.

Clear material (which is usually vinyl) needs less temperature than does styrene, therefore, it is ready to mold with less heating.

Heat sources can include an normal oven, a heat gun (but be careful to heat the sheet evenly), or even a stovetop, but be very careful of the fingers, be sure to wear gloves, and remember that the Vac-U-Box is wooden.

Virtually any vacuum cleaner that has a hose attachment can be used.

Procedure:
Tape the two parts of the holder together along one edge.

Cut desired plastic into sheets roughly 4 inches by 7 inches.

Using small (3/4 inch) office supply clamps, clamps the plastic into the holder, making sure that it overlaps the hole on all sides.

Fix the object to be molded in the center of the perforated base of the Vac-U-Box using something tacky or simply double-folded tape. (This maintains its center position and prevents it being moved during molding).

Heat the plastic until it begins to sag evenly in the holder.

Turn on vacuum cleaner.

Using gloves, quickly pick up the holder and place it over the Vac-U-Box. Try to place it as centrally as possible.

Turn off vacuum cleaner and remove holder.

Open clamps and remove the molded object.
The following photos illustrate the procedure.
Click the thumbnails below to view larger images:
[../../../photogallery/photo00020360/real.htm]
---
Review Text Copyright © 2007 by Frank Mitchell
Instructional Text and Images Copyright © 2007 by Vac-U-Box
Page Created 11 January, 2007
Last updated 24 December, 2007
Back to HyperScale Main Page