Revell and Academy 1/72 scale
P-47D Thunderbolts
by Raul Corral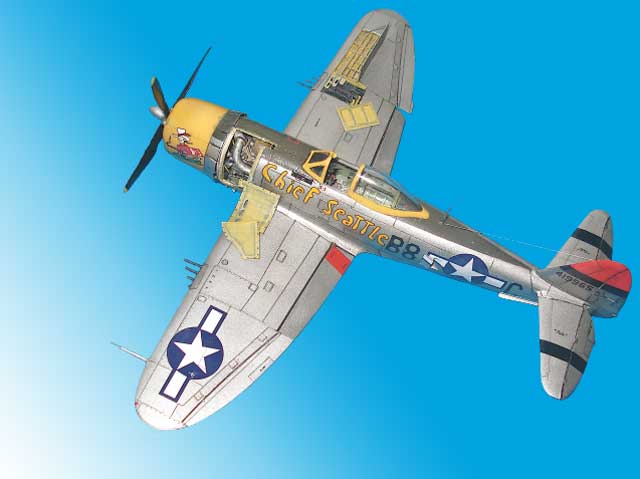 Republic P-47D Thunderbolt

Revell's 1/72 scale P-47D Thunderbolt is available online from Squadron
I was busy the last weeks with my last project: three P-47 Thunderbolts to use all the decals options included in the beautiful sheet from EagleCals reference 104: it was impossible for me to choose one of the options as all three were amazing. A pity to have left one of them in the "drawer".
The scale I chose was 1/72 so it was pretty easy to find three cheap and good "Jug's" for this project. I bought two Revell and one Academy Bubble Top's for a more than reasonable price (why are they so cheap being so great?) and I found an offer online for the Verlinden kit, for the Hasegawa Thunderbolt in 1/72. So with all the stuff in my hands I started building and painting these three colorful P-47's.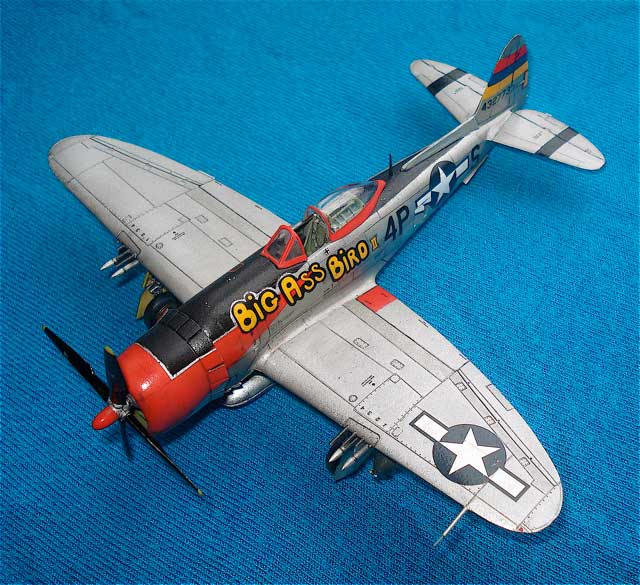 Very easy fit in all kits (with great level of details for such a small scale) and I used just some scratch parts here and there. For the P-47 "Chief Seattle" I used the Verlinden kit (brilliant), leaving some parts open, as you will see on the pictures. It was not really a pleasure to cut and glue such small pieces of plastic and resin, but in the 1/72 scale you do not need a level of perfection like in bigger scales (1/48 or 1/32...) so at the end all can be easily made up with painting and weathering;-)
One of the Jug's included in this decal sheet was the famous "Big Ass Bird II" Thunderbolt. As I have seen it thousand of times in internet photo-galleries and model magazines, I decided to go for something new. Following the EagleCals instructions sheet (with fantastic photos from the real aircrafts!) I found a comment about a late version of the "Big Ass Bird II" with red canopy frame and dorsal filet in natural metal finished. What a bird! I contacted the owner of the picture (Norris Graser) and he provided to me some photos of that Jug and also very useful additional information to build the model as close as possible to the original plane. And so I did. I tried to follow all the instructions given by Norris (I had to made by hand the dorsal filet) and at the end I finished the ONLY LATE VERSION "Big Ass Bird II" in 1/72 that you can find right now in internet or model magazines (I hope:-)... Why no one has paid attention before to this late "Big Ass Bird II" is something that I can not understand. It would look terrible in 1/48 or 1/32!! I hope to see the decals coming soon as I had to correct manually some details to make them like the original ones.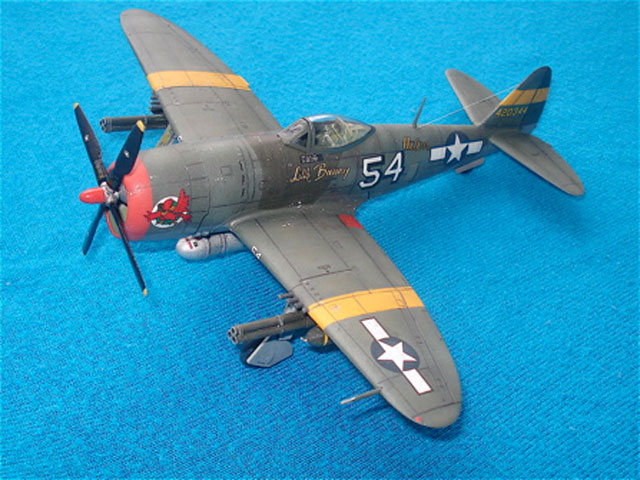 As usual all step by step articles (with lots! of pictures from the three kits) can be found in my homemade website www.webmodelismo.com (in Spanish but I included sooo many pictures in all three articles that you will be able to follow up all the steps by just watching the photos). About the paintings... I used Tamiya X-32 Titanium Silver, for the all natural metal finishes, and Humbrol Dark Green for the "Little Bunny" P-47. Also Olive Drab and Black from Tamiya for the anti-glare areas.
I started to "play" a little bit with Adobe Photoshop so I hope you like the pictures with the sky in the background (I am still learning how to change backgrounds and this stuff...)
I highly recommend the Jug's in 1/72 for big collections. Those kits of Academy or Revell are so cheap and good that you can build in one month a complete squadron! The scale 1/72 is also ideal for that and do not forget that this plane was the biggest single fighter used in the WWII so at the end it will look like a giant in comparison with other kits in the same scale (like Me 190's or Spitfire's...)
Two more Thunderbolt's are on the way right now. Also I have an appointment with the psychologist next week: I am addict to the P-47 Thunderbolt and I can not stop building them! Please help!
---
Model, Images and Text Copyright © 2008 by Raul Corral
Page Created 29 December, 2008
Last Updated 29 December, 2008
Back to HyperScale Main Page