Matchbox 1/72 scale
Consolidated Privateer
by Bernie Hengst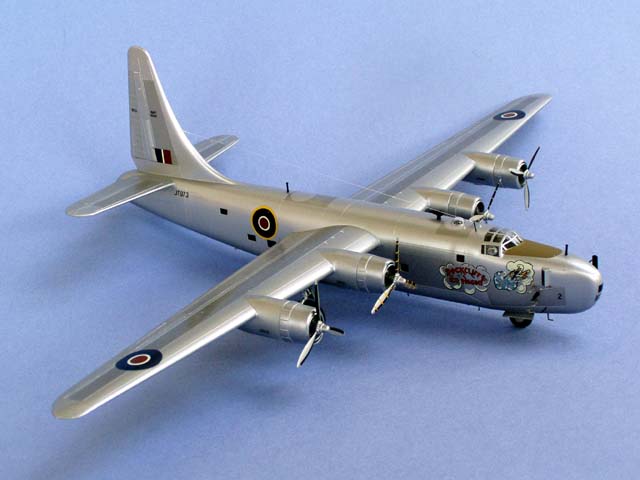 RY3 Liberator IX (Privateer)

HyperScale is proudly supported by Squadron
Data
RY3 Liberator IX (Privateer) JT973 "Rockcliffe Ice Wagon"
Engines 4 x 1350 hp. R-1830-94 Pratt & Whitney Twin Wasp;
Span: 33.5 m; Length: 22.7 m; Height: 8.9;
Max. Speed: 240mph at 4263 m; Range 4200 km
---
Canada was quick to get into the field of research into Aircraft Icing. As early as February 1935, research had been initiated on propeller icing in the laboratories of the National Research Council in Ottawa.
In 1944, at the request of the British Ministry of Aircraft Production, the NRC began planning for a project involving the study of icing over the Atlantic, which was to use a RY3 Liberator Mk.IX to be operated by 45. Group, RAF Transport Command from Dorval.
The first RY3 arrived in Dorval in March 1945 and before preparation and equipping could proceed very far, 45 Group was disbanded.
Following a conference on January 11. 1946, at which it was agreed that the NRC, with the co-operation of the RCAF, would continue the project. A RY3 Liberator Mk.IX would be supplied by Britain, the RCAF would maintain and fly the aircraft. The NRC was responsible for the scientific work in all forms of icing conditions and of developing countermeasures.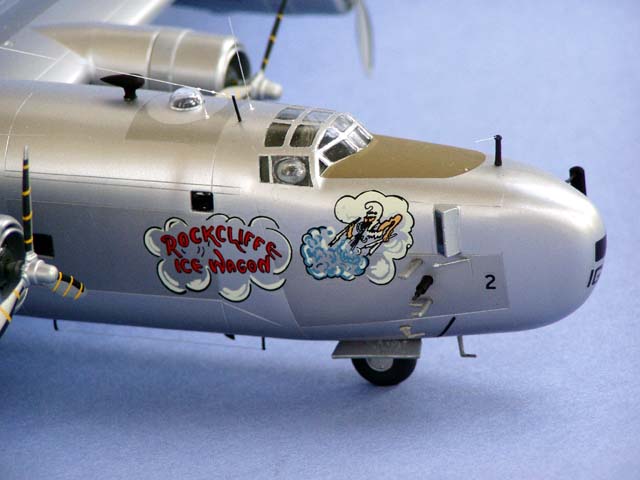 JT973 was quickly christened "The Rockcliffe Ice Wagon", and bore appropriate nose art and markings. It was soon fully equipped to undertake both applied and pure research. As far as the former was concerned, in addition to the continuing the development of electro- thermal propeller de-icing the main task was to extend this principle to the wing. While the intention was eventually to cover with this system the entire wing leading edge, on the Ice Wagon it was confined to the leading edge between the fuselage and inboard engine. A heating pad was installed covering the area of the wing were the de-icer boot would have been normally located. Unlike the propeller de-icer, were the electric current was constant, only a thin element along the leading edge was kept continually heated. This caused a thin film of water to form and break the adhesion. The current would be cycled through the other heating elements in the wing, consecutively, removing the ice. In the event, while this system was developed satisfactorily, it proved to be of a narrower application than had been hoped as modern jets use their performance capacity to avoid or fly above the weather. Still, the CF-100 all weather fighter among others used this system.
---
Kit
Matchbox Kit:

scribed panel lines
made the different spray arms and aerials
---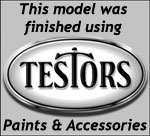 Paints:
Tamiya White Prime & Silver
Humbrol HD 1 Aircraft Grey-Green
Model Master

FS 30219 Dark Tan
FS 34087 Olive Drab – mixed both colours for the anti glare panel,


Alclad II Polished Aluminums, White Aluminums, Duralumin & Aluminums (A)
Pactra Hot Rod Primer
Floquil Crystal Cote and Matt
Decals from Kit
---
Reference
The Encyclopedia of US Military Aircraft by Martin W. Bowman,

Original Air Force Photos from Bob Keegan
---
Model, Images and Text Copyright © 2008 by Bernie Hengst
Page Created 1 September, 2008
Last Updated 1 September, 2008
Back to HyperScale Main Page