Accurate Miniatures' 1/48 scale
Grumman TBF-1 Avenger
by Martin Sokolowski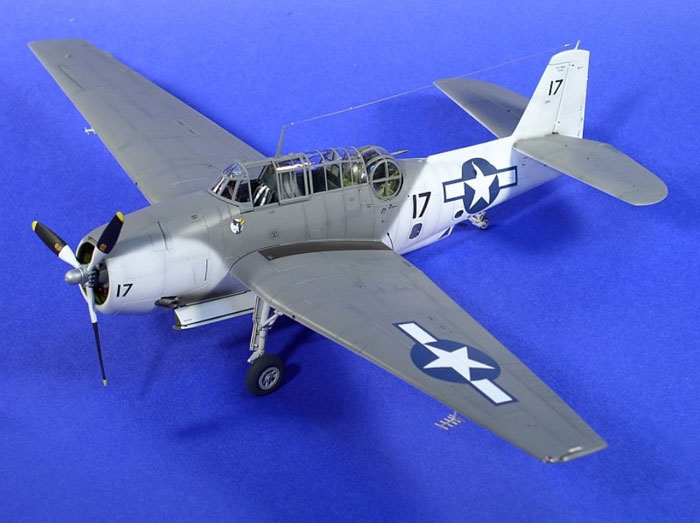 Grumman TBF-1 Avenger from the
USS Block Island, VC-55, 1944

In 1939, the Navy sent a request for a new Torpedo Bomber to replace the slow and short ranged TBD Devastator which was obsolete by 1939. Bids were accepted from several companies but Grumman's design was selected as the Devastator's replacement. First prototype was called the XTBF-1. Although one of the first two prototypes crashed near Brentwood, NY, production continued.
The first production TBF-1 was delivered to the Navy on 30 January 1942 and more were delivered in February to Naval Station in Norfolk, VA. where the first Avenger Squadron was formed.
The TBF was the heaviest single-engine plane of WWII, and it was the first design to feature a wing-folding mechanism intended to maximize storage space on an aircraft carrier. Wright R-2600-20 14-cylinder supercharged air-cooled two-row radial engine was used with produced 1,900 hp. (1,420 kW). There were three crew members, pilot, radioman/bombardier/ventral gunner and turret gunner. Pilot part of the cockpit was separate from the rest of the aircraft by the radio equipment witch filled the whole glass canopy to the rear of the pilot.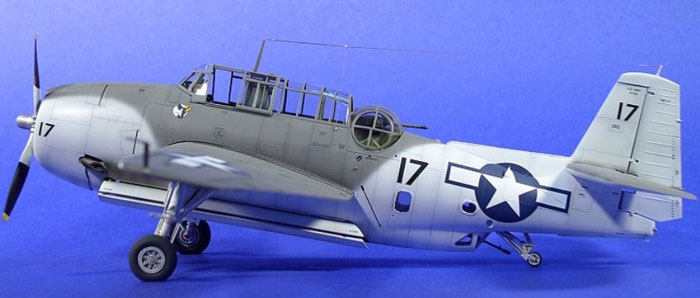 The Avenger had a large bomb bay carrying either Mark 13 torpedo, a single 2000 lb bomb, or four 500 lb bombs. Avenger was better than any other previous American torpedo plane because of its good radio, good handling, long range (fully-loaded range of 1,000 miles) and 30,000 foot (10,000 m) ceiling. Later Avenger models carried radar equipment for the ASW (Anti-Submarine Warfare) and AEW (Airborne Early Warning) roles. Because of the war effort, the production grew therefore; Grumman needed help to keep up with the demand for more Avengers, so Eastern Aircraft Division of General Motors was asked to pick up production its version was called TBM-3. Besides the traditional surface role (hunting surface ships), TBF/TBM Avengers claimed about thirty submarine kills, including the Japanese cargo submarine I-52. The Avenger was also used by the Royal Navy's Fleet Air Arm where it was known as the "Tarpon".
Avengers played a major role in the Allied victory during WWII.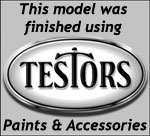 This is my Accurate Miniatures 1/48 TBF-1 Avenger built straight from the box.
Paints used are from Tamiya and Testor ModelMaster.
This model represents one of the twelve Avengers carried by USS Block Island flying anti-submarine duty in the North Atlantic in May 1944.
Sadly all were lost when the carrier was sunk on the 29 May 1944 by U-549.
---
Model, Images and Text Copyright © 2008 by Martin Sokolowski
Page Created 15 April, 2008
Last Updated 15 April, 2008
Back to HyperScale Main Page