Valom's 1/72 scale XFV-1 Salmon
Big Nose!
by Piotr Dmitruk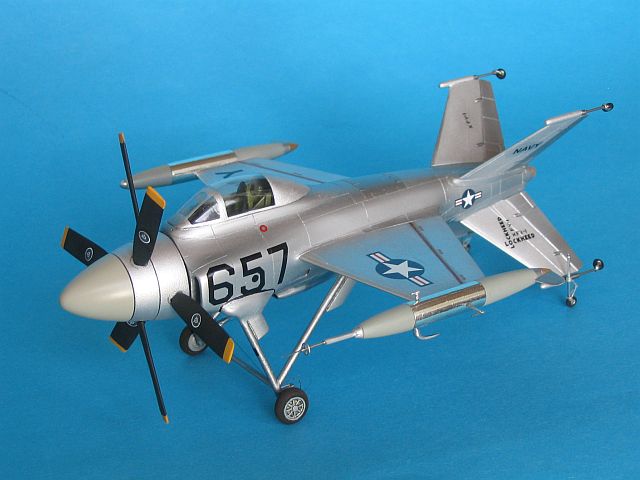 Lockheed XFV-1 "Salmon"

Valom's 1/72 scale XFV-1 Salmon is available online from Squadron.com
In 1950, the US Navy issued a specification for a VTOL convoy escort fighter.
Among 7 propositions two competitors were chosen- Convair XFY-1 "Pogo", and Lockheed XFV-1 "Salmon". Both had Allison T-40 turboprop engine, driving Curtiss- Wright Turboelectric contra- rotating propeller, but only one engine was able to run in vertical position, so only Convairs aircraft could perform vertical take- off and landing.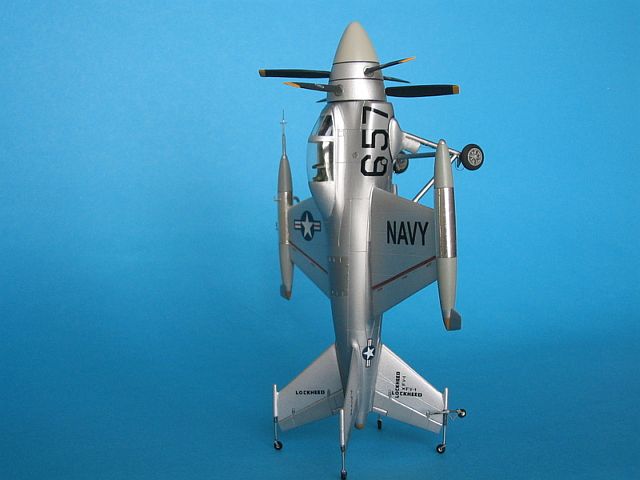 To test aircrafts performance and handling, Lockheed XFV-1 was equipped with provisional landing gear. Because the engine was still deficicent, and the aircraft caused much trouble, offering less performance then jet fighters, all project was cancelled.
The short-run 1/72 scale XFV-1 Salmon kit from Valom needs a few corrections.
The fuselage spine behind the cockpit canopy is too steep; there are no inner walls of the engine air intakes (this is easy to correct with thick self- adhesive aluminium foil); tip tanks need lots of filling and sanding; and the panel lines are wrong and uneven.
The kit's plastic surfaces are not perfect and need polishing.
Don't even think about making the propeller movable - the result will be like some kind of crankshaft.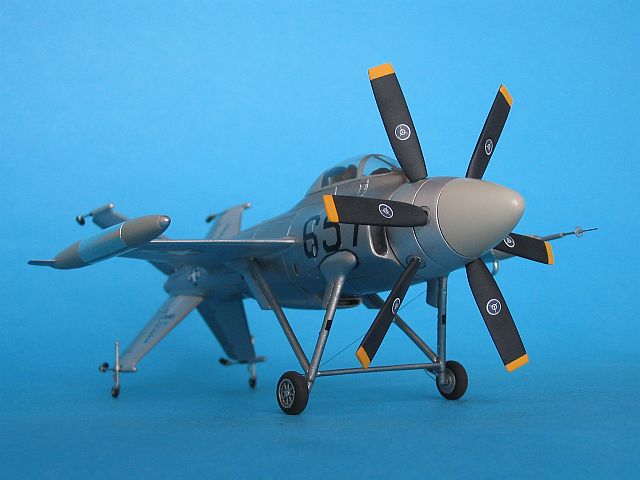 Proper fit of the fins requires at least four eyes and four hands. Drilling holes in the joining surfaces and inserting metal rods helps a lot, and prevents from breaking off. Tiny undercarriage legs were replaced with metal rods, original are too weak for big model, and suffer from poor plastic injection, breaking by removing from sprue. Again fitting main undercarriage legs was horror. Main wheels are not realistic, so trimmed to shape Avenger wheels replaced them. Photoetched anti- torque links are too small.
The biggest shortcoming of the kit is barely visible on the pictures – the cockpit interior is too big, too deep and too far back. The pilot's seat should be at the middle of the clear canopy part, not at the rear end. The seat itself is very poor - I made a new one from scratch, including seat positioning mechanism, as You can see on the picture. Photo etched pilots harness is very simple and unrealistic- Eduards prepainted PE set comes to help.
My model was painted with Duraluminium, Steel, Dark Aluminium and Exhaust Alclad paints. The wings and fins were painted with Tamiya Flat Silver, also various Humbrol paints and BMF foil were in use.
Decals were superb, although thin, went very well on every kind of surface, without a trace of clear film visible. There was a lack of the red strips and "no step" stencils for the wings, on the decal sheet. I made and printed them myself. Model was not weathered, because original aircraft was exceptionally clean.
The last picture shows Lockheed "Salmon" with its competitor, Convair "Pogo" made several years ago from KoPro kit.
---
Images and Text Copyright © 2008 by Piotr Dmitruk
Page Created 9 April, 2008
Last Updated 9 April, 2008
Back to HyperScale Main Page