Hurricane Accessories
Hawker Sea Hurricane
Hawker Hurricane Mk. I
Hawker Hurricane Mk. II
40mm Cannons & Blisters
Armoured Radiators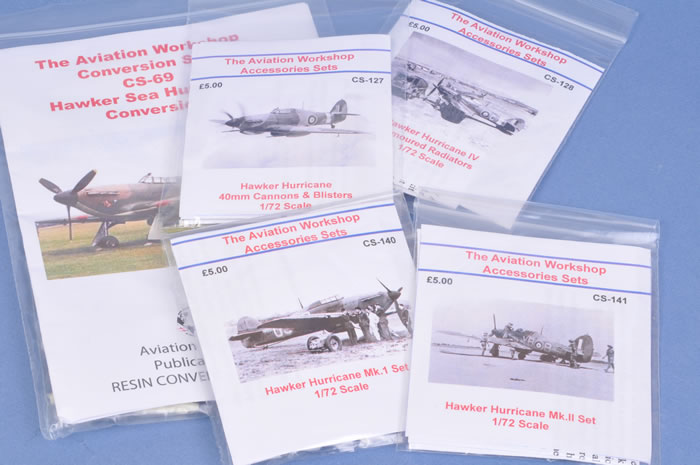 The Aviation Workshop, 1/72 scale
Reviewed by Glen Porter

HyperScale is proudly supported by Squadron.com
The Aviation Workshop is a British organization publishing books, decals and producing resin sets of various subjects. Although most of their subjects are British, they still have a very international flavour and cover all periods from the beginning of aviation to the present day. Their website at www.theaviationworkshop.co.uk is well worth a look.
These five resin sets are all for Hawker Hurricanes of various marks from Airfix, the most accurate in shape, and Revell, the best detailed.
The first is CS-69, Hawker Sea Hurricane Conversion set. Aimed at the Airfix Mk. I, it comes with a deHavilland prop and spinner, a rear lower fuselage insert with a hook moulded in situ and a pair of front catapult spools. It comes with a separate page of written instructions with two diagrams on the back to show which part of the kit fuselage has to be cut out and where the spools are to be placed.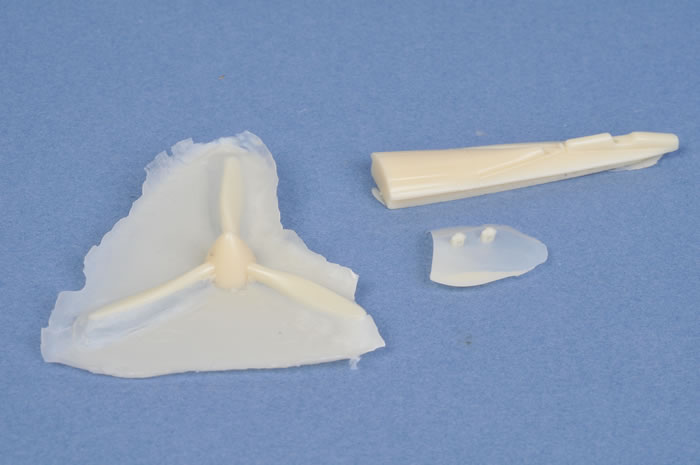 Although Revell has done a 1/72nd scale Sea Hurricane, their's is based on their Mk. IIc where-as this set will give you a Sea Hurricane Mk. I.
CS-140 is again for the Airfix Hurricane Mk. I and comes with two deHavilland prop/spinners and a tropical filter allowing two separate kits to be modified into aircraft of a different configuration.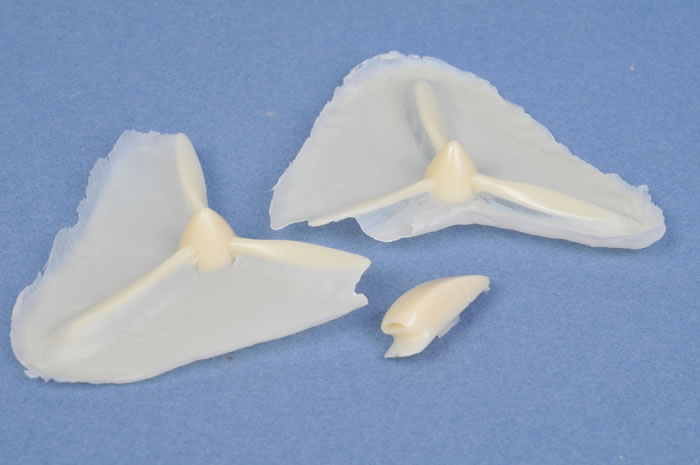 Replacing the Rotol prop and spinner of the Airfix kit with one of the deHavilland items will give you a Mk. I as flown in the UK. The other deHavilland prop and the tropical filter will give you a tropicalised Mk. I.
Next is CS-141, aimed at Revell's Mk. IIb (twelve gun wing) and contains two tropical filters and a camera pack.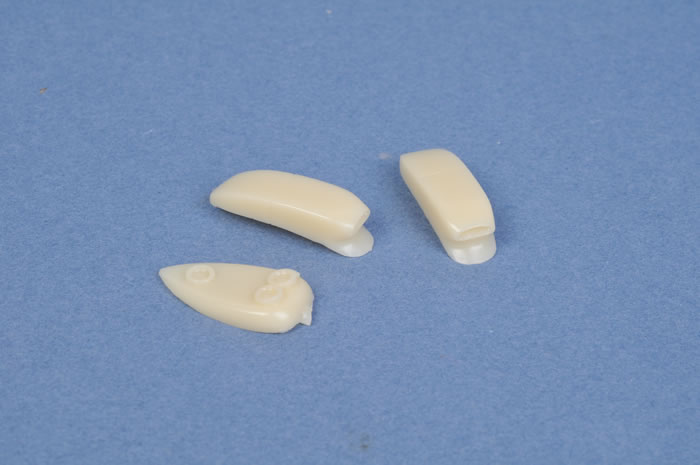 The three parts in this set, like the others except the first, are all straight replacement parts for the kit items. This set will allow the modeller to build one or two tropicalised Mk. IIs and a Recon Mk. II or one of the former and a tropicalised Recon Mk. II.
CS-127 has the 40mm Cannons and Blisters.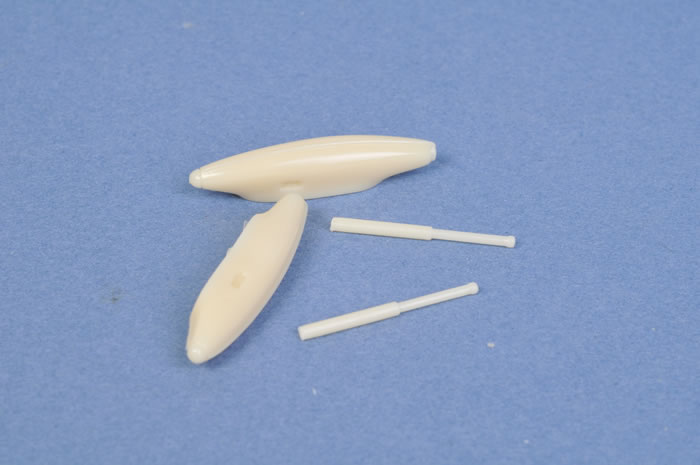 It is aimed at any Mk. II kit to produce a Hurricane Mk. IId. Using the Revell Mk. IIb along with the armoured radiator from the next set will give you a 40mm armed Mk. IV. There is a diagram in this set, below the text, to show where the guns are to be placed.
Last but not least, is CS-128, the above mentioned Hurricane Mk. IV Armoured Radiator set.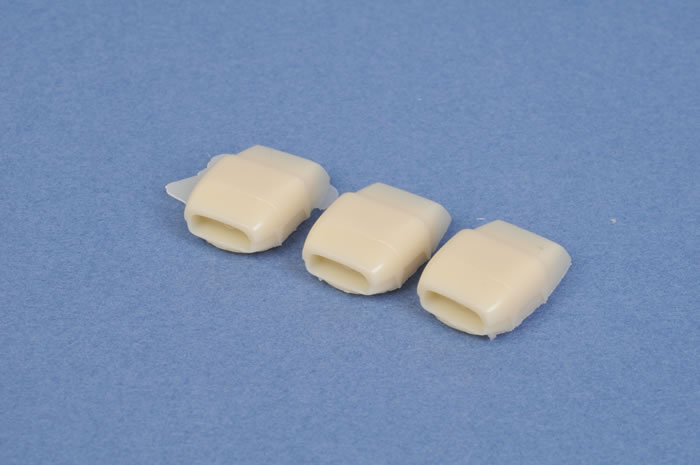 There are three in the set and they are designed for the Revell Mk. IIb kit replacing the kits two piece item, parts 27 and 28. Hurricane Mk. IVs were seen with the bombs or slipper tanks from the kit, the 40mm guns from above or 3 in. Rocket Projectiles.
This is what resin up-date sets should be like. Five sets, all relatively inexpensive and giving a host of options for the two best1/72 scale Hurricane kits on the market today.
Thanks to The Aviation Workshop for the review sample
---
Aviation Workshop accessories are available online from their website
---
Text Copyright © 2008 by Glen Porter
Images Copyright © 2008 by Brett Green
Page Created 15 December, 2008
Last updated 15 December, 2008
Back to HyperScale Main Page
Back to Reviews Page