Schatton-Modellbau produces a range of metal gun barrels and accessories in various scales for armour and aircraft models.
Their latest release is a set of 1/32 scale turned brass FuG 218 Neptun radar dipoles and mounts.
These are most obviously applicable to Trumpeter's excellent 1/32 scale Messerschmitt Me 262 B1-a/U1 night fighter, but will also be suitable for Revell's old 1/32 scale Bf 110 or as the basis for a Fw 190 A-6 night fighter conversion.
The brass parts are beautifully presented and ready to use with no preparation. The four mounts are pre-drilled, and the dipoles are subtly stepped from the thicker centre section to the narrow outer sections. The dipoles fit snugly into the mounting hoes. In fact, they are manufactured with a tiny but effective stop to ensure that they fit exactly in the centre of the mount.
As may be seen in the photo below, these dipoles are a massive improvement compared to Trumpeter's parts in terms of both detail and finesse.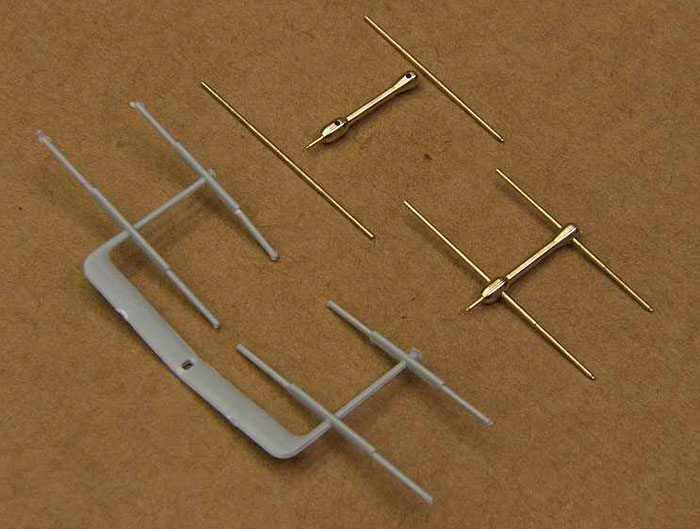 My early sample did not include instructions, but installation is quite self-explanatory. The four completed sub-assemblies will simply be secured to the main kit radar mounts using super glue or two-part epoxy adhesive. Some minor cutting and drilling of the kit mounts will be necessary.
Schatton-Modellbau's 1/32 scale FuG 218 Neptun dipole set is a simple but luxurious accessory for your Trumpeter Me 262 night fighter.
The finesse and precision offered by these gorgeous brass parts will be very obvious on the nose of your model, and their robustness will be welcome too.
Thanks to Schatton-Modellbau for the review sample
---
A full price list of this and their other products is available on Schatton's website http://www.modellbau-schatton.privat.t-online.de. Orders may be placed via email.