S u m m a r y

Title and Author
Firebrand
from the cockpit No.8
by Eric Brown
Ad Hoc Publishing
ISBN:
0-946958-66-5
Media:
Soft, glossy, laminated card, colour covers; A4 portrait format on 100 semi-gloss pages (4 in colour). Includes 14 colour artworks and 138 photographs.
Price:
GBP£16.95 net
Review Type:
First Read
Advantages:
Long overdue appraisal of a neglected aircraft, which actually did see front-line squadron service. Excellent range of photographs and useful colour profiles.
Disadvantages:

No insights from the aircraft maintainers or deck crews this time around.

Recommendation:
Highly Recommended
Reviewed by Steve Naylor


HyperScale is proudly supported by Squadron.com

"As I was flying in the air, I saw a plane that wasn't there, it wasn't there again today, I wish, I wish, t'would stay away" (with apologies to poet Hughes Mearns). As someone interested in aviation history and who has 'been around a while', I was naturally aware of the Blackburn Firebrand. This is 'aware', as in when you know that there is something just outside your peripheral vision, but the present focus of your attention means you pay it no heed. Until now, the Blackburn Firebrand was such an aircraft. In reality of course, it was always there; in book illustrations, in passing references in articles about other (more illustrious) machines or perhaps as an exotic limited-run kit. So peripheral in fact, that one might have assumed that it was hardly a real aircraft at all, perhaps just a prototype or a design proposal, a 'What-if'. This new volume by Ad Hoc Publications dispels all that and more; with this book, the Blackburn Firebrand is now really 'there'.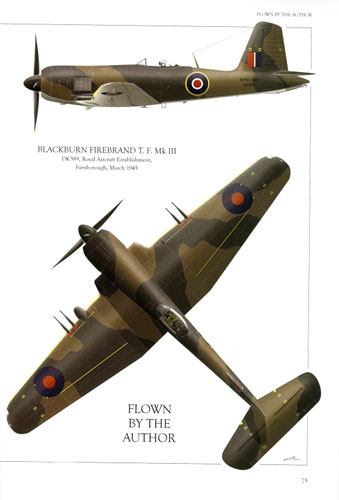 'Firebrand - From the Cockpit No.8' by Eric Brown, is the eighth volume to be published in this series and covers one of the the Fleet Air Arm's lesser known 'beasts'. Author, Captain Eric ('Winkle') Brown CBE DSC AFC, needs no introduction and his presence means we are assured of a supreme pilot's view of the both the aircraft and it's abilities. His words are, as usual, accompanied by the personal recollections and experiences, good or bad, of fellow former pilots. Sadly, in my view, there are not the complimentary recollections from former aircraft handlers and maintainers, a welcome feature which has been evident in the earlier titles. Despite this small shortcoming, the reader will still be able to appreciate just what a handful the Firebrand was to fly and operate, during a gestation lasting most of World War 2 and a brief operational career in the years immediately after.
As a modeller you want photographs and whilst the story told is a good one, the exceptional black and white photographs, many of them unpublished, are once again the highlight of this book. The images are beautifully reproduced and cover the several versions, though inevitably focusing on the later Mk's. IV and V. There are even some images of the 'Firecrest', the Firebrand successor which was supposed to solve all the latter's shortcomings (it didn't). Together, these superb images illustrate the Firebrand's fleeting career in some detail and will provide the modeller with much inspiration. As an illustration of this, I now have an (additional) excuse to model one, since the book includes a short chapter on the ditching of 'EK747' in Poole Harbour (UK), a location near my home. This incident is also a warning to all service pilots; remember 'Murphy's Law' and do not indulge in sneaky fly-bys to impress girlfriends/spouse/other intended, as this can often lead to expensive and embarrassing consequences (in this case, his aircraft's engine main con rod fractured at a critical moment!).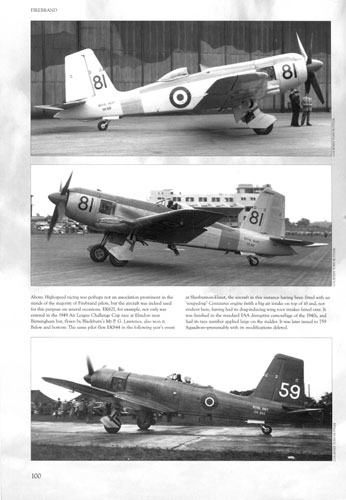 Returning to the photographs, there are, unfortunately, no colour images included this time. Excluding the cost, perhaps this is due to the lack of anything suitable. In compensation however, there are the excellent colour artwork profiles by Roger Chesneau (16 in total, over four pages) covering various service aircraft, including a two-page, 4-view, spread of Firebrand TF Mk.III 'DK389', flow by the author at the Royal Aircraft Establishment, Farnborough (UK), in March 1945.
As aired in this book, there does seem to be a wide range of opinion on the Firebrand as an aircraft, ranging from '...the most unsuitable Naval aircraft ever designed and built', to sentiments such as '...it was an interesting and challenging aircraft to fly'. Underpowered, cumbersome in the air, with no view over the nose when landing, the Firebrand set challenges which few pilot's would have yearned for. Accidents were many (as witnessed in the numerous photographs provided), but since it was built like a battleship, you at least stood a good chance of walking away when it all went 'pear-shaped'. Nominally a 'Torpedo Fighter', most were probably glad that they were not asked to go into real combat in the Firebrand. Despite that nomenclature, aerobatics were forbidden and the Pilot's Notes were equally unabashed when warning that '...below 90 knots aileron control is somewhat ineffective...', in an aircraft where the deck landing approach was 80 knots with everything down!
Earlier titles in this series have set a high bar. Whilst 'Firebrand - From the Cockpit No.8' perhaps does not raise it, neither will it disappoint. Books of this quality (and indeed, price-point) on the Firebrand have been as rare as hen's teeth, so the modellers and historians among us will be very pleased to see this title. Modellers in particular will appreciate the detail in many of the photographs, as well as the technical details described in the text, such as the automatic tilting of the under-slung torpedo when transiting from ground to air. With another Fleet Air Arm aviation subject released alongside this one, and at least two more from them due later in 2008, Ad Hoc's series goes from strength to strength. All we can say is, 'Keep up the good work'!
Highly Recommended.
Thanks go to Ad Hoc Publications for the review copy.
---

Copies should be available to order from most good book outlets, but can also be ordered direct from;

Ad Hoc Publications
Cedars
Wattisham Road
Ringshall
Stowmarket
Suffolk IP14 2HX
(UK)

Tel: 07776 134277 Email: adhocpub@aol.com

www.adhocpublications.com
---
Review Copyright © 2008 by Steve Naylor
This Page Created on 11 April, 2008
Last updated 11 April, 2008
Back to HyperScale Main Page