S u m m a r y

Title and Author:

Walk Around Number 54
B-29 Superfortress
by Dennis Savage
Squadron Signal Publications

ISBN:

978-0-89747-570-9

Media:

Soft cover, landscape format, 80 pages plus covers in full colour (except some wartime photographs originally in Black & White).

Price:
USD$17.06 available online from Squadron
Review Type:
First Read
Advantages:

In depth inside and outside look at one of the most advanced airplanes of WWII; excellent detail photographs; outstanding mix between wartime photographs and museum images; includes photos of ordinance and 3D support schematics; compact table with 58th Bomb wing colour tail markings; excellent range of colour profiles and two more gorgeous Don Greer illustrations in the front and back covers.

Disadvantages:
Conclusion:

An outstanding title for modelers and aviation fans on the B-29
Reviewed by Nuno Andreson


B-29 Superfortress Walk Around is available online from Squadron.com
Squadron Signal made quite a stir with the beginning of Walkaround books in 1993, starting with the F-16. Since then 54 more volumes appeared, making this series of books a well established range in the modelling community.
The B-29 is the latest subject.
Nowadays, Walkaround books are perfectly known by modellers and aviation fans, and for myself as a owner of the full range I am always eagerly anticipating the next title. In the recent volumes a decision was made about making the books in full colour. This book of a vintage subject is the perfect example of how wise this decision was. There so many details to show that the B-29 really benefits of a full colour presentation.
There is minimal space for words in this new book.The photographs and captions present this outstanding machine. However the book is not only packed full of detail photographs. It goes much farther than that making a terrific use of wartime images to illustrate crews, atmosphere, markings and artwork.

Detail photographs are sharp and clear, allowing modellers to see all colours and to identify the various elements without annoying flash reflections.
Airframe photographs offer outstanding reference about the overalll aircraft. For example, the evident contrast between the fabric rudder and the aluminium tail is well focused.
The supporting wartime images are superbly chosen and really provide great inspiration to modellers.
As a bonus this book has some 3D schematics relating to ordnance and pressurized cabin layout.

While many don't know, the B-29 was one of the most advanced aircraft of World War II having, amongst other things, pressurized crew stations and remote control fire systems. Regarding this last point there is in the book an incredible image of one of the computers showing a marvel of vintage micromechanics.
As usual the book ends with a series of colour profiles blended with outstanding operational pictures. And how good these profiles are. Hopefully they will materialize in decals soon. Academy B-29 and Monogram B-29 will dance with joy.
It might sound logical to assume that there are many more things to see in a big aircraft rather than in a small one. A concern modellers have, in making big bombers, is to find detail about all corners of the subject they have on the workbench. One thing I really like about this book is that from nose to tail, all combat stations are perfectly pictured, all antennas are presented, all glazings, bomb bay, bombs, engines, propellers, gear bays, airframe, movable surfaces. Even the pyrotechnic pistol has the right to two photographs.
The author managed to convey a fair amount of information in just a few pages. This must not have been an easy task but the goal was achieved and dare may I say, surpassed.
In my honest opinion this is one of the best books in the range so far. Hope Dennis Savage will write some more in the nearby future.
The book ends with another exceptional artwork created by the talented hand of well known artist Don Greer.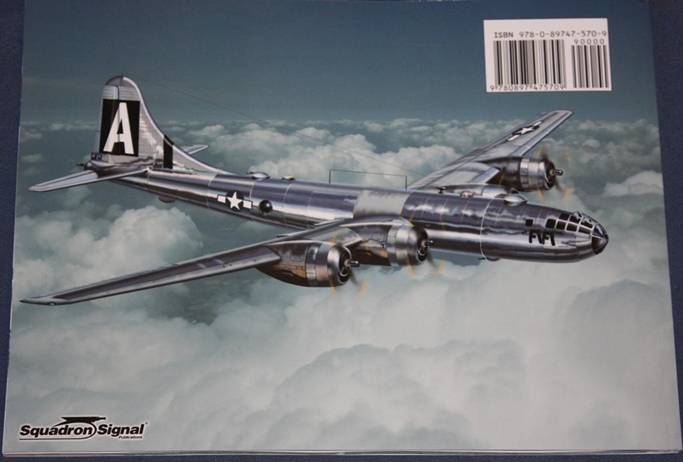 A final word goes to all the people that restored the B-29 presented in depth inside this book. They made an incredible job and thanks to them a very significant piece of aircraft history will be preserved forever at the New England Air Museum. This book is also a testimony to the finished job that took five long years.
If you are an aviation fan you will sure appreciate this book the same way as I do.
If you are a modeller undoubtedly this book will become the centre reference piece of all B-29 modelling projects around.
Book purchased by reviewer
---
Review Copyright © 2008 by Nuno Andreson
This Page Created on 22 October, 2008
Last updated 22 October, 2008
Back to HyperScale Main Page