S u m m a r y

Title and Author:

MiG-21F/U Jet Age Wings Line

4+ Publications

Media:

Hardcover 96 Pages

ISBN:

9788087045015

Price:

Review Type:

First Read

Advantages:

A very useful modellers reference

Disadvantages:

Some information hard to find hidden in the bilingual text

Conclusion:

Another typical 4+ publication. On their home turf with the MiG-21 and a very useful modelling reference has resulted.

Reviewed by Ken Bowes

HyperScale is proudly supported by Sq
uadron.com
Starting development in the early 1950s, the MiG-21 family reflected closely the conventional thinking of the day, with the lessons of the Korean War pointing to small high speed fighter aircraft which resulted in the parallel development of the US F-104 Starfighter. The delta winged MiG-21 which resulted entered series production for many years and was widely exported to Soviet client states and non-aligned nations. In its licence produced version, the J-7 family continued in production until recently in various modified forms. This new book from Czech publishers 4+ in their Jet Age Wings Line covers the early production variants of which around 1500 appear to have been produced in Russia, Czechoslovakia and China from the early 1960s.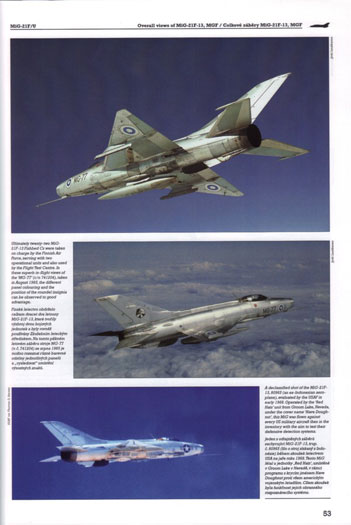 For anyone who has a 4+ volume in their reference library this book will not disappoint. Text is bi-lingual English/Czech on facing pages whilst the subject is lavishly illustrated in colour and black and white. Content is the usual history, type breakdown, production details and technical specifications, supported by tables and appendices. Useful photos of the cockpit interior are laid alongside line drawings explaining all that can be seen. Once past this background comes the meat and potatoes of this book. That is of course the detailed walkaround coverage of assorted early MiG-21 variants highlighting useful details for modellers and the subtleties of the assorted sub-types. Also included are some quite interesting air to air photos of the MiG-21 as operated in a variety of countries, the highlight for me being the gorgeous photos of Finnish aircraft.
Modellers as well as enthusiasts have been addressed with extensive photos, diagrams, colour profiles and the like. I have found over the years that 4+ are producers of high quality reference material, especially if the subject is one from the former Eastern Block. In this regard they have maintained the high standards set by their early works, with the hard cover binding making the volume both more durable and more attractive on the bookshelf (unfortunately with a commensurately higher price). That said having been a big fan of the early MiG-21 and with the recently released Revell model in 1/72 crying out to be built, a modeller with an interest in these former (and current) adversaries could be pressed to do better than this volume as a reference.
Thanks to 4+ Publications, for the review copy.
---
Review Copyright © 2008 by Ken Bowes
Page Created 11 December, 2008
Last updated 12 December, 2008
Back to HyperScale Main Page