S u m m a r y

Catalogue Number:

Polish Wings No. 8
Poland's Captured Luftwaffe Warprizes
By Andrzej Morgala & Wojciech Sankowski
Stratus Books

ISBN:

978-83-89450-81-4

Media:
Soft cover; A4 format; 56 pages plus covers
Price:
GBP £9.90 from Mushroom Model Publications

and

USD$20.66 from Squadron Mail Order.
Review Type:
First Read
Advantages:
Excellent color profiles and photographs and English text.
Disadvantages:

Subject matter may be of niche interest.

Conclusion:

Another unique and most interesting monograph from Polish Wings / Stratus.
Reviewed by Steven Eisenman

Polish Wings 8 is available online from Squadron
After I finished reading this most recent monograph in the Polish Wings series from Stratus, I realized it is all about recycling trash. A defeated army leaves it trash behind and the victors are left with the job of cleaning it up and putting it back into use.
With the rapid advance of Soviet forces in the East, the retreating German military left behind vast amounts of equipment, including numerous aircraft, due to damage or simply lack of fuel to fly them out. This new monograph in the Polish Wings series gives us a brief, but excellent, overview of the fate of some of the trash left behind.
The monograph is divided into three sections: Combat Aircraft, Utility Aircraft and Gliders. The first section o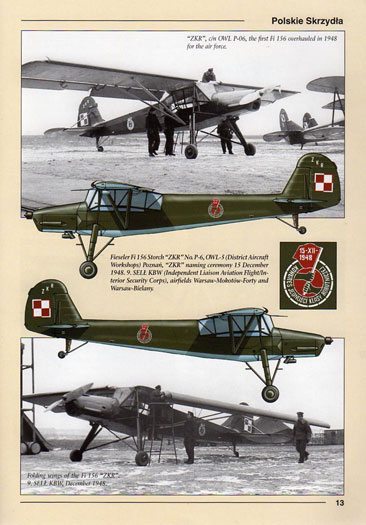 n combat aircraft is the briefest. When the Red Army "liberated" Poland the Soviets either sent useless combat aircraft to scrap or usable ones back to the Soviet Union. There are a number of pictures of wrecked Luftwaffe aircraft and the restored Bf 109G-6.
The second section on utility aircraft (transport, liaison, observation and training aircraft) is much more extensive and covers a number of aircraft in varying degrees of detail. The aircraft covered include the Fi 156 Storch, Fw 44 Stieglitz, He 72 Kadett, Bü 181 Bestmann, Bf 108 Taifun, Kl 35D, Bü 131B Jungmann, C-445A1 Geoland, Fw 58, and a few very minor aircraft.
What I find amazing is that the authors seem to be able to account for all the aircraft that were recycled and put back into service by the Poles. There is also one real gem. It is an description and picture of an Fw 58 used by the Luftwaffe for gunnery training that had an under-fuselage pod and large caliber gun similar to that mounted on the Ju 88P or Hs 129B.
The final section covers gliders. The Luftwaffe and German glider clubs left behind a substantial number, particularly in those areas of Poland incorporated into the Reich. It is interesting to note that politics had an impact on which gliders Poland got to keep. In a side deal, the Soviets sent most of the high performance gliders to Czechoslovakia.
The best part of this monograph is that the Polish Wings series continues to do what it does best: provide numerous photographs (about 150) with very well executed profiles (for 46 individual aircraft) that are coordinated with the photograph.
For modelers there is a tie-in with Techmod decals. Techmode produced a set of decals for the Feisler Fi 156 Storch based on the photos and profiles in this monograph. The decals must be purchased separately and are available in three scales: 1/72 scale (No. 72053), 1/48 scale (48084) and 1/32 scale (32036). The markings include those for the Fi 156 on the sample page; a most interesting alternative to the "usual".
As was the case with the Polish Wings 7, this is clearly a monograph for a quite limited audience. But as with all the monographs in the series, it is full of wonderful information, picture and profiles.
In closing I'd like to comment about the subject matter of the Polish Wings series. Since No. 6, the series has been in English, yet the most recent subjects have been quite esoteric, and most likely of interest primarily to Polish aviation enthusiast. I would hope that the series could deal with subject matters of broader interest, yet not lose its focus on Polish aviation.
There are a vast number of aircraft and squadrons that could be covered: The Spitfire Mk. V and P-51 in the PAF; the Spitfire Mk. IX, particularly those in "Skalski's Circus"; or the multi-engine aircraft of such squadrons as 307 Sq., 304 Sq. of Costal command and 300 Sq. flying Lancasters.
All Mushroom Model Publications books are available direct from the publishers, who now accept credit cards (Visa, MC, Amex, Switch)
Thanks to Roger at Mushroom Model Magazine for the sample.
---
All Mushroom Model Publications books are available direct from the publishers, who now accept credit cards (Visa, MC, Amex, Switch)
North American distributors are MMD, Australian distributors are Platypus Publications. In Europe, the books are available from any good bookshop (via our UK distributors, Orca). Contact MMP direct in case of difficulties.
Thanks to Roger at Mushroom Model Magazine for the sample.
---
Review Copyright 2008 by Steven Eisenman
This Page Created on 10 December, 2008
Last updated 10 December, 2008
Back to HyperScale Main Page
Back to Reviews Page