Afterburner Decals 1/48 scale

Decal Preview - Nov. 2008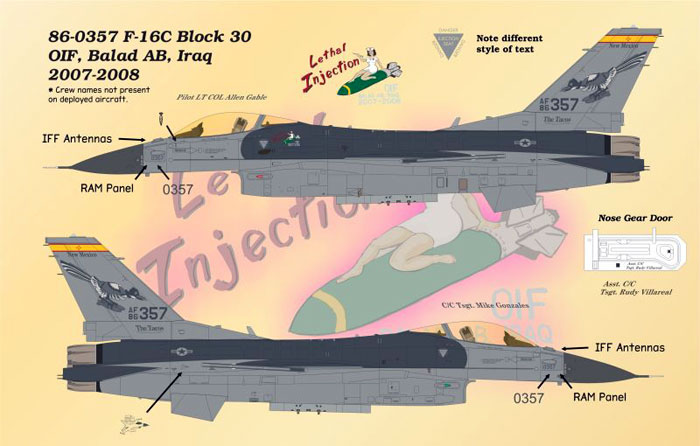 HyperScale is proudly supported by
Squadron.com
Scott Brown from Afterburner Decals has sent news of new and forthcoming releases:
Little like giving birth around here, phew!
The VFA-86 and 150th FW sheets are up for new homes!
These have both generated tremendous interest and will not last. There are no better looking CAG schemes on hornets than the snakes on VFA-86, and the 3-tone camo scheme from 2004 is the furthest thing from 'boring gray jet' as you can get and still be gray! The 2006 scheme is a throwback to the 80s A-7 schemes with the giant orange diamond on the spine. Its just the coolest thing on a hornet!
The Tacos release is just beyond belief.
This is a subject that is near and dear to me. For those who never heard the impetus behind the whole little endeavor here, my excursion to SW Asia back in 2004 had me living 500 feet from the main runway at Balad AB, the main logistics and combat runway in Iraq. Before that, my interest in modern jets was somewhat limited....I was a pretty dedicated WWII guy, 8th/9th AF fighters and 50s navy. I couldn't tell a block 30 F-16 from a 60. After spending a bunch of time around F-16s and more imporatntly, the people who employ them, I developed an intense facination with the units deployed to Balad while I was there. When I got home, I wanted to build jets from those units, but no decals existed. Necessity being the mother of invention and all.....here we are. Of the 3 units there in 2004 and early 2005, we did the 421st as the first release. I got to know a bunch of their people, and they let me have! pretty much free access to their jets.....superior group of folks. However, they were the second unit to operate from Balad.....the first was an Air National Guard unit....a blended squadron of jets and personel called the 332nd EFS 'Rocky Mountain Coalition' consisting of New Mexico, Montana and Colorado ANG. They arrived at Balad in May 2004 to begin operations in theater, the second unit to do so. Michigan ANG had operated from another base earlier in the year, but the facilities were inferior to Balad. Since 2004, New Mexico has deployed aircraft twice and personel multiple times. Nobody has had a bigger impact on the GWOT in Iraq that the Tacos from Kirtland and the Guard in general.
Shortly after arriving home, I met a guy named Sean Hampton out here in cyberspace. He's a crew chief in the 188th, model geek, and had been on the first RMC deployment. He generously! hosted Jake and I one day out at their unit to shoot a bunch of pics. One thing I noticed was there was some neat combat art on all 3 of their deployed jets, and turns out Sean was responsible for it! He used plain ol' model paint and a brush, and churned out some really neat, poignant stuff for their first deployment. Sean deployed as a vollunteer a second time in 2006 to crew jets from Duluth, Texas and Ft. Smith. Last year, New Mexico made a second deployment to Iraq, and Sean was right there again. This time, they brought more jets, and Sean was better prepared as an artist. The results were VERY cool, and have resulted in some of the neatest art applied to F-16s since the opening of Enduring Freedom, and as far as I know, the only AF jets in the war since then to carry combat art like this. In addition, their second deployent was during a particularly active period of operations, and the T! acos spent most of their time putting warheads on foreheads, and those successes were noted on the sides of the jets, so what we have here is combat jets with great markings and a whole array of wicked art. Gotta like that! There are block 30 jets. NM flies a mixed bag of NSI and MCID jets, but these are all MCID that went to Iraq. It also includes one of Sean's earlier jets, the wing COs ride, 310. NM has some distinct but subtle markings nuances, and there are all faithfully captured.
Now, as if all this wasn't cool enough, guess who's a great graphic artist as well as a great combart artist with a brush? Same guy, Sean Hampton!
So, Sean set to work and recreated his real art from both deployments in vector and this is what's on this sheet. The guy who painted the real art also did the art for the decals. He did an AMAZING job capturing the originals....just uncanny. I cannot imagine a similar situation occurring....imagine Warren Trask ! recreating the art on the Shaw Desert Storm jets. This has 10 tails, Wing jet, the first GE/MCID block 30, a D model, 044, 7 deployed jets with art....one, 292 from both Balad deployments, plus a second first deployment jet.

---
The next 2 sheets , 555th FS and Lakenheath Strikes are just down the road, so start sanding and painting folks, because you'll want to use these things immediately.
Some news from some of our 'buds in da biz'.
Shawn Hull has some new stuff for the latest viper mods, including the new BRU-57 'smart rack' that's being used in Iraq currently to carry the latest GPS weapons. He also has the rack and a set of GBU-38s in a combo set, plus the SUPERB AN/AAQ-33 Sniper XR targeting pod to load up your Viper, Eagle or Hawg in fine style!
Flying Leathernecks Decals has just released a mind blowing sheet covering the newest scheme for VMFA-122 Werewolves and their F/A-18Cs. The Werewolves have just deployed to the AOR and are carrying their new heraldry into battle for the first time. The sheet was done with the direct input from the folks in the unit, and captures the details to a level that you will have to see to believe. Get 'em while you can!
We're sold out of some stuff....48-030 ANG Wing Kings just flew outta here as did the second round of viper stencils. The Arctic Aggressors continue to set records, and with a giant build article by our bud Jake Melampy in an upcoming Scale Aviation Modelling issue, we don't expect that to be here much longer. No decision on reprints for ANG, but we have another BIG ANG project on the stove and some other guard subjects on the way, so we might let that sit a while. The viper aggressors from Nellis will be repopped this winter which will include the whole current unit and three 1/32 scale jets in the same format as the arctic sheet.
We have a bunch of awesome stuff on the way at print right this minute to be released between now and first of the year, so stay tuned folks!
The Afterburner team
Thanks to Scott Brown of Afterburner Decals for the information and images
---
Afterburner Decals are available online from their website.
---
Images Copyright © 2008 by Afterburner Decals
Page Created 18 November, 2008
Last updated 18 November, 2008
Back to HyperScale Main Page
Back to Reviews Page