S u m m a r y

Catalogue Number:
Lifelike Decals No. 72-010 & No. 72011 - P-47D Thunderbolt Parts 3 & 4
Scale:
1/72
Contents and Media:
Each set contains one main sheet of aircraft markings and stencils (130mm x100mm), a secondary sheet of national markings (105mm x 85mm) plus two small supplementary sheets with two pages (A4 sized) full colour instructions in a zip-lock bag.
Price:
Each sheet around USD$12.50 from specialist model retailers worldwide
Review Type:
FirstLook
Advantages:
Interesting and colourful choice of aircraft, good register, very thin carrier film; full set of stencils supplied
Disadvantages:
No stencil guide; in some instances, decal colour needs to be matched to paint colour which could be a challenge.
Recommendation:
Highly Recommended.

HyperScale is proudly supported by Squadron
Reviewed by Glen Porter
Lifelike Decals is one of the few decal manufacturers hailing from Japan.
Lifelike Decals' 1/72 scale sheet, P-47D Thunderbolt Part 3, 72-010, (pictured at the top of the page) features three aircraft - two Razorbacks and one Bubbletop, each picked for their colourful markings. The three are as follows.
P-47D-1-RE, 42-7945, a Razorback flown by Lt. Spiros Pisanos of the 334FS, 4FG at Debden, 1943. It is in Olive Drab over Neutral Grey with a white cowl band, coded QP-D with nose art and the name "Miss Plainfield" (I think).

P-47D-25-RE, 42-26628, a Bubbletop flown by Capt. F. Christensen Jr., of the 62FS, 56FG at Boxted, 1944. This one is in NMF with D-Day stripes on the under side of wings and fuselage, Olive Drab anti glare panel on the full length of the fuselage, red cowl band, yellow rudder, coded LM-C, the name "Rozzie Geth II" just forward of the cockpit, a naked lady nose art with the name "Miss Fire"

P-47D-15-RE, 42-76165, This Razorback was the hack aircraft for the 83FS, 78FG at Duxford, date unknown. It's in NMF with a B&W check cowling, blue-purple anti glare panel, white rudder and red trim on the rudder, codes, anti glare panel, wing tips and cowling. The codes are C-HL and the national markings are very light. Gaudy is what I would call it.
The second sheet, Part 4, 72-011, has three Bubbletops again picked for their colourful markings.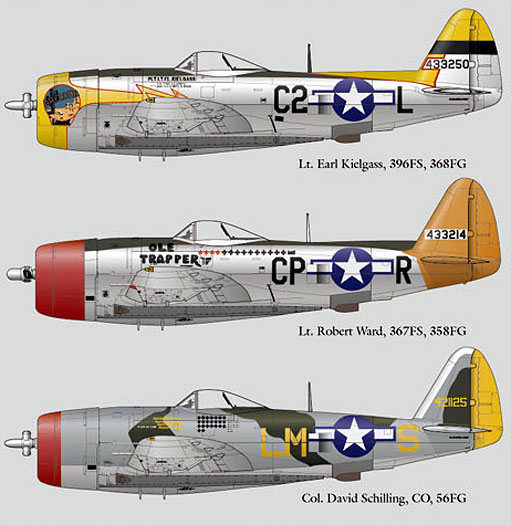 P-47D-30-RA, 44-33250, flown by Lt. Earl Kielgass of the 396FS, 368FG at Chievres, Belgium 1944. Another NMF aircraft with full length OD anti glare panel, Yellow cowl panel leading into a lightning bolt along the sides. Top of rudder and fin fillet are also yellow. Code is C2-L and it has nose art, a desert scene, with the name "Arizona Loraine".

P-47D-30-RA, 44-33214 (there's a miss print on the caption), flown by Lt. Robert Ward of the 367FS, 358FG at Toul, France 1945. Also in NMF but with the hole tail in orange, a red cowl band, coded CP-R and the name "Ole Trapper IV" below the wind screen.

P-47M, 44-21125, flown by Col. David Schilling, CO of the 56FG at Boxted 1945. This one's in dark green and grey over NMF with a yellow rudder and red cowl band, coded LM-S in yellow and all leading edges are NMF.
The first aircraft on this sheet has a yellow cowl band and flash at the front and the fin, rudder and fin fillet at the rear is the same yellow but there is no decals for the rear colour. It may be better to try and mask up all of the yellow to get a consistent colour, front and rear, rather than end up with two different yellows.
Lifelike Decals has gone to a lot of trouble to supply lots and lots of stencils and then not given us anything to show where they go. I admit, most of us would be able to get around it but it's not good for the newcomer.
I don't know who does Lifelike's printing or if in fact they do it themselves but it looks very good with excellent register and very thin carrier film but the one problem I can see is some of the fine stencilling is a bit over-done to the point that the black lettering has bled into each other. The rest, especially the artwork, is particularly good.
The above minor problems aside, these are still two great decal sheets and when Lifelike Decals say colourful, they're not kidding, are they?
Highly Recommended.
Thanks to Keishiro Nagao of Lifelike Decals for the review sample.
---
Lifelike Decals are available by email at lifelike@eos.ocn.ne.jp or from
2-8-7-202, Kameari, Katsushika, Tokyo 125-0061, Japan
fax: +81-3-5680-6733