Revi Magazine is a Czech language model aircraft magazine not often seen out-side of Europe. The few copies I managed to get several years ago carried interesting articles, very nice art-work and an English language supplement in the middle.
I was not aware they had got into producing decals but the quality seems to be to the same high standard set by the magazine.
The subject Squadron is 311 (Czechoslovak) Squadron RAF. Originally flying Wellingtons for Bomber Command, they transferred to Coastal Command with their Wellies in April 1942 and received their first Consolidated Liberator, a GR.V, BZ743 on the 5th of June, 1943. After many successes during the war in Europe, they transferred back to Czechoslovakia where they wore their own national markings until the Squadron disbanded and the aircraft were returned to the UK.
While 'Tally Ho!' has recently produced some decals with blatant inaccuracies in them, I have no reason to believe there is any problem with these, in fact my reference photos show a high level of accuracy and I believe their printing quality is next to none.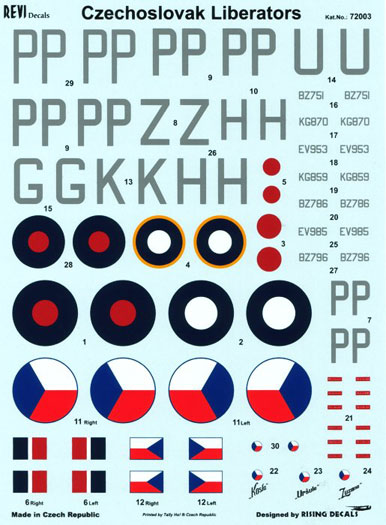 The aircraft represented on this sheet are as follows:
Liberator GR Mk.V PP-Z (BZ751). It is in the standard Coastal Command colours of Extra Dark Sea Grey upper surfaces with Matt White sides and Gloss White on the under surfaces. The Squadron codes are smaller than usual and placed under the waist gunner's hatch. The aircraft had a Leigh Light and an under nose radar housing.

Liberator GR Mk.VI PP-H (KG870). Same scheme as above with normal sized squadron codes in the normal position behind the waist gunner's hatch. It also carries a Leigh Light and a radar dome in place of the ball turret.

Liberator GR Mk.VI PP-K (EV953). Standard colours with the name "Kosta" port side only below the canopy. This aircraft was flown to Prague in July 1945 and it then carried a full set of Czechoslovakian markings. Before this it had the standard RAF markings and the same equipment as KG870.

Liberator GR Mk.VI PP-U (KG859). As above including the optional RAF or Czech markings but with the name "Ursula" port side only below the canopy.

Liberator GR Mk.V G (BZ786). Standard CC colour scheme but no PP squadron codes, aircraft letter G only. This aircraft had low mounted out-board rocket rails just forward of the bomb bay ans the radar dome replacing the ball turret.

There are markings for two bonus aircraft, Liberator GR Mk. V BZ796 "H" the same as BZ786 and Liberator GR Mk.VI EV985 PP-Z named "Zuzana" with markings placement the same as KG870.
No recommendations for prarticular kits are given on the instructions but I think the Academy kit would suffice for the GR Mk.VI or the new Hasagawa kit for the GR Mk.V.
Pavla offer the externally mounted rocket rails, Leigh Light, dust-bin radar dome and alternative turrets as resin after-market parts with the Cat No. given in the instructions.
In summary, this is a very complete decal set of some very attractive aircraft and I for one will be very interested to see what else Revi Decals will be offering in the future.
Highly Recommended.
Thanks to Revi Decals for the review sample
---
Text and Images Copyright © 2008 by Glen Porter
Page Created 9 June, 2008
Last updated 9 June, 2008
Back to HyperScale Main Page