Sometimes, free review samples can be an expensive business.
I had managed to resist purchasing Montex's beautiful 1/32 scale resin Boomerang, even after Luke Pitt brought his kit here to wave under my nose during a photo shoot.
However, when Red Roo Models' 1/32 scale Boomerang decals arrived recently, I could no longer keep my wallet in my pocket.
Red Roo Models has released two sheets covering a total of seven 1/32 scale Boomerang subjects. Six are CA-13 the re is a sole CA-19 variant. If the options and the layout of the instructions seem familiar, this is because the releases are upscaled versions of the 1/48 scale PD Decals from the 1990s.
These decals will be suitable for the recent resin 1/32 scale Montex Boomerang, or the multi-media (mostly vacform) FM Models Boomerang released during the 1990s.
The decals are well printed and in perfect register.
The instructions are improved, as they now include full colour side profiles of each subject in addition to background and colour notes.
Markings are provided for the following Boomerangs. All are CA-13 variants except where noted:
RRD3208 - Part 1 (image at top of page)
QE A, serial A46-195, "Phooey" finished in overall Foliage Green

QE N, serial A46-121, "Olga" also finished in overall Foliahe Green

QE K, serial A46-194, "Grim Reaper, in overall Foliage Green with white tail and wing leading edges

QE Y, serial A46-199, "Home James", in Foliage Green and Earth Brown over RAAF Sky Blue lower surfaces with white theatre markings on the tail and wing leading edges.
RRD3209 - Part 2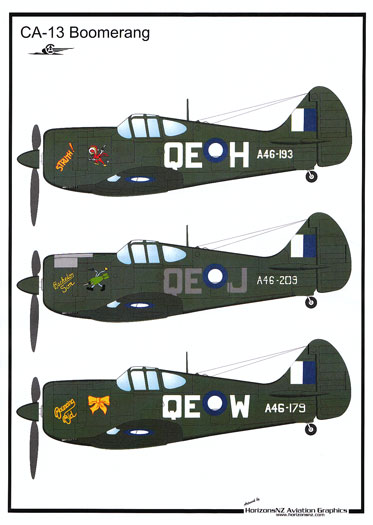 All three aircraft are finished in overall Foliage Green:
QE H, serial A46-193, "Struth"

CA-19 Boomerang A46-209, "Bachelor Son"

QE W, serial A46-79, "Bouncing Bid"
If you have the Montex kit or the older FM Models offering, Red Roo Models' decals will offer a wide and interesting selection of alternative markings.
Highly Recommended

Thanks to Gary Byk at Red Roo Models for the review sample
---
Red Roo Models books, decals and accessories are available at Red Roo Models Website
---
Text and Images Copyright © 2008 by Brett Green
Page Created 26 June, 2008
Last updated 26 June, 2008
Back to HyperScale Main Page