Zotz Decals is right up to date with its two newest 1/32 scale P-47 releases. These cover the brand-new Hasegawa 1/32 scale P-47M and the recently announced Trumpeter 1/32 scale P-47N.
P-47N Thunderbolts
Zotz's 1/32 scale release ZTZ32/012, P-47N Thunderbolts, comprises two full-sized decal sheets plus two smaller half-tone sheet with nose art.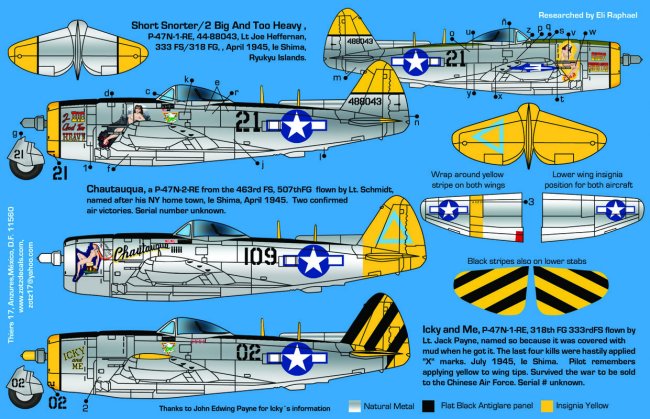 Three marking options for these ultimate Jugs, all based on Ie Shima during 1945, are supplied :
"Short Snorter / 2 Big and Too Heavy", with colourful yellow tips to the vertical and horizontal tail planes, and spectacular nose art on both sides of the fuselage.

"Chautauqua", with an all-yellow empennage and tail, and blue identification triangles. The triangles are provided as decals. There is some pretty impressive nose art on this subject too.

"Icky and Me", with black and yellow diagonal stripes on the tail surfaces.
Norris Graser has made some comments on these subject that will be helpful when using the decals:
"Most of the following is backed up by photo references:

1. Josephine My Flying Machine – Name is correct as yellow but is actually shaded in medium gray. I have a color photo from the pilot showing this

2. 2 Big/Short Snorter: 2 big and the serial are correct but after a LOT of research and talking to many pilots from the 333rd it appears that Short Snorter was applied later AFTER the black yellow zebra stripes were added in June 1945 . I have 2 dif pilots for the left and crew names on the right. These depending upon which artwork is on the aircraft ( The 1st pilot had only 2 big on the plane- the 2nd pilot- who did the 2 Big art, inherited the plane and added Short Snorter later- after the yellow/black zebra stripes were applied) You don't have either correct pilot(s) names or the crew. As far as I know, There NEVER was a Joe Heffernan assigned to this plane. This was a name that Cutting Edge came up with. ( If you have a source for this name, Id appreciate knowing where Heffernan came from- C Edge told me it was a best guess.) the name Heffernan doesn't appear on any WW II crew list published for the 333rd FS or 318th FG that I have seen.

Also, the number 21 would not be on this P-47 when utilizing the yellow half vertical color scheme, as your artwork indicates. 333rd P-47 Ns did not have numbers other then the serial on the tail when using this early squadron scheme. After going to the zebra striped tails they then applied numbers and 21 would be correct. If they did have numbers 9 and they didn't) , they would not be in the 1-49 numbers range as those numbers were assigned to the 19th FS/318th FG when the early vertical color schemes were in use. The 1 through 49 numbers were reassigned to the 333rd only after they repainted in the yellow/black zebra tail scheme

In the early scheme, just the 19th and 78th used numbers- these were applied to the colored area on the vertical tails black on the 19th blue back ground and natural metal on the 78th black background- 333rd did not use 2 digit recognition numbers at this time) - AND NONE of the squadrons used the large fuselage or main gear numbers until they went to the zebra scheme.

3, 507th planes did not have a triangle on the stabilizers - either side. JUST on both sides of the vertical. The origin of the triangle on the stabs was probably taken from a oft published in flight shot wherein the triangle from the vertical was reflecting onto the left stab. If you have the decals printed, simply leave the stab triangle off the instruction art"

---
P-47D & M Thunderbolts
ZTZ32/013 is "P-47D & M Thunderbolts in the ETO". Once again, two larger decal sheets are included, and this time a single smaller sheet with nose art.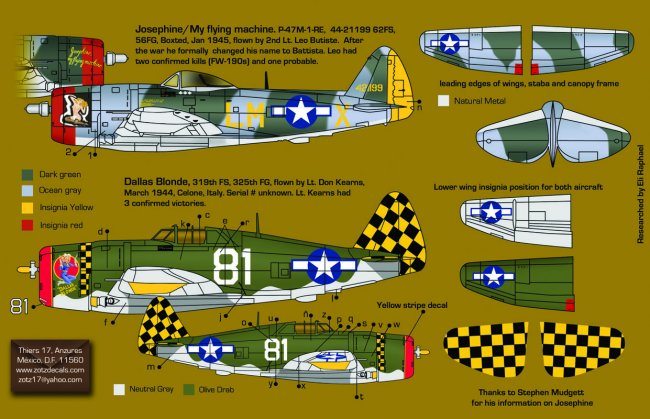 Two marking options for European Theatre Bubbletops are supplied:
"Josephine / My Flying Machine", a P-47M-1-RE fished in a very interesting scheme of Dark Green and Ocean Grey on the upper surfaces, bare metal below, a red cowling and yellow rudder. The wing leading edges are bare metal. This subject has never been covered in decal form.

"Dallas Blonde" is a P-47D Razorback in Olive Drab and Neutral Grey with black and yellow chequered cowl flaps and tail surfaces, plus a yellow-bordered red cowl ring and yellow tipped spinner.
The main decal sheets for both releases are all very well printed, with good colour saturation and registration. National markings and stencils are supplied for one aircraft in each set.
The smaller sheets with the artwork are very impressive. At first glance they appear to be ALPS printed due to the subtle colour separations and half tones. However, unlike ALPS, these decals are printed on separate pieces of carrier film so you do not have to cut each piece of artwork out of the backing sheet before use. They look more robust than ALPS markings too.
Instructions for each set are supplied in full colour on a single half-letter sized sheet.
With Hasegawa's brand new P-47M kit and Trumpeter's P-47N on the way, timing could not be better for these new markings.
Zotz's new decals are very high quality offerings that will really add character to your big Jug.
Highly Recommended