Supermarine Spitfire Mk.VC
Yankee Spitfires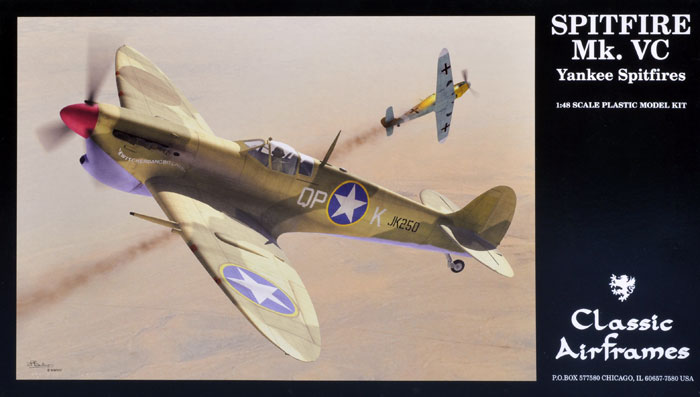 Classic Airframes, 1/48 scale
S u m m a r y

Catalogue Number:
Classic Airframes kit numbers 4152 Spitfire Vc "Yankee Spitfires"
Scale:
1/48
Contents and Media:
94 parts in grey plastic; 9 parts in clear; markings for four aircraft
Price:

MSRP $48.00
Available online from Squadron Mail Order

Review Type:
FirstLook and FirstBuild
Advantages:
Long-awaited subject; high level of detail in cockpit; excellent surface detail including recessed panel lines; useful options (three styles of wheels, Vokes trop filter, four styles of wing cannon bulges / barrels); gorgeous decals for four varied American Spitfires.
Disadvantages:

Fine flash on some parts; various fit challenges - experience and patience will be needed

Conclusion:
At last, an injection moulded 1/48 scale Spitfire Vc. Due to some fit challenges, this well detailed and accurate kit will be best suited to experienced modellers.
Reviewed by Brett Green

Classic Airframes' 1/48 scale Spitfire Vc "Yankee Spitfire" is available online from Squadron
The Spitfire Mk.VC was the first of this famous breed to use the so-called "universal" C wing. The C wing could be fitted with up to four 20mm cannon or eight machine guns, but the most typical fitout was two 20mm cannon and four .303 machine guns.
The C wing armament was also used on the Spitfire Mk.VIII, IX, XVI and Mk.18.
Although the Spitfire VC was built in significant numbers, we have not seen this variant produced as a 1/48 scale injection moulded kit - until now.
Classic Airframes' 1/48 scale Supermarine Spitfire Mk.VC comprises 94 parts in grey plastic, nine parts in clear injection moulded plastic, plus markings for four Spitfires operated by the USAAF.
The kit looks fabulous on the sprue, with crisp and consistently recessed panel lines and fasteners, subtle fabric texture on the rudder and elevators, and fine detail parts. There are some spurious raised fasteners (?) moulded prominently just forward of the cockpit on the fuselage sides. These should probably be sliced off or sanded back.
Moulding quality is very high, with just some fine flash on smaller parts and ejector pin circles on the bottom of the ailerons.
The cockpit is well equipped with separate lower sidewalls and structural features moulded in place, The seat mounts and "bottomless" floor are delicately presented. The seat is thin and look authentic with its backrest cushion moulded in place.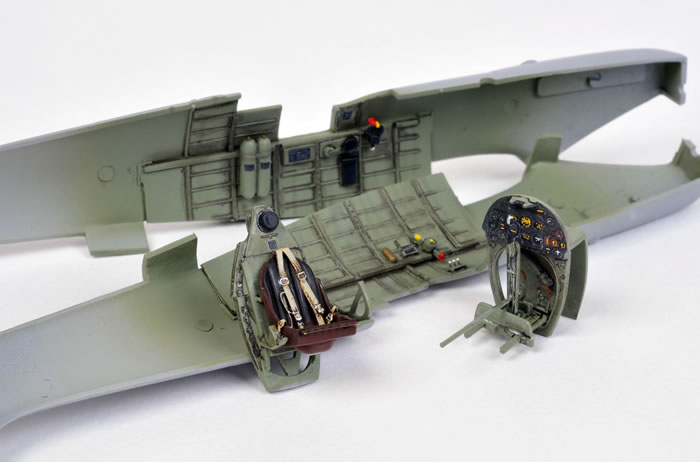 The raised detail on the plastic instrument panel is supplemented with decal dials applied in two layers. These look fantastic and settle onto the panel perfectly after careful placement and a generous coat of Solvaset. I am not entirely sure about the profuse presence of yellow on the dials, but is certainly adds some colour to the area!
Cockpit detail is further enhanced with a photo-etched fret. This includes a nice Sutton Harness, rudder toe straps and additional seat detail.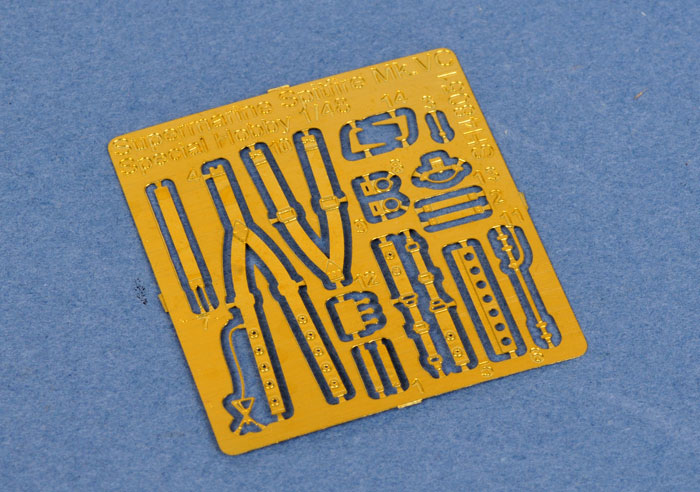 The wheel wells are a mixed bag. The leg sections are very well detailed, but the circular main wells are devoid of any structural features.
The propeller assembly is the Rotol wooden version with the pointy spinner. Check your references carefully as the Spitfire VC could be fitted with other styles of de Havilland and Rotol props and spinners. Alternative propellers are available from several companies including Utracast and Red Roo Models.
Classic Airframes' Spitfire VC is packed with options, although many are marked "not for use" in this particular boxing. Even so, with aftermarket decals you might make use of some. These options include:
three styles of wheel hub (three spoke, four spoke and covered)

four styles of cannon bulge covers (narrow C, narrow E and two styles of wide C). Different styles of cannon barrels and caps are provided too

Vokes tropical filter or standard lower cowl

separate wing tips. Both standard and clipped are offered. The clipped wing tips are cleverly supplied in clear plastic so the navigation lights may be masked before painting.
Ailerons and the rudder are separate, but the elevators are moulded in the neutral position as part of the horizontal stabilisers. Personally, I would have preferred to see the ailerons moulded as part of the wings. Separate elevators would have been nice though.
The cockpit entry door is also moulded separately and may be posed open.
This kit is a joint project between Special Hobby and Classic Airframes, so the bottom of the rear fuselage has a wedge-shaped opening to accommodate the A-Frame tail hook for Special Hobby's forthcoming Seafire. On this Spitfire kit, a blank insert is provided to fill the gap.
The clear parts are thin and transparent.
Markings are supplied for four American Spitfires:
QP-K, serial JK250, based in Tunisia mid 1943. This is finished in RAF desert colours of Dark Earth, Mid Stone and Azure Blue, capped with a red spinner.

HL-AA of 308th FS, 31st FG finished as above but with a Middle Stone spinner.

QP-X of 2nd FG, 52nd FS on Corsica, January 1944 finished in RAF Middle Stone overall on the upper surfaces and Azure Blue below.

US test aircraft, serial AA963, finished in USAAF colours of Olive Drab with Medium Green patches around the edges of the wings and horizontal tail surfaces, and Neutral Grey underneath.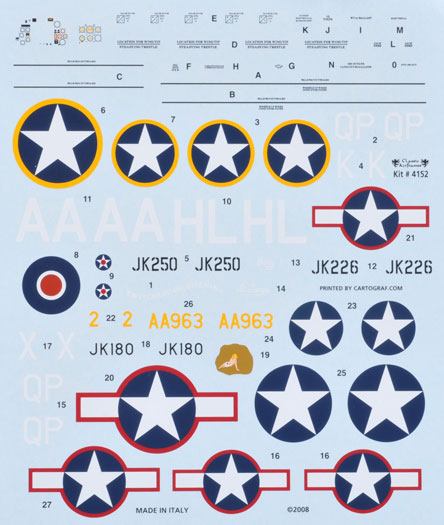 The decals are beautifully printed and in perfect register.
---
Construction Tips
I could not resist starting Classic Airframes Spitfire VC straight away.
There are some construction challenges, but careful preparation, some minor modifications and the right attitude will minimise the pain and deliver a nice result.
Here are a few tips based on my experience with the kit so far:
The instrument panel and rear bulkhead are too wide to fit between the cockpit sidewalls. You can either trim some material from each side of these parts (A8, A26 and, to be safe, A24), or you might prefer to cut the lower fuselage sidewalls into sections (parts A3 and A29), leaving spaces for the bulkheads to fit in between.

The bottom of the lower fuselage sidewalls may interfere with the fit of the wing. Trim a couple of millimetres off the bottom of parts A3 and A29 to avoid this problem.

The main wheel well parts (C13 and C34) may be glued and clamped onto the bottom wing half before the end caps (parts C24 and C25) are wedged into place.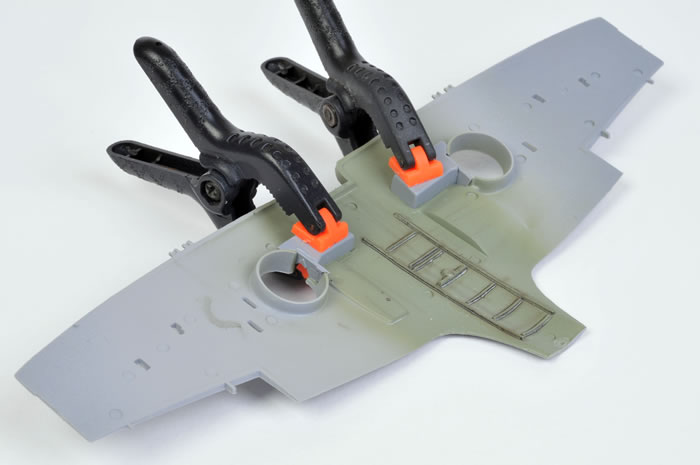 The cannon bulge inserts fit pretty well, but they will fit even better if you clamp them front and rear while the glue is setting.

Some sanding of the wing roots and general fiddling will improve the fit of the wings to fuselage. I still wound up with a narrow gap on each side, but the dihedral is fine and a little Milliput will fix the situation.

More problematic is the relatively large gap (a little more than a millimetre) at the lower trailing edge wing join. I will be filling this with a thin strip of plastic.

The wedge-shaped lower fuselage insert does not fit very well either. I positioned mine so there was only a gap to fill on one side.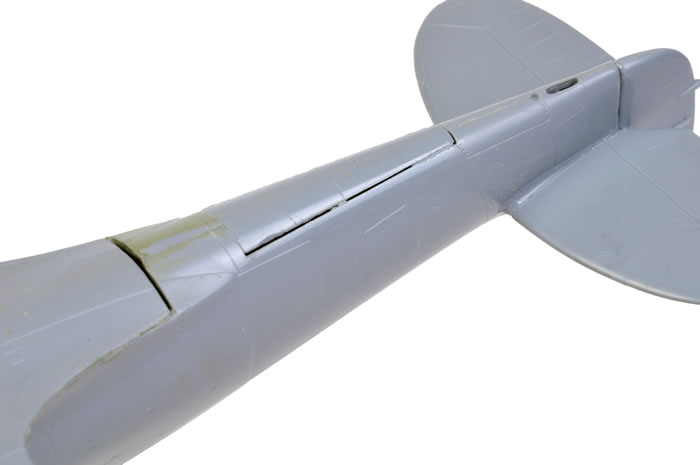 The Vokes filter (parts G1 and G2) is moulded with a locating aid where the chin meets the wing. I found that the filter fitted better when this webbing was cut out. A little trimming was also required to improve the fit. I installed one half to the fuselage first, getting it lined up properly before installing the other half.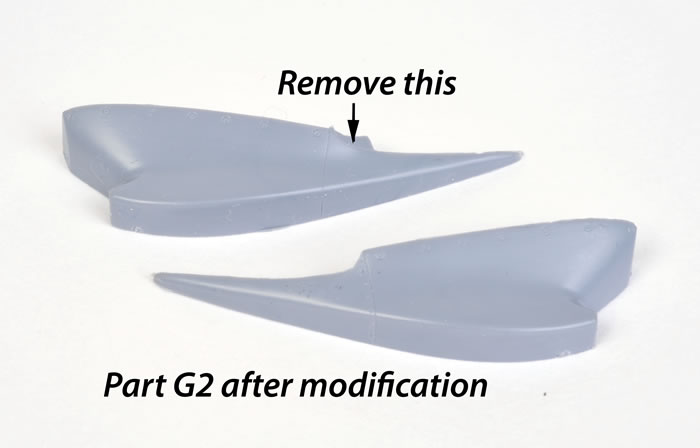 The horizontal stabilisers fit much better if the locating slots in the fuselage are widened. Once this was done, the fit on mine was perfect.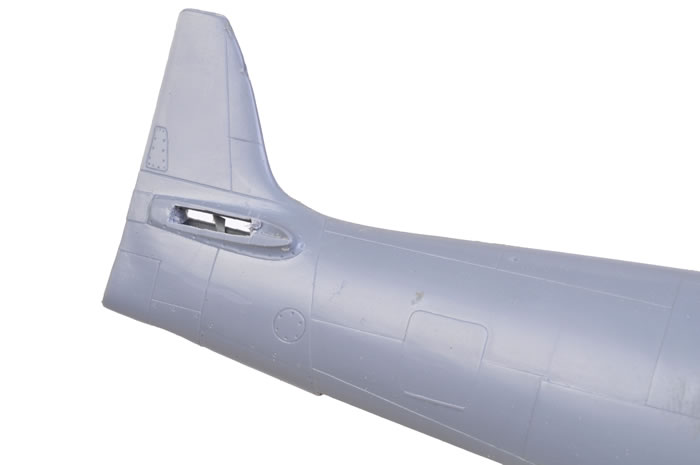 The ailerons should not be pushed all the way in to the wing hinge. The hinges may also need some sanding to permit the edges of the ailerons to meet the wing. I used super glue to attach the ailerons to the hinges only. This leaves a noticeable gap between the front of the aileron and the wing, but this is not uncommon on many aircraft.

A little sanding was required to improve the fit of the wing tips, but the result was quite good.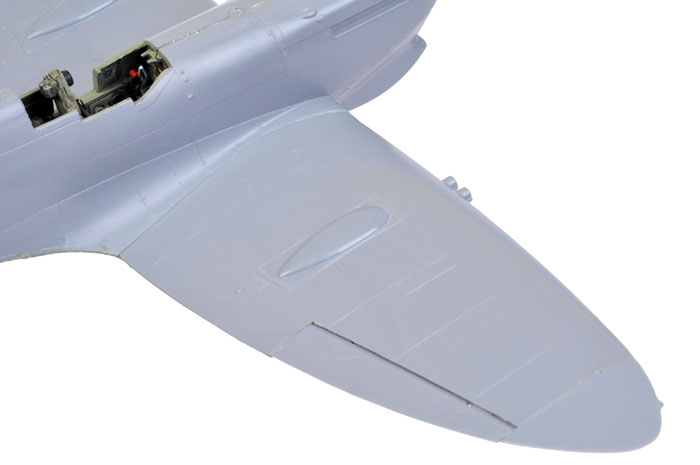 Soon, during the filling and sanding stage, I will cut off the mysterious raised fasteners on the fuselage in front of the cockpit. I will also add some fine plastic strip on the inside of the main sections of the wheel wells to represent structural detail.
I am very pleased to finally see a decent quality 1/48 scale Spitfire Mk.VC.
Classic Airframes' 1/48 scale Spitfire VC "Yankee Spitfire" is well detailed and features plenty of useful options.
Bear in mind that this is a limited run kit so you will need to spend some extra time preparing parts, checking fit and making adjustments as required. This kit will not fall together - you will be using your modelling skills.
Even so, based on my progress to date, the extra effort will result in an accurate, attractive kit of this important yet previously neglected Spitfire variant.
Thanks to Classic Airframes for the review sample.
---
Classic Airframes kits are available worldwide through hobby retailers and from Squadron.com
---
Review and Images Copyright © 2008 by Brett Green
Page Created 20 October, 2008
Last updated 20 October, 2008
Back to HyperScale Main Page
Back to Reviews Page