SPAD XIII Late Version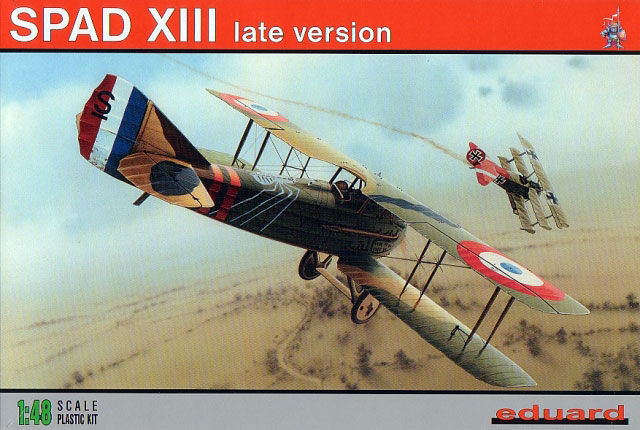 Eduard, 1/48 scale
S u m m a r y

Catalogue Number:
Eduard Kit No. 8196 - SPAD XIII Late Version
Scale:
1/48
Contents and Media:
85 parts in tan coloured plastic; 29 photo-etched parts in colour and photo-etch; markings for four aircraft
Price:
USD$34.95 available online from Eduard
and hobby retailers worldwide
Review Type:
FirstLook
Advantages:
Superb overall detail, one piece wings with commendably thin trailing edges, nicely rendered fuselage stringers, ingenious parts composition, decals in perfect register, minimal thin carrier film.
Disadvantages:

No spider web on decal for Chavannes option.

Conclusion:

Eduard has produced a finely detailed kit that breathes new life into this subject. The breakdown of parts is ideally suited for this aircraft which has received all the benefits of this manufacturer's latest molding techniques.

Reviewed by Rob Baumgartner


Eduard's 1/48 SPAD XIII Late Version is available online from Squadron.com

The Spad 13 is one of the classic fighting machines of World War One.
Its overall appearance unmistakably points to the earlier S.7. However this latest design was quite a bit larger and carried two machine guns instead of the single weapon of its predecessor.
The airframe was originally designed for the new 200-hp Hispano-Suiza engine and its overall performance led to an enthusiastic reception from the receiving French pilots.
At first the aircraft had rounded wing tips but these were later modified with plywood "pockets". They were essentially sewn to the extremities to give a more "squared off" appearance in the hope of improving the flight characteristics.
The execution of the work was less than satisfactory so eventually new wings were designed to incorporate this feature. It is this latter version of the S.13 that Eduard's kit represents.
Upon opening the box, one is immediately impressed. There are three tan coloured sprues containing a total of 85 plastic parts. These are supplemented by three clear pieces, a mask set and a coloured photo-etched fret that contains a further 29 items.
This is topped off with a generous decal sheet that features markings for 4 colourful aircraft.
Accuracy is an important element of any subject so the contents were compared to general arrangement drawings found in Windsock Datafile 32. These respected 1992 plans were drawn by Doug Carrick and the kit parts match the outlines perfectly.
Even the smaller details are spot-on so the modeler is assured of an excellent starting point. Although not all of the contents are used in this release, the attention to detail can be governed by the inclusion of many extras. Among them we find single and two piece cowl arrangements as well as two types of airscrew…these being the 250 Ø Éclair series 153 and Gremont propellers.
As with any aircraft that was produced in significant numbers, there were many changes made along the way. Modelers' should note that louver positions varied, wheel sizes differed and some bell crank apertures were covered by fabric. So study your subject carefully.
This kit sets new standards for Eduard in both detail and assembly. The parts are crisply moulded and any ejection pin or sink marks are hidden on the finished product.
The cockpit of the Spad 13 was a busy affair and this is where Eduard has excelled. No less than 30 parts make up this area which includes the instrument dials, seatbelts and even a map from the aforementioned coloured p-e fret. These details match the impressive "office" found on the Memorial Flight Association's restored Kellner-built Spad 13.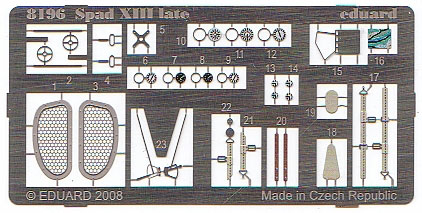 The wings are also worthy of praise. Each has commendably thin trailing edges with no distortion whatsoever. Just like the Fokker Dr.I before it, Eduard has given us a subtle representation of the stitching that shows through the rib tapes. Thankfully there is no "starving cow" effect here. It should be noted that the manufacturer has correctly shown the ply sheathing that appeared on the leading edge of the upper surfaces only.
The unconventional splitting of the fuselage is another bonus. Eduard introduced this method of assembly to us with their 1:72 scale offering of the same subject. It allows the modeler to build this structure without destroying the finely rendered stringers.
These larger items do have a few "dags" on their mating surfaces but when this excess plastic is trimmed off, everything fits without the need for filler. At this stage one must be prepared to do a little bit of dry fitting to get maximum reward.
Three choices of windscreen are supplied as well as a masking set. Not only does this sheet cater for the clear parts but it also helps deal with the tricky task of painting the wheels.
The instruction booklet is well laid out, and it needs to be considering the wealth of parts. A rigging diagram is included which can used in conjunction with the box art if one feels the need for further clarification.
---
Marking Options
There are 4 aircraft to choose from and these are contained on a single decal sheet.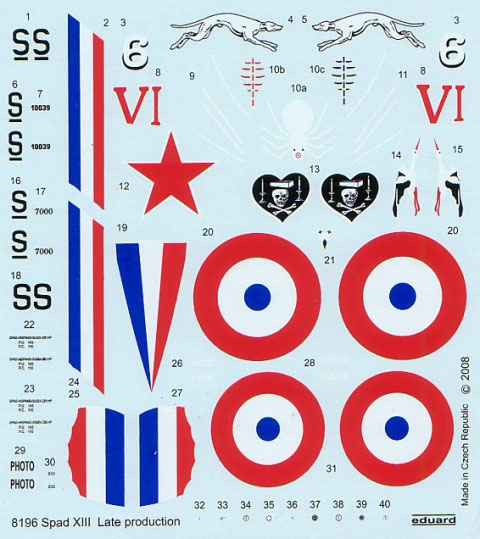 As expected, registration was perfect with thin carrier film and sharp printing. The choice of blue was quite intense on my example and may require a bit of toning down. The selection of instrument faces is a nice touch and can be consigned to the spares box if you previously used the photo-etched equivalents.
SPAD XIII of Sgts Fernand Chavannes, SPA. 112, August 1918.
An excellent choice from Eduard is this stunning scheme that was applied to an Adolphe Bernard-built aircraft. The decal is in several parts to help it adhere to the multiple curves of the fuselage. Unfortunately the black web is not supplied so the modeler will have to draw this by hand after everything has dried. His aircraft also sported two red bands which were the squadron marking of SPA.112. Chavannes went on to score a total of 7 victories, all with this unit, and lived to tell the tale.
SPAD XIII of Lt Charles Nungessar, Escadrille SPA.65, September, 1918.
SPAD XIII S10039 was one of many machines flown by this 43 victory ace. This SAFCA-built aircraft has previously been depicted with a white asymmetric triangle on the upper part of the fuselage. Although not in this rendition, it is easy enough to add if the modeler so desires.
"LT LERDIER" was painted under the cockpit in remembrance of his friend Lt Louis Verdier-Fauvety who was killed during a bombardment on 31 August 1918.
SPAD XIII of Adjutant Marius Blanc, Escadrille SPA.81, Summer, 1918.
Marius Blanc joined SPA.81 as a reserve pilot in January 1918. When originally formed as N81 on 26 December 1916, this unit was commanded by Capitaine Maurice Mandinaud and equipped itself with Nieuport 12 two-seaters and Nieuport 17 scouts. SPA.81 ended the war with 88 confirmed victories.
SPAD XIII of Capitaine Rene Fonck, Escadrille SPA.103, Fall, 1918.
Fonck claimed a total of 127 victories although only 75 were officially confirmed. He survived the war and became the Inspector of the French fighter force just before WWII. He survived this war and lived in Paris before dying at the age of 59 on 18 June 1953.
Without doubt this kit is destined to become a favorite amongst aircraft enthusiasts.
Having been flown by French, British, American, Belgian and Italian pilots, the variety of colour schemes and markings for this type is vast indeed. Unquestionably there will be many releases to come that will focus on these countries.
Despite the large count of parts, the kit is relatively easy to put together. This, combined with the lure of so many attractive finishes, will guarantee multiple copies of this aircraft find their way into the den of all WWI aircraft enthusiasts.
Thanks to Eduard for the sample
---
Review Text Copyright © 2008 by Rob Baumgartner
Page Created 4 September, 2008
Last updated 4 September, 2008
Back to HyperScale Main Page
Back to Reviews Page