Me 262 B-1a/U1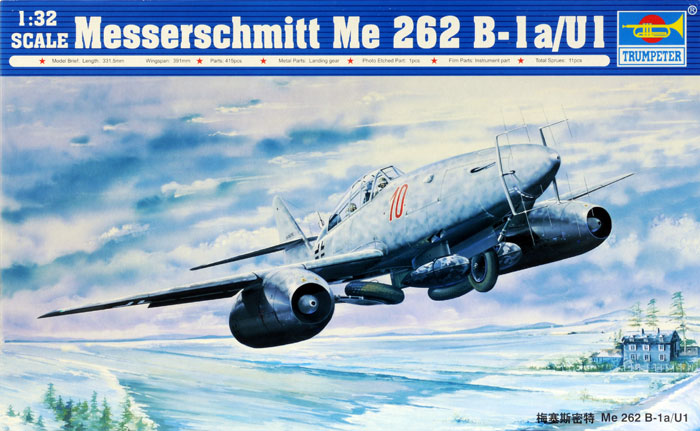 Trumpeter, 1/32 scale
S u m m a r y

Catalogue Number and Description:
Trumpeter Kit Number 02237 - Messerschmitt Me 26 B-1a/U1
Scale:
1/32
Contents and Media:
400 parts in light grey plastic; 16 parts in clear; three rubber tyres; three white metal cast undercarriage legs; 14 photo-etched parts; acetate film for instruments; markings for two aircraft
Price:
Around AUD$89.50, distributed in Australia by J.B. Wholesalers
Available through specialist hobby shops worldwide
Review Type:
FirstLook
Advantages:
Excellent kit overall; outline and appearance conform to published plans and photos; high quality mouldings; high level of detail in most areas including two full engines, gun bay, cockpit, internal fuel tanks and fuselage interior; sensible engineering resulting in a buildable kit; optional position slats, flaps and flying surfaces (but no metal hinges); surface features include finely recessed panel lines, fasteners and even visible screw head slot detail; thin, clear and accurate transparent parts; options include gun nose, RATO packs and alternate undercarriage legs (plastic or white metal)
Disadvantages:
Some extra work will be required to display engines; soft vinyl tyres; slightly heavier surface detail on fuselage compared to single seater; incorrect Werknummern
Recommendation:
Highly Recommended.
Reviewed by Brett Green


Trumpeter's 1/32 scale Me 262 B-2a/U1 is available online from Squadron

Back in mid-2005, Trumpeter released their 1/32 scale Messerschmitt Me 262A-1a. In my review at the time, I suggested that this was Trumpeter's best kit to date and the best Me 262 in any scale. Shortly afterwards, I built the kit. The kit demanded a level of attention unsurprising for such a detailed replica, but engineering and fit was very good. The finished model looked great too.
Trumpeter expanded their Stormbird family around a year later with the Me 262 A-1a "Heavy Armament" and the Me 262 A-2a.
The Messerschmitt Me 262 B was originally planned as a trainer for conversion of piston-engine pilots to the new turbine technology. Germany's desperate situation in the final weeks of the war saw a number of these two seater Me 262s pressed into service as night fighters. A total of 15 night fighters were converted as the Messerschmitt Me 262 B-1a/U1. Several are known to have seen action and scored victories in defence of Berlin while attached to 10./NJG 11, "Kommando Welter".
Trumpeter has now released this expedient two-seater night fighter. Trumpeter's 1/32 scale Me 262 B-1a/U1 comprises around 400 parts in light grey plastic, 16 parts in clear; three rubber tyres; three white metal cast undercarriage legs; 14 photo-etched parts and a small acetate film for instruments.
This kit shares many parts with the earlier releases. Surface detail on most of the airframe rivals the best on any kit available today. Panel lines are very finely recessed, and carefully selected rows of rivets in places. Subtle details such as fasteners and even slots in the heads of screws are beautifully depicted too. This time, though, the surface detail on the fuselage is noticeably heavier than its single-seater predecessor. If desired, a coat of Mr Surfacer or Tamiya Surfacer followed by sanding should tone this down to match the rest of the model.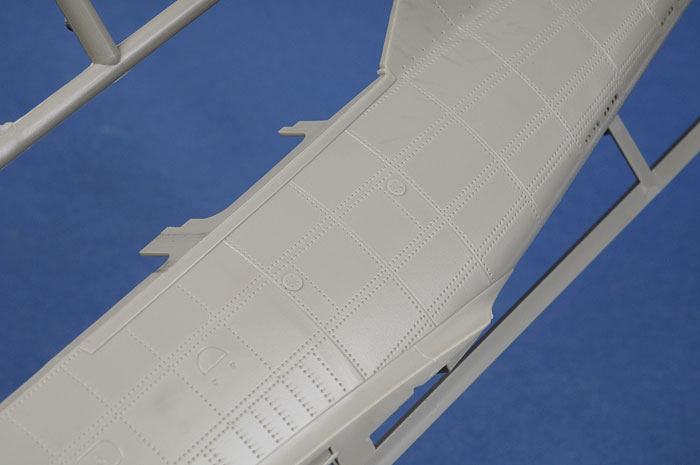 Ejector pin circles and sink marks are admirably few.
All control surfaces, including slats and flaps, are separate. The rudder is the late style - appropriate for these night fighters. It is a very simple matter to reposition the tabs to alter the position of the control surfaces on the finished model.
Clear parts are very thin and free of distortion. I like that the windscreen is moulded onto a section of the forward fuselage deck. This will reduce the risk of smearing the windscreen with glue. The armoured glass panel is supplied as a separate part. Once again the instrument panel is offered as a clear part, yet the lenses of the instruments are hollow.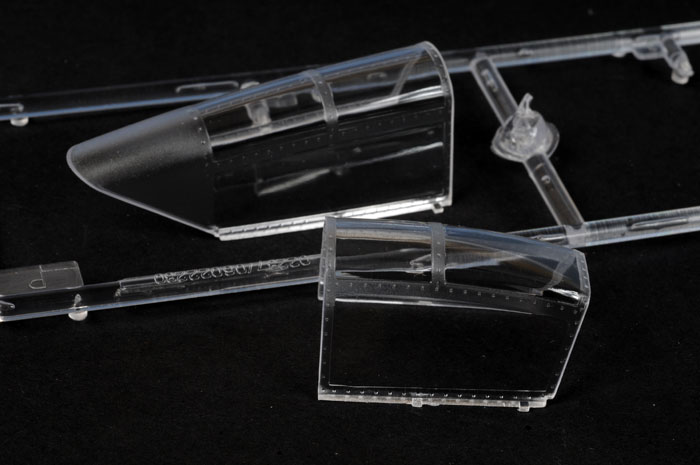 The kit features two full Jumo turbojets. One set of sprues is in grey plastic, and the second is in clear. The Jumos are very well detailed straight from the box, but the determined super detailer will probably add some extra wiring and plumbing if the engines are destined for display. Strangely, the engine nacelles are not supplied with separate parts for the forward or lower access panels, so a little careful attention with a hobby blade will be required if you want to leave the covers off.
Interior detail is very thorough. Not satisfied with presenting a nicely detailed cockpit and cannon bay, Trumpeter has also supplied a well-done radio and mount, gyro compass and oxygen bottles for the inside of the rear fuselage. The radio hatch is separate too, so when the fuselage halves are joined you will still be able to prove that you have done all that extra work! Structural detail is also present on the interior of the fuselage halves, along with a unique insight into the planning of the kit - raised fuselage station numbers from the masters still visible on the moulds. This kit has also inherited the internal forward and aft fuselage fuel tanks from the "Heavy Armament" release.
Trumpeter has supplied landing gear legs in both white metal and plastic, leaving the choice to the modeller. The gear is very simply broken down. In fact, the forward landing gear is a single part, including the oleo scissors moulded/cast in place. Note that many Me 262s did not have the oleo scissors on the forward gear leg. Check your references, but it will be a simple matter to cut off the scissors if they were not present on the particular subject you are building.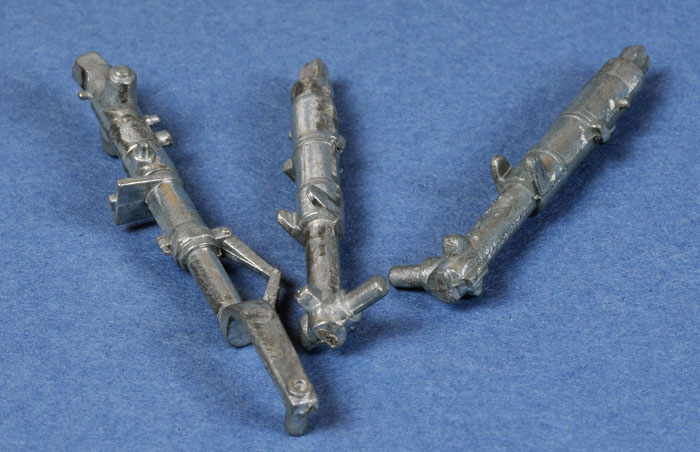 In common with most of Trumpeter's earlier releases, tyres are soft vinyl. This will not please some modellers , but the seam lines are small and detail is good. Resin after market replacements are now available too.
Multimedia content is further boosted with two sets of photo-etched harnesses. Like the rest of the kit, these parts are well detailed but should be simple to use, as the buckles and mounts are integrated with the straps.
RATO packs for the bottom of the fuselage are supplied as an option. Unlike the first release, only the four-gun nose is included in this kit. Check your references, as some Me 262 B-1a/U1 night fighters were fitted with the two-gun nose.
Nose weight is not supplied but it will certainly be required. Fortunately there is plenty of room under the forward gun cowl.
Two sets of markings are offered - Red 10 and Red 11 attached to 10./NJG 11 in 1945. The decals are perfectly printed and colours look good. Stencil data plus wiring diagram decals for the gun bay are also included.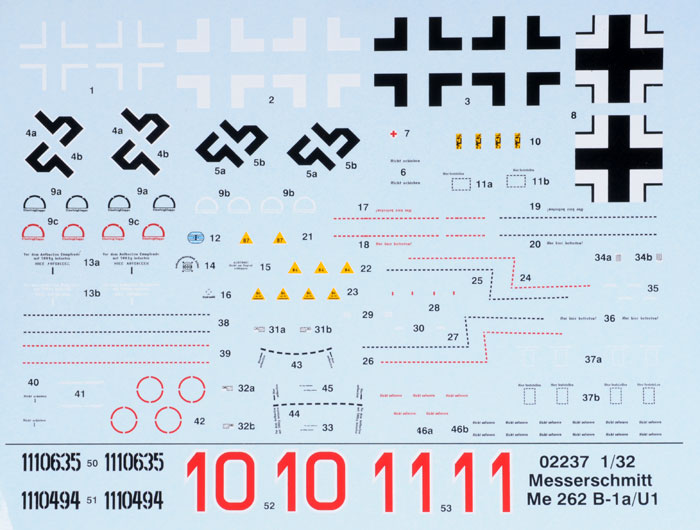 The only problem is that the each Werknummer has sprouted an extra digit. The correct Werknummern should be 110635 and 110494. It will be a simple matter to slice off the extra "1" from the front of each Werknummer.
Many unanswered questions hang over the actual colours used on these expedient night fighters. No two seem to be painted exactly the same.
My best guess is that they were originally delivered as trainers in a typical late-war scheme of RLM 81 Brown Violet and RLM 83 Dark Green (or possibly RLM 82 Bright Green), with lower surfaces in RLM 76 Light Blue. The easiest course of action after the conversion of these airframes to night fighters would be to simply overspray the dark upper surfaces in a more appropriate pale shade - either RLM 76 Light Blue or one of the late-war "Sky" shades - with patches of the underlying RLM 81 and 83 showing through as an apparent mottle. Contemporary photos suggest that the wings on some of these aircraft retained the dark upper surface colours.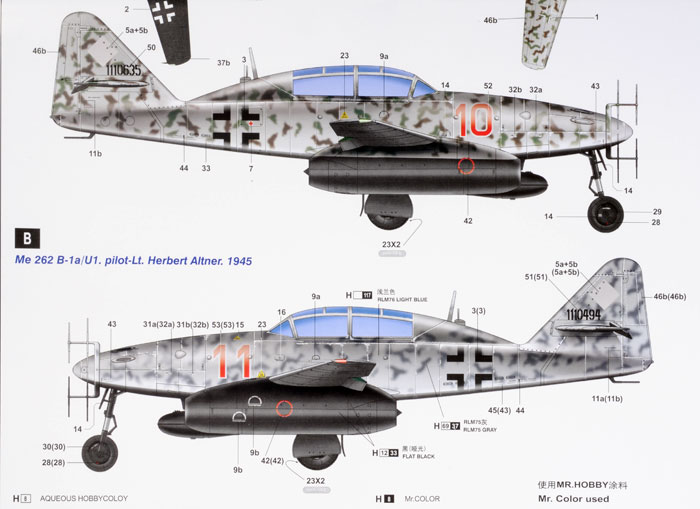 Trumpeter's Painting and Marking Guide takes an each-way bet, showing Red 10 finished in a mottle of RLM 81 and 83 over 76; with Red 11 in the more traditional night fighter camouflage of RLM 75 Grey Violet and RLM 76 Light Blue.
Trumpeter's 1/32 scale Messerschmitt Me 262 B-1a/U1 builds on the already high level of detail in their earlier Stormbird releases.
This is a great kit and, based on my experience building the single seater Me 262 A-1a, should present no major challenges to the average modeller. The only change that I would suggest might be to trade in the vinyl tyres for resin after-market parts. I will probably tone-down the fuselage surface detail to match the more restrained panel lines and rivets on the wings too.
Even if you build this kit straight from the box, though, the result will be both authentic and impressive.
Highly Recommended.
---
Text and Images Copyright © 2008 by Brett Green
Page Created 29 February, 2008
Last updated 29 February, 2008
Back to HyperScale Main Page