Monogram & Hasegawa 1/72 scale
A-1E Skyraider

by Triet Cam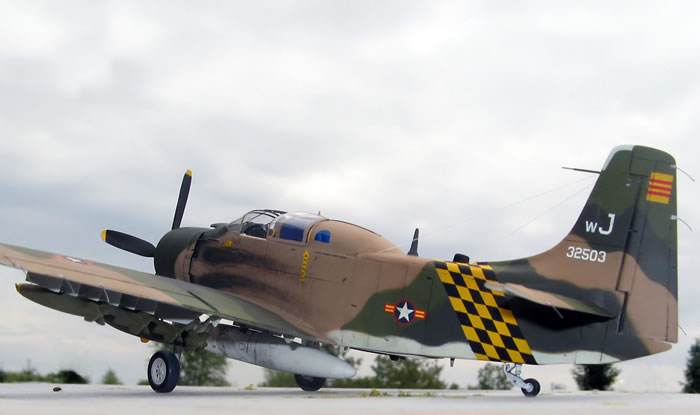 Douglas A-1E Skyraider

Airfix's 1/48 scale Spitfire Mk.IXc is available online from Squadron
This is a kitbash job using the old Monogram A-1E and the Hasegawa A-1H Skyraider kits. Using Lance Braman's excellent kitbash plan here on HyperScale, I proceeded with the project.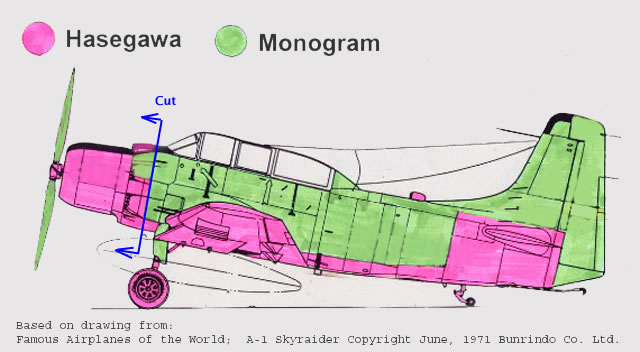 The only different path I took was the upper half cowl came from the Monogram and the lower from Hasegawa kit. I thought it would be easier to blend in the two. It not only required a lot of work to blend in the two different surfaces, but very careful planning also. I didn't position the engine and cowl assembly right the first time. The result was it sat too high with respect to the rest of the fuselage. I cut out the assembly and repositioned it lower and used melted grind up plastic to fill and blend in the surfaces. This mistake took a lot of time to fix.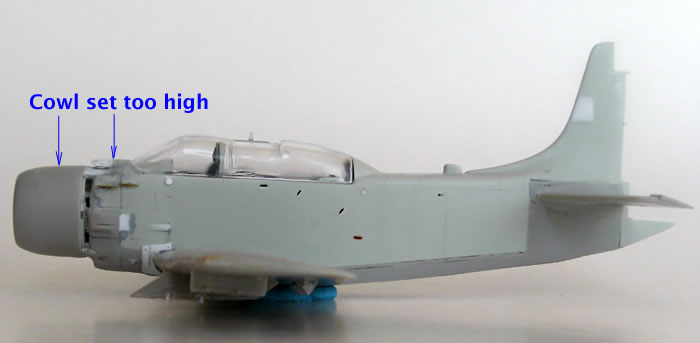 The fuselage was a little easier to work with. In order to get an accurate shape, it is necessary to combine the two kits fuselage (upper and lower) to get the correct height dimensions. The Monogram fuselage alone looked to short. Compare to the side view plan to the finished model, I think the dimensions were close. I don't think it's 100% accurate, but close enough. At this point, I walked away from the project for a month before resuming again.
An advantage of using the Hasegawa underbody is that it made the wings attachment much easier. All the armors underneath were sanded off. I also cut out and positioned the dive flap slightly drooped, as seen on many parked Skyraiders
The cockpit tub was from Monogram, and the seats were from the Hasegawa kits. That's not an accurate representation, but the Cobra resin kit was not available at the time. Another correction needed attention was the undersized landing gear doors. I cut them into halves and added plastic stocks in between to right size.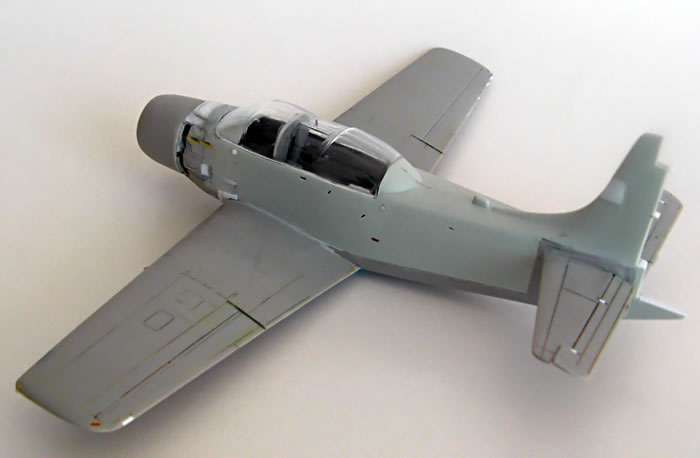 I reshaped the canopy rear panels by sanding of the bulge as much as possible. Reference pictures showed they had much flatter profile. I used the corrected canopy as a mold to form a new vacuform canopy.
After four months of work, the model was completed with full paint and marking. There were some mistakes in the build I'd like to point out. The overall length was 2mm short, but not exactly sure where the shortage was. I forgot to sand off the two armor plated underbody, where the fuel tank sat (all the E's had most armor removed). The canopy side profile should bulge out, not flat. This was not an easy fix since it was formed over the original piece.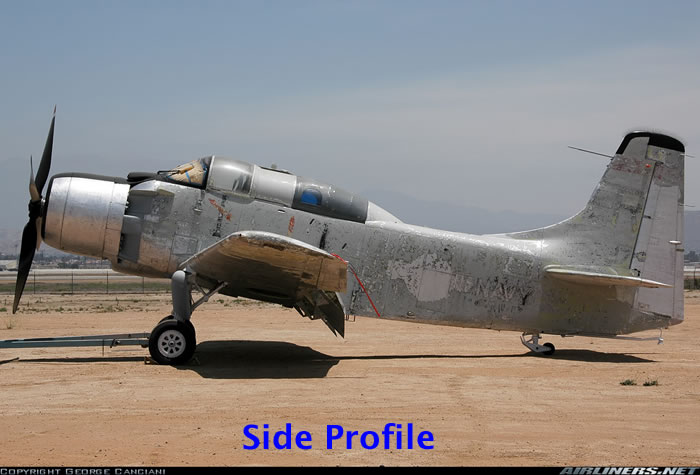 This model depicted a Vietnamese Skyraider of the 23rd TW, Bien Hoa, RSVN. It was actually an A-1G during its service with the US Navy, but was reconfigured back to an E version (mostly the night equipments removed) and transferred to the VNAF.
---
Model, Text and Images Copyright © 2009 by Triet Cam
Page Created 3 August, 2009
Last Updated 3 August, 2009
Back to HyperScale Main Page