Tamiya 1/32 home-made conversion
F-16 "Sufa"
by Frank Mitchell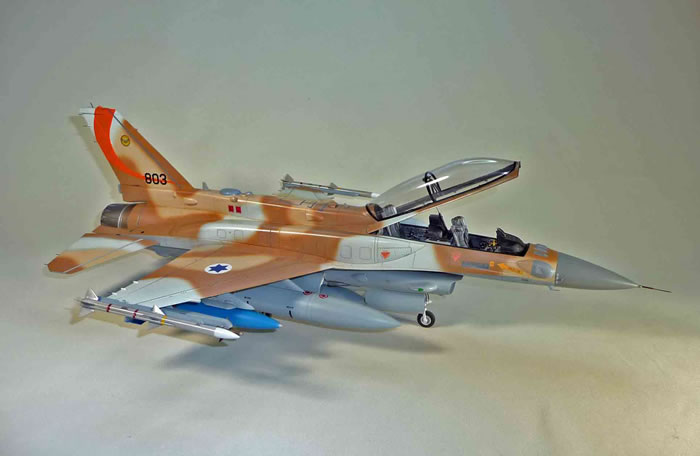 F-16 "Sufa"


Tamiya's 1/32 scale F-16 is available online from Squadron.com


So anyway, there I was in the middle of some project that had suddenly gotten boring, and was idly looking at the backlog of kits when the thought occurred of seeing what it would take to do a two-seater from the Tamiya (or Hasegawa) F-16. The two kits were taken to the workbench and play began. Eventually, a two-seat canopy and coaming emerged with which I was fairly happy (and which, amazingly, even fit both brands very well). By that time interest in the original project had returned, so it was all put back in the box(es) and back on the shelf.
After a few months (and several other projects), all of the F-16 stuff was pulled back to the bench, and work began on what was to have been an F-16D from one of the many USAF squadrons that used them. The problems really arose when a couple of local Atlanta fans of the Israeli Air Force (IAF) started working on me to make it a Sufa. I pointed out that the Tamiya kit (which I had already begun to work with) was a wide-mouth GE-engined aircraft, while the Sufa was a Pratt and Whitney small-mouth bird. They were unconvinced and badgered me to give it try and thus the real work began.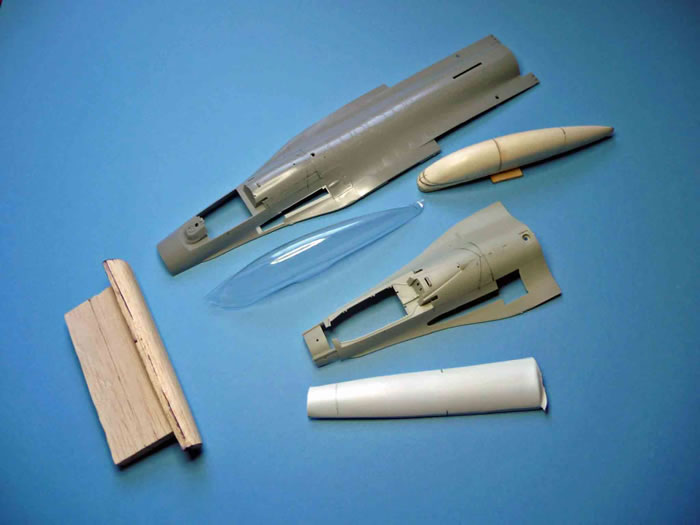 Since the canopy was well underway, that was where I picked up the thread.
The top fuselage was opened out to match the canopy and two True Details interior sets were installed. Both instrument panels needed some work; the front required only some pretty photoetch, but just about everything in the rear had to be built. Photoetch from various sources was used (including 1/48 scale F/A-18 rear 'pit screens, which turned out to be just right, space-wise). Two Cutting Edge F-16 seats were used.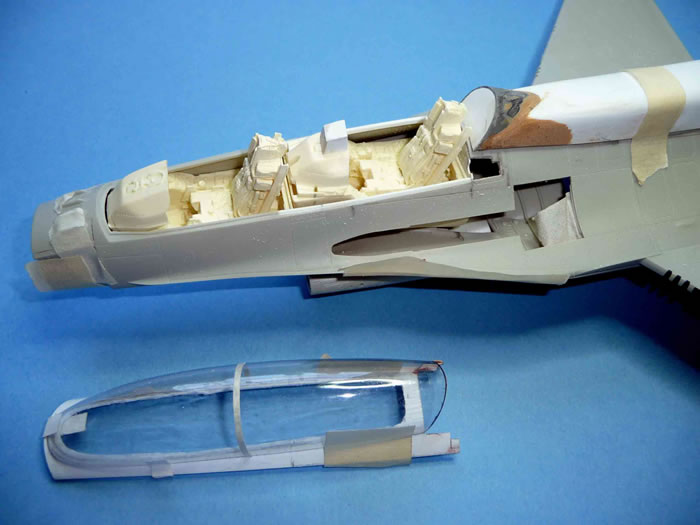 The next problem was the intake. Since the Tamiya kit was underway, I decided to add the Hasegawa intake to that kit, which was really not all that difficult, once I remembered that we are talking about two of the best companies in the business. That meant that the dimensions of both were pretty much exactly the same, which meant that the intake was essentially a cut-and-paste, except, of course, for have to deal with the inside seam, which is never fun, but can be done. The Hasegawa burner can was also used, but with some added detail.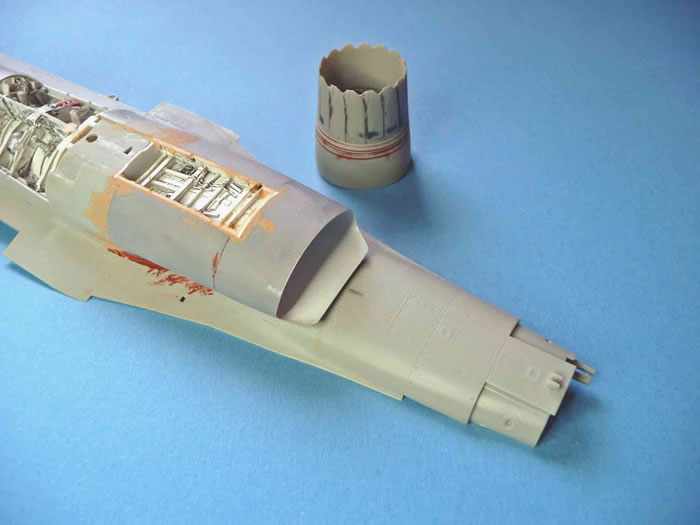 The next Big Change was the addition of the "hump" along the top of the fuselage. That was vacuum-formed styrene over a balsa mold. The shape of the thing was a bit surprising to me, however, it was more "curvy" than I had thought.
The last hassle was all the intakes, domes, bulges, etc, that are all over this aircraft. Lots of fiddly stuff.
The rest of the model was, as they say, "quite straight-forward", although I did use Aires wheelwells, and Skunkworks Conformal Fuel tanks.
The armament was a problem only in that there is such a variety of stuff that can be carried by a Sufa that it takes a while to figure out what you want to add.
Paint (Gunze) was kind of fun, since it uses some nice colors. Obviously, there are no 1/32 decal sheets for this bird (yet), but I did have an IsraDecal sheet for the Barack, which gave all the standard Israeli F-16 markings.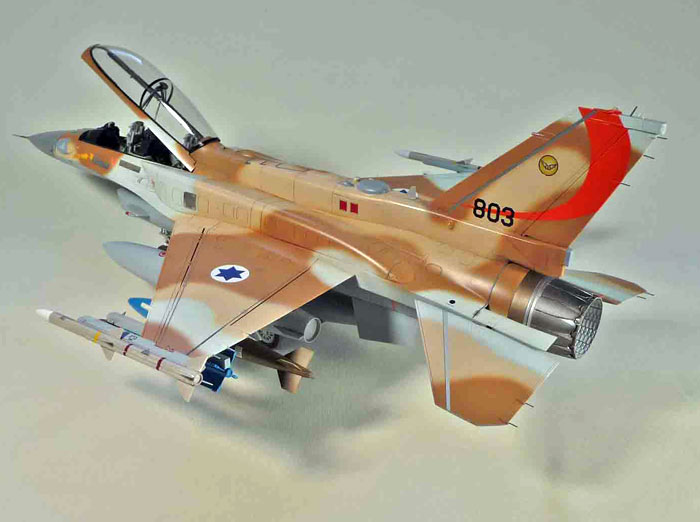 The orange squadron marking on the fin was painted on, and a smaller badge was enlarged (semi-successfully) from a 1/48 sheet.
Bottom Line and Disclaimer
Yes, I know one of these will be coming before long, and no, I do not enjoy self-abuse, but this project more or less grew like Topsy. It was also the kind of thing I really enjoy doing just to see if I can pull it off. I am reasonably happy with it, and have no doubt that the first company to do a good one will sell a bundle of them.
---
Model and Text and Images Copyright © 2009 by Frank Mitchell
Page Created 9 January, 2009
Last Updated 2 July, 2009
Back to HyperScale Main Page