Pegasus Models' 1/48 scale EZ Snap
P-51B Mustang

by Bil Schwarz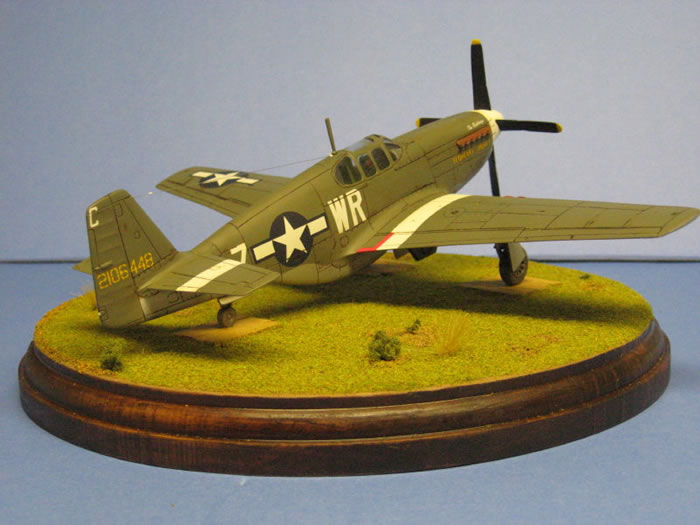 North Aerican P-51B Mustang

HyperScale is proudly supported by Squadron
Pegasus Hobbies EZ snap P-51B Mustang in 48th scale

Earlier this year I wrote an in box review of Pegaus Models' 1/48 scale EZ Snap P-51B Mustang.
I finished it, all 33 pieces or so, in about 4 evenings.
There was absolutely no filler required for this model anywhere! All I did was wash it up with detergent and an old toothbrush, (You need to release the really greasy mold release agent) detail painted the interior (which is by far the best one in this series to date), glued it sanded it and painted it.
I chose not to use the Tuskeegee markings but instead I went with the new Eagle Strike P-51B sheet, which I believe is a rerelease of their old P-51 sheet (P-51 Mustang, Birdcage ). The sheet, now printed by Cartograf, is simply awesone! Prefect register and easy to use. I chose Henry Brown's Hun Hunter because it was beautifully marked and stands out.
The natural metal is Real Floquil Old Silver (I still have some original Diosol to go with it!).
The top color is British RAF Dark Green lightened acording to my eye and is Xtracolor enamel shot with laquer thinner.The stripes were masked and airbrushed Xtracolor white.
After a sludgy wash of artist water colors, I did the flat coats with xtraacrylic flat varnish.The base is an old clock base done with some model railroad supplies for ground cover. I wanted to keep it simple. This mustang is going into our group build ( Of Pegasus Hobbies EZ Snap Kits)and will be displayed at the IPMS Nationals in Columbus in August.
If you want a quick to build fun kit that looks like what it's supposed to, pick one of these up. They are only abour 10 bucks, and each kit in the series gets better then the last. This is my 3rd kit in this series and I am having a ball building them instead of fussing for weeks or months before I get something done in my workshop. I will go back to doing that soon, but these kits are definitely a cure for guys with AMS, plus anyone can build them from a junior junior to a master. It's all about fun.
Larry, Eric and Scott,as well as the other guys over at Pegasus Hobbies have another winner on there hands! This is a model thats fun for all ages.
Big Bill Schwarz, President, NJIPMS
---
Model, Images and Text Copyright © 2009 by Bill Schwarz
Page Created 1 June, 2009
Last Updated 2 June, 2009
Back to HyperScale Main Page