Airfix's 1/48 scale
Supermarine Spitfire Mk.IXc

by Mathias Read-Simpson (aged 10)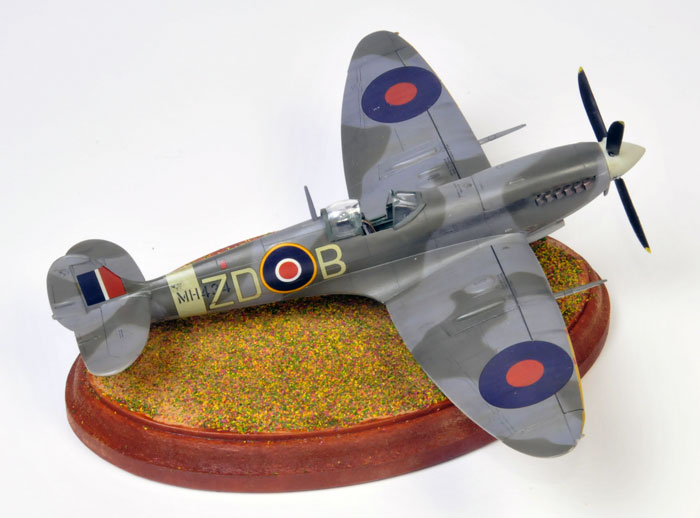 Supermarine Spitfire Mk.IXc

Airfix's 1/48 scale Spitfire Mk.IXc is available online from Squadron
I had the opportunity to visit a couple of model clubs while I was in England in late March. One of these was the Kempston and District Model Club near Bedford. I enjoyed the hospitality of the club members, and was interested to hear some of their stories. One of the members present was ten-year-old Mathias Read-Simpson. His father, Karl, offers some background on Mathias' impressive Spitfire Mk.IXc:
---
Mathias started modelling at the age of 7, assembling and painting a 1/72 scale Airfix "Red Arrows" Gnat, which still hangs fron his bedroom ceiling.
He then progressed to an old Hasegawa 1/32 scale Messerschmitt Bf 109, which he built and painted using Hannan'ts Xtra Colour acrylic paint. He produced a mottled effect on the fuselage using a piece of sponge, but my wife to this day does not know how a piece of our 3 year old daughters bath sponge went missing!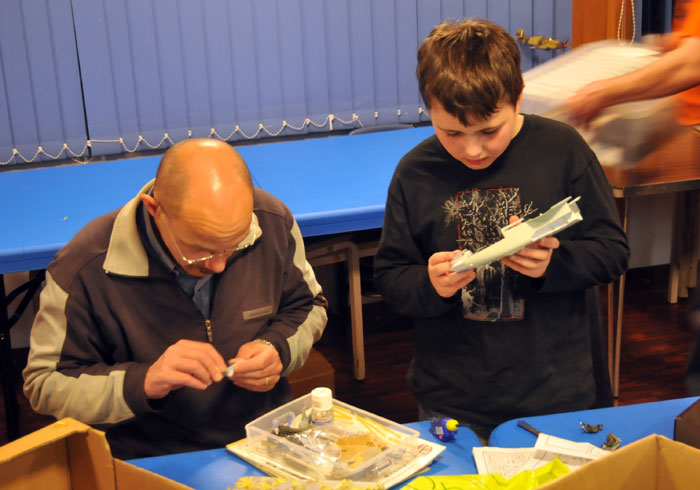 Karl (left) and Mathias Read-Simpson
Now to the Spitfire. Mathias had started a Revell 1/32 Tigermeet Tornado, but perhaps understandably felt a little overwhelmed by the number of parts (over 200), thus it sat on the back burner. At that point I thought that Mathias would not pick up the hobby again.
The one saving grace was buying a Badger 200 airbrush and respirator mask for him in Easter of 2008. Mathias races 1/10 radio controlled touring cars on a Sunday morning and wanted to spray his own body shells!
Back to the Spitfire… for a day out in December a friend and I decided to take our children down to the RAF Museum at Hendon. On leaving the main hall we walked through the shops and Mathias commented on how sleek the Spitfire looked for such an old aircraft. At this point he had a Revell 1/72 Spitfire in his clutches. I suggested to him that I knew of a model shop just down the road and we ended up in Hannants. The new Airfix 1/48 kit was purchased and the interest of a 10 year old in plastic modelling was re-kindled.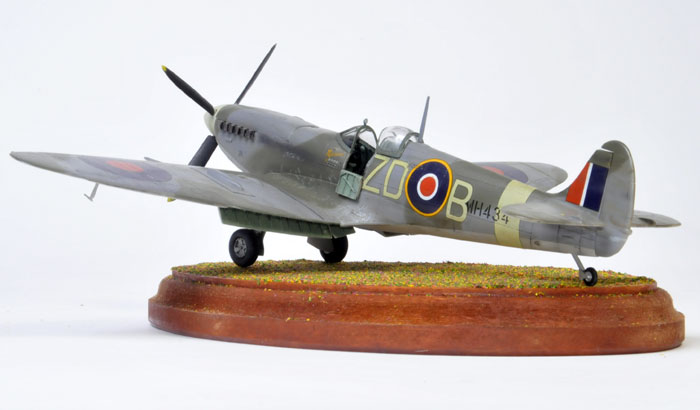 For the remainder of the Christmas school holiday and for ten or so evenings after then, all of his available time was spent modelling. He even referred to the internet for pictures of the cockpit and undercarriage so that he got the colours right. He used Humbrol Liquid Poly to assemble the kit, whilst most of the sanding was by way of one of his mum's nail buffers!
Mathias used Vallejo acrylics for the brush painting diluted with tap water and for the airbrushing. He used his Badger 200 and Vallejo "air" paint as well as a 3M cartridge respirator. He masked the camouflage using Blu Tack, a trick he picked up looking at my FAQ book on armour by Mig Jiminez.
I also decided to photograph the build stage by stage so that my wife and I would have something to look back on, as well as something for Mathias to show his kids.
I did help him, in so far as I mixed the paint and cleaned the airbrush out for him after each spraying session.
The crowning glory was at Milton Keynes Modelkraft, where he entered the Spitfire upon a base with a photo album showing the build and won gold in the under 11's class.
He also took the Spitfire into Scouts and picked a hobby badge.
Now he is back building the Tornado!
---
Model by Mathias Read-Simpson
Text Copyright © 2009 by Karl Read-Simpson
Images Copyright © 2009 by Brett Green
Page Created 22 July, 2009
Last Updated 22 July, 2009
Back to HyperScale Main Page