Bucker Bu 131 Colours & Markings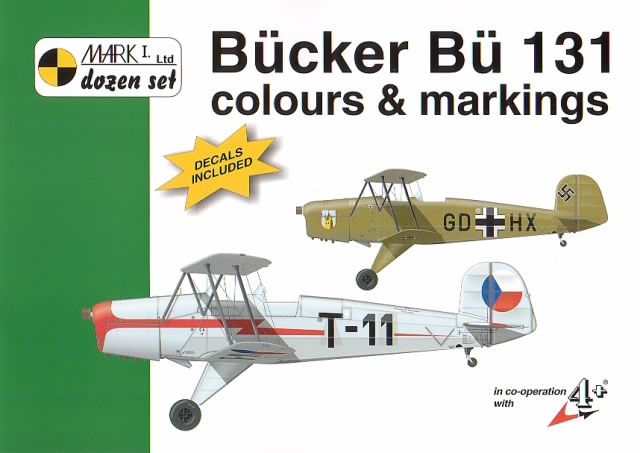 Mark I. LTD, "Dozen Set"
S u m m a r y

Publisher and Catalogue Details:

Bucker Bu 131 Colours & Markings
Mark I. LTD, "Dozen Set"

ISBN:

978-808663706-8

Media and Contents:

Soft cover; 8.5x11 inches; 28 pages plus covers, Decal sheet for 12 aircraft.

Price:
Review Type:
FirstRead
Advantages:

Large format with excellent photographs of the subject; superb colour artwork; decals in perfect register; a minimum of carrier film; additional cockpit reference images.

Disadvantages:
Conclusion:

A quality package gives the modeller a variety of decal choices and the period images to back them up. Available in either 1:72 or 1:48 scale.

Reviewed by Rob Baumgartner

HyperScale is proudly supported by Sq
uadron.com
There are a lot of decal sheets on the market, some with corroborating information and some without.
What if you had a publication that focused on a particular subject and provided the photographic evidence to back it up? Well…this book does just that.
There are 12 aircraft profiled in this volume and each is given two pages to showcase their wares. The first contains 3 photographs of the selected machine while the other displays the beautiful artwork. This comes courtesy of Karel Susa and really is inspiring. A total of 4 views are shown to make sure all facets of the airframe are covered.
Informative captions accompany the images and the large A4 format of the book allows for maximum detail to be gleaned from each print.
The dozen decals options are as follows:
Bu 131A, Black D-EGSY, Training Station of the DLV German Aviation Sport Union, Local Pilot Group No.VII-VIII, Adlershof airfield, Germany, autumn 1935/spring 1936.

Bu 131D-2, Black GD+HX, FFS A/B 23 Pilot School, Luftwaffe, Kaufbeuren airfield, Germany, summer 1942.

Bu 131A, Black 75, Dutch Air Force, Dutch Aerobatic Championship, Groningen-Eelde airfield, June 1938.

Bu 131A, Black I.157, Katicabogar (Ladybird) Short-Range Reconnaissance Sq., Royal Hungarian Air Force, Szeged airfield, 1939.

Tatra T-131 (Bu 131B), Black OK-TAA, Ringhoffer-Tatra, Moravia-Silesian Wagon Works, Studenka factory airfield, Czechoslovakia, 1937-39.

Aero C-4 (Bu 131D-2), Black T-11, No.2 Training Sq.,Czechoslovak Air Force, Planá airfield (Ceske Budejovice), 1947.

Aero C-104, Black A-70, LVA Military Air Academy, Czechoslovak Air Force, Hradec Kralove airfield, May 1947.

Bu 131B, White A-4, Swiss Air Force, Dubendorf airfield, late 1944.

Bu 131B, Black M-84, Manchu Kokuyuso Kabushiki Kaisha – MKKK (Manchurian Air Transport Co.), Aeroclub Dairen (Dalian) airfield, Manchukuo, 1938.

Type 4 primary Trainer – Ki-86, Black 4, 23rd Sq., Army Air Force Officer School, Imperial Japanese Army Air Force, Manchurian Detachment, Manchukuo, May-June 1945.

Bu 131D-2, Black 7501/7, 1st Pilot School, 4th Air Base, Croatian Air Force, Borovo airfield, late 1943.

CASA 1.131E (E.3B), Black 78-1, Spanish Air Force, mid-1950s.
The modest sized decal sheet is crammed with all the insignia and markings to create the above aircraft.
The registration of colours was perfect and each object was surrounded by a minimum of carrier film.
To compliment the above, the book finishes with a chapter on cockpit details. Once again we are treated to a selection of large black and white images and these reveal numerous details to assist the modeller with the interior.
A package such as this allows the builder to create something out of the ordinary. There is a huge cross section of Air Forces to choice from and a variety of schemes to match.
With the combination of quality decals (either 1:72 or 1:48 scales) and instructive reference book, this is an excellent package for lovers of the Bu 131.
Thanks to Michal Ov?á?ik, Editor-in-Chief, Mark I Ltd. / 4+ Publications, for the review copy.
---
Review Copyright © 2009 by Rob Baumgartner
Page Created 22 July, 2009
Last updated 24 July, 2009
Back to HyperScale Main Page