Fokker T.V 'Luchtkruiser'
History, Camouflage and Markings
by Frits Gerdesson & Luuk Boerman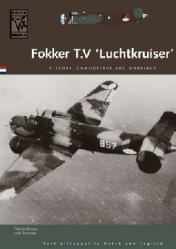 Dutch Profile
Summary

Catalogue Number:

Fokker T.V 'Luchtkruiser'
History, Camouflage and Markings.
Dutch Profile Publications
by Frits Gerdesson & Luuk Boerman

ISBN:

978-94-90092-01-6

Contents and Media:

56 pages in A4 format with a card cover. 81 black and white war-time photos, 7 paged of left, right and plan view full colour profiles with text in both Dutch and English.

Price:

Review Type:

FirstRead

Advantages:

Many very clear and interesting B&W photos including some interior shots and excellent colour artwork. Photo captions are in both Dutch and English.

Disadvantages:

English translation is not good, very hard to read. First two thirds of the book is in Dutch while last third is English. This means most of the photos don't relate to the text and the Dutch text is twice as long as the English.

Conclusion:

This book may have been very interesting to English reader if the above faults didn't exist. The fact that model kits of the Fokker T.V are almost non-existent does not help. Nevertheless, the photos and colour artwork are exceptional.
Reviewed by Glen Porter
Dutch Profile Publications produce many books on Dutch built and foreign built aircraft flown by the Netherlands. They also do decal sheets of very high quality on Dutch subjects under their own name and RAF subjects under Kits At War.
The Fokker T.V Medium Bomber was the only modern bomber in survice with the Dutch Air Force when the Germans attacked on the 30th of May, 1940. The Dutch ordered 16 from Fokker in 1937 and although all were delivered before the war stated only 9 were operational on the fatal day. Considering the small number, they performed very well, destroying many German aircraft on the ground at Waal-Haven airfield before being overwhelmed by the Luftwaffe and only one survived at the Dutch surrender.
This is the first book from Dutch Profile Publications that I've had the opportunity to see. On quickly flipping through it and seeing the many clear B&W photos and excellent colour profiles I was very keen, but things went downhill from then on. Other bilingual books and magazines that I have, AJ Press (Polish/English), Minitracks Magazine (French/English) and Luftwaffe Im Focus/U-boot Im Focus (German/English), all have the native language on the left of the page and English on the right. This means that all of the photos and artwork is relevant to both languages on the page. The length of text in all three above examples is about the same for both languages. Now, in this book by Dutch Profile Publications, the first two thirds of the text is Dutch and the last third is English. Apart from the length disparity, making me wonder if something hasn't been left out of the English section, many of the photos have no relevance to the text on that page. But that's not all. Anyone who has tried to use the Google translater will know the problem. It appears to translate the individual word rather than a sentence or paragraph. Some words don't have a direct translation so they are left in the original language. Others are translated but not in a way that would be used in English. This causes you to have to go back and re-read the sentence or paragraph to try to work out what the author was getting at.
Enough of the criticisms - what did I get out of the text?
Well, due to lethargy and some bad advice, Holland was in an even worst position to face the Germans that Britain and France. The Fokker T.V was delayed by indecision on what use to make of it and what equipment to fit that by the time a small number were fit for operations it was already obsolete. Just the same, the small band of very brave aircrew made the aircraft look better than perhaps it really was in the face of over-whelming odds.
If you absolutely must build a Fokker T.V, I believe Xotic do a vac-form kit in 1/72nd scale although I am not sure if it is still available, this book will be of help. The photos will show you where everything goes and what it should look like and the profiles will give you a variety of camouflage and marking schemes including FS numbers plus there's even a profile of a captured T.V with Luftwaffe markings and Dutch colour scheme. I believe Dutch Profile Decal sheets will be releasing a sheet for the T.V (DDS972) some time this year.
Now, if you happen to read Dutch?
Thanks to Luuk from Dutch Profile for the review sample.
---
Review Copyright © 2008 by Mick Evans
This Page Created on 16 May, 2008
Last updated 16 May, 2008
Back to HyperScale Main Page
Back to Reviews Page