S u m m a r y

Title and Author

Scimitar Supermarine's Last Fighter
by Richard A. Franks

Dalrymple & Verdun Publishing

ISBN:

1-905414-10-9

Media:
Soft, glossy, laminated colour covers; 21.5cm x 28cm portrait format, 120 good quality satin-finish pages.
Price:
GBP£19.95 plus post and packing
Review Type:
First Read
Advantages:

Good selection of photographs (126 colour and black and white) and colour profiles (31 over 13 pages), coupled to well-researched text.

Disadvantages:
Conclusion:

Good detail, excellent photographs and a welcome addition to any modeller or historian's library.
Reviewed by Steve Naylor


HyperScale is proudly supported by Squadron.com
Ignoring the changes in cover style, perhaps the one criticism that can be made of this publisher's series to date, has been the variability of content in terms of what is, or is not , included in each title. Aside from the main text, photographs and colour profiles, some titles have diagrams from the manuals and some don't. Some have extensive 'walkaround' sections and some don't and some have three-view drawings and some don't. That said though, the one constant is the authoritative and informative text. In this case, it is once again the work of respected author Richard A Franks, who so far, has penned most of the titles in this series and from whom we can expect a thorough and well-researched book.
Providentially, this new title from Dalrymple & Verdun has made its appearance just as a new injection kit of the Supermarine Scimitar has 'hit the shelves'. Although 1:48 scale modellers probably have some time to wait before their prayers are answered in this regard, 1:72 aficionados on the other hand, must feel that all their Christmases have come at once. Since appropriate reference material also appears on many modeller's 'wish lists', let's take a look at this new reference on Supermarine's final design.
Laid out in the now familiar 'house style', the book jumps straight into the earlier development of the Scimitar in chapters 1 and 2 ('Last of the Line' and 'Towards the Scimitar'), examining the prototype (Type 508) and subsequent developments (Types 525 and 544). There is a great deal of detail here, describing the numerous aerodynamic and mechanical hurdles which had to be overcome and it is fascinating to see why the Scimitar ended up looking like it did. Ironic, that the extraordinary 'Butterfly' tail of the initial Type 508 (all that dihedral and no fin) ended up having to be a conventional fin, coupled to tailplanes having noticeable anhedral.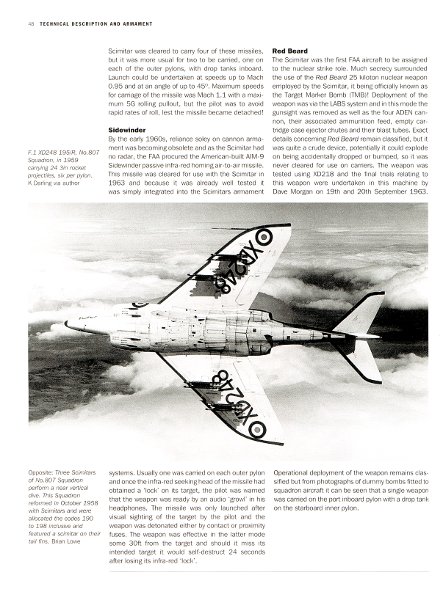 The short chapter 3 ('The Scimitar is Born') and the much meatier chapter 4 ('Service Career'), cover the type's introduction to, and operation in, front and second-line service. Training, operational squadrons and the Fleet Requirements Unit are covered, as well as brief mention of the Scimitar's final days and details of the three surviving aircraft. All this is illustrated with excellent black and white photographs, many sourced from the Fleet Air Arm Museum's own collections. Each squadron's use of the Scimitar is reasonably well detailed, in chronological order, and reveals amongst other things, the relatively high attrition rate experienced. One particularly poignant incident occurred, when the commanding officer of No.803 Squadron (the first operational Scimitar squadron) made a perfect first landing on HMS Victorious, but was lost when the arrestor wire parted and the aircraft went into the sea. Although the SAR helicopter was quickly on the scene, tragically he could not be extracted.
Chapter 5 ('Technical Description and Armament') naturally covers the technical aspects of the Scimitar, including details of weapons such as the Aden cannon and Bullpup missile. The written information is supplemented with more black and white photographs, various technical illustrations taken from the manuals and two pages of of 1:72 scale, three-view drawings. Although not a lengthy chapter, it provides good detail on most of what a modeller would need to know and the photographs are particularly useful in showing the oil-streaked 'belly-of-the-beast'.
Colour is another important aspect of an aircraft for the modeller and this is handled in chapter 6 ('Scimitar Colours'). Primarily a visual chapter, it nevertheless begins with descriptions of paint schemes used by the early 'Types', moving on to details of individual squadrons. There are then several pages of photographs, this time in colour, followed by thirteen pages of excellent colour profile drawings produced, as usual, by Richard A Caruana. The pick of theses schemes, has got to be the double-page spread devoted to Scimitar F.1 'XD229'. Operated by the Royal Aircraft Establishment, this aircraft was finished in a striking light blue overall livery, with white drop tanks, spine/fin and tail surfaces.
The last chapter (Chapter 7; 'All At Sea'), is a collection of photographs, again in black and white, of the Scimitar in action on board various carriers. Naturally, these images also include those of Scimitars in trouble; entanglements resulting from engagements with the barrier and one where the aircraft was nearly lost over the side, whilst being towed by a deck tractor in bad weather.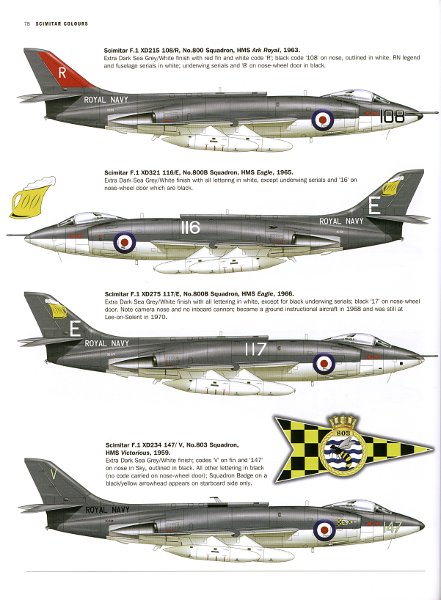 Four appendices round off the book. Appendix I ('Scimitar In Detail') contains colour photographs of survivor XD317 (an ex-Fleet Requirements aircraft) in 'Walk Around' fashion. These are not extensive, but nevertheless welcome, especially given the trying circumstances for (flash) photography in the gloom of the 'Flightdeck' interactive display at the Fleet Air Arm Museum, Yeovilton. Appendix II ('Technical Data') gives the usual 'chapter-and-verse' on the Scimitar (prototypes and production), in terms of dimensions, weights, performance, etc. Appendix III ('Scimitar Squadrons') details basic information about squadron land bases, overseas detachments and deployments on carriers, as well as about the other units, civilian organisations and government agencies to have operate the type. The final Appendix IV ('Scimitar Production'), gives detailed information on each serial number, with dates and locations for each major event in a particular aircraft's life. The information here is much more detailed than I have seen before and presumably reflects the author's meticulous attention to detail. Finally, although there is a 'Key' provided, to the abbreviations used throughout the book, no bibliography is offered.
Despite a relatively short service career and despite failing to live up to expectations, the Supermarine Scimitar was nevertheless an important 'transitional' aircraft in the history of Royal Navy flying and the Fleet Air Arm. Books on the Scimitar are few, so this is a welcome addition to any modeller or historian's library. Good detail and excellent photographs are the hallmarks of this series, with the added security of Mr. Franks at the helm. Definitely recommended reading for those interested in the aircraft for which dustbins were essential ground equipment!
Thanks to Dalrymple & Verdun Publishing for the review sample

---
Copies should be available to order from most good book retailers, but can also be ordered direct from:
Dalrymple & Verdun Publishing
33 Adelaide Street
Stamford
Lincolnshire
England
PE9 2EN
(UK)
mail@dvpublishing.co.uk

www.dvpublishing.co.uk

---
Review Copyright © 2009 by Steve Naylor
This Page Created on 31 May, 2009
Last updated 31 May, 2009
Back to HyperScale Main Page