SE5a Decals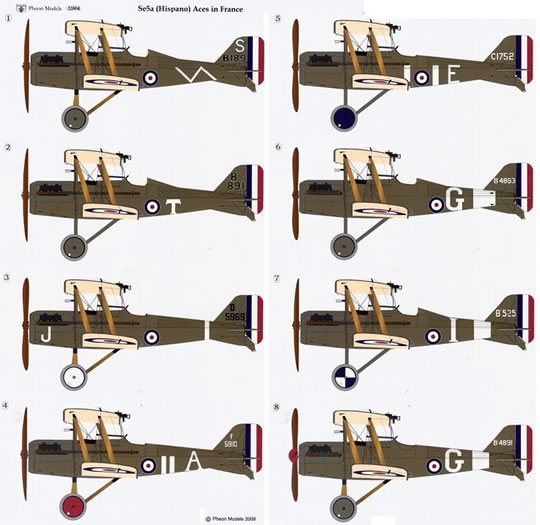 Pheon Models, 1/32 scale
Summary

Catalogue Numbers:

32003 SE5a D3459 61 Home Defense Squadron

32004 SE5a Aces in France (Hispano engines)

Scale:

1/32

Contents and Media:

Waterslide decals, colour profiles, instructions and notes

Price:

G32003 GBP £17.50, 32004: £13.50 available from pheon.models@hotmail.co.uk

Post & packing: £1.10 to the UK, £1.57 to European destinations and £2.09 to the rest of the world. Payment by Paypal, or by cheque for UK customers.

Review Type:

First Look

Advantages:

Perfect register and good opacity, manufactured by Fantasy Printshop. Outstanding support material; sheet packed with markings.

Disadvantages:

Rather expensive but unavoidable given low volume production

Conclusion:

Excellent quality decals to enable modelers to make their 1/32 SE5a stand out from the rest.
Reviewed by James Fahey

HyperScale is proudly sponsored by Squadron.com

The Manufacturer
Pheon specialise in decals for the WWI modeller and these two releases are the fourth and fifth subjects since the business launched in late February this year. This is a phenomenal release schedule from Rowan Broadbent, the talented modeller behind Pheon.
As with earlier the releases, these decals feature minimal carrier film and excellent registration.
---
Intended Kits
The decals are for Hispano Suiza engined SE5as (not the Viper engined version which had a different nose profile and lower thrust line). Two kits are available in 1/32, from Roden and Wingnut Wings. Pheon's decals have been specifically designed to fit the Wingnut kit. In his build article in Windsock Worldwide Vol 25 No 2 Ray Rimell noted that the Wingnut SE5a cockades are oversized. These Pheon decals will fix that.
---
No. 32003 SE5a D3459 61 Home Defense Squadron
D3459 is one of the few 'colourful' RFC SE5as operated during the war. If you want something different for your Wingnut kit other than plain PC10 with white squadron markings then this sheet will be just the ticket. It is a limited run release, hence the higher price (lower volume over which to recoup costs).
D3459 was flown on anti-Gotha patrols by Capt E.B. Mason on 8th March and 20th May. The primary reference for the aircraft is a particularly good photograph appearing in Albatros Production's SE5a Datafile Special. In the absence of any definitive evidence for the diamond colours, Pheon have consulting with knowledgeable WWI aviation folk and applied some deduction to settle on a shade of grey (mixed in the field either from black & white or battleship grey paint, all of which were readily to hand). This decal set will produce a strikingly different SE5a.
Modellers should take particular note of the detailed 'how to' instructions for applying the diamond decals. Spare diamonds are included in the event of any mistakes.
Construction notes for the conical exhaust shrouds are provided. D3459's shroud differs from the 'spare' exhaust shroud in the Wingnut kit which is of a different pattern.
---
No. 32004 SE5a Aces in France (Hispano engines)
The Aces in France sheet (32004) contains markings for eight aircraft:
B189, Capt JH Tudhope (10 victories), 40 Sqn,

B891, Capt G McElroy (46 victories), 24 Sqn,

D5969, Lt C Lagesse (20 victories), 29 Sqn,

F5910, Capt W Claxton (Canadian, 37 victories incl 2 balloons), 41 Sqn

C1752, Lt F Taylor (Canadian, 10 victories), 41 Sqn

B4863, Capt J McCudden, 56 Sqn,

B525, Lt A Rhys Davids (25 victories), 56 Sqn. Note although this is the aircraft in which Rhys-Davids shot down Werner Voss, the markings are for a later period. At the time of the Voss dogfight 56 Squadron markings featured a dumbbell on the rear fuselage, which was officially changed to the white band two days later.

B4891, Capt J McCudden (57 victories), 56 Sqn, modified cockpit sides, exhaust and LVG spinner.
There are eight cockades included, allowing two aircraft to be completed - one with white-outlined cockades and the other with no outlining.
Both decal releases include Palmer Aero markings for the tyres to replace the Wingnut version which featured incorrect tyre size numbers (700x100 as opposed to 700x70). Unfortunately, as noted in the Pheon instructions, the decal diameter proved to be not quite right for the kit wheels so the correction should be made using the Pheon numbers with the Wingnut words.
Also as noted in the instructions the lower wing cockades do not feature separated aileron portions as provided for the upper wing cockades. This is straightforward to remedy by using the kit parts as a cutting template.
---
Bonus for Wingnut Modellers
As the Wingnut model curiously lacks any rib or stitching detail on the fin and rudder, Pheon has included some extra thick tape and stitching decals as something of an experiment. The idea is to apply the tape decals (over a glossy surface) then add the stitching on top of those. A novel approach and Pheon invite feedback from modellers who give it a try!
---
Full Colour Decal Placement Guides
As with the previous decal releases, Pheon provide full colour A4 sheets of profiles/placement guides printed on glossy card - five sheets in the Aces in France set and two in the Home Defence set. These cards are very nicely done, top-end quality.

Comparisons between Pheon and the defunct Americal Gryphon decals are becoming inevitable as Pheon continue to expand their range. The Americal Gryphon range was extensive and the research was very thorough, but frankly the decals themselves suffered from rather patchy quality and they were difficult to buy (no website, no emails, no credit cards), particularly for customers living outside the US.
Pheon decals are more expensive but the quality is totally superior and the service is excellent. When the package arrives in the mail box and you open it up and hold the decals in your hands, the overwhelming response will be "WOW these are first rate!" Definitely "worth what paid for" as marketing people say. Pheon is for WWI decals as Wingnut is for WWI kits - outstanding.
Thanks to Pheon Models for the review samples.
Here are links to reviews of the earlier releases here at Hyperscale:
Sopwith Pups in 1/72 and 1/48 scales: http://www.hyperscale.com/2009/reviews/decals/pheon48001reviewjf_1.htm
Lafayette Spad VII decals in 1/48 and 1/32: http://www.hyperscale.com/2009/reviews/decals/pheon48002reviewjf_1.htm
Fokker Dr.1 decals in 1/72, 1/48 and 1/32 for Jagdgeschwader II:
http://www.hyperscale.com/2009/reviews/decals/pheon48003reviewjf_1.htm
Until Pheon's website is finished, you can check out their products here:
http://www.britmodeller.com/forums/index.php?showforum=227
and the email address is mailto:pheon.models@hotmail.co.uk.
---
Next releases
Bristol F2b
Three releases for the 1/32 Wingnut Wings 'Biff' kit should be available by the time this review is published – Aces in France, Post-War (home and overseas) and Palestine (including the Australians)/ Home Defence Night fighters. Now you can make your Wingnut kit stand out from the crowd!
Jasta 40 – Karl Degelow's Jasta
Later in July Pheon will be releasing a Jasta 40 set to coincide with publication of Peter Kilduff's excellent new book Black Fokker Leader. The decals will be in 1/72 and 1/48 scales. Jasta 40 markings are very striking, consisting of black fuselages with white tails and individual markings mostly in white. Pheon have sent me a pre-release sheets of these decals and they're superb, particularly the winged dagger marking of Uffz Werner Hertel (featured in Osprey's Pfalz Scout Aces of World War 1). It's not often you would build a model solely on the strength of the decals but Hertel's winged dagger will do it! A First Look Review is coming very soon.
There are full sets of national markings included sufficient for 4 Fokker DVIIs, 1 Pfalz DIIIa and 1 Albatros DVa in 48th scale and 7 Fokker DVIIs, 2 Pfalz DIIIa and 1 Albatros DVa in 72nd scale. Prices have been impacted by the number of colours and limited run: 48005 £17.45, 72004 £15.70
There will certainly be a 32nd set, just as soon as the Wingnut Wings kits are released and Pheon can see what markings are already covered.
1/48 & 1/72 SE5as
Pheon are working on scaling down the two 1/32 sheets and adding a number of Viper-powered subjects to give another 7 or 8 options. Probably for release in August.
Sopwith Triplanes in 72nd and 48th
These have been delayed and will not be available until later in the year - August or September seems most likely.
---
available from pheon.models@hotmail.co.uk
---
Text and Images Copyright © 2009 by James Fahey
Page Created 22 July, 2009
Last updated 22 July, 2009
Back to HyperScale Main Page