Fokker Dr.Is of Jagdgeschwader II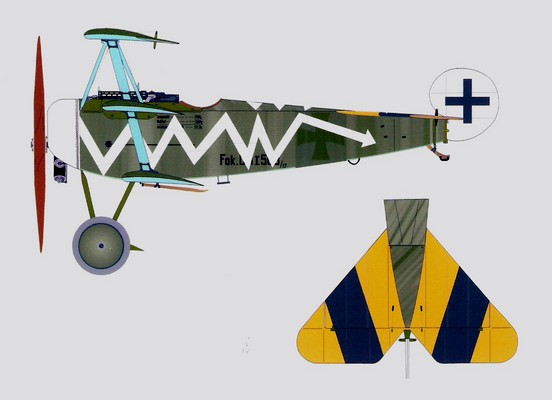 Pheon Models
1/32, 1/48 & 1/72 scales
Summary

Catalogue Number:

72002, 48003 & 32002 Fokker Dr.Is of Jagdgeschwader II

Scale:

1/72, 1/48 and 1/32

Contents and Media:

Waterslide decals, colour profiles, instructions and notes

Price:

GBP £12.74 (1/72), £13.80 (1/48) and £15.70 (1/32) available from pheon.models@hotmail.co.uk

Post & packing: £1.10 to the UK, £1.57 to European destinations and £2.09 to the rest of the world. Payment by Paypal, or by cheque for UK customers.

Review Type:

First Look

Advantages:

Comprehensive coverage of this elite WWI unit using the latest research. Perfect register and good opacity, manufactured by Fantasy Printshop. Outstanding support material; sheet packed with markings.

Disadvantages:

Rather expensive but unavoidable given low volume production

Conclusion:

Excellent quality decals to differentiate your Fokker Dr.I model or build a Jasta line-up.
Reviewed by James Fahey

HyperScale is proudly sponsored by Squadron.com

The Manufacturer
Pheon Models are a new manufacturer with a rapidly expanding decal range for the WWI modeller. Rowan Broadbent is the talented modeller behind Pheon and his passion for WWI aviation, accuracy and quality is very evident. The decals are top-end quality with impressive reference material and careful attention to accuracy. This set provides a huge range of options for the most iconic WWI aircraft ever – Fokker's Dr.1 Triplane, across the three major scales.
---
Jagdgeschwader Nr II
The second of Germany's elite fighter wings was formed in February 1918 from four Jastas 12, 13, 15 and 19 under the leadership of successful ace Hptm Adolph von Tutschek (27 victories). JGII was credited with 340 victories for the loss of 22 pilots killed and 8 wounded in action or accidents and a further 8 taken prisoner. The Fokker Triplane equipped most JGII Jastas from March 1918 until it was replaced by the Fokker DVII starting in June.
Prominent JGII aces who flew the Dr.I include Vfw Ulrich Neckel (30 victories), Ltn Herman Becker (23 victories), Ltn Hans Pippart (22 victories), Ltn Walter Gottsch (20 victories), Ltn Hans Korner (7 victories), Ltn Rudolf Rienau (6 victories) and Ltn Arthur Rahn (6 victories).
---
Intended Kits
The Fokker Dr.I is one of the most kitted aircraft from WWI and Pheon recommend the Eduard, Roden, Revell (latest release) kits in 1/72, the Eduard kit in 1/48 and the Roden FI and Dr.1 versions in 1/32 on the basis of quality, availability and accuracy.
---
The Decals
The decals feature minimal carrier film and excellent registration, and the sheets are absolutely packed. Pheon have used the latest research into Fokker Dr.I markings and quote an impressive list of references, relying particularly on Albatros Productions' recent Datafile Special 'Fokker Dr.I Jagdstaffeln' by Greg VanWyngarden.
In 1/72 and 1/48 scales there are markings for a whopping 30 aircraft, eleven from Jasta 12, three from Jasta 13, four from Jasta 15 and twelve from Jasta 19. That fills an A4 sheet in 1/48 and an A5 sheet for 1/72. Surely there will be some modellers who will be tempted to build a full Jasta, very do-able in 1/72! There are crosses - sufficient for at least six models - in three versions: one iron cross and two versions of the later bar cross.
Fokker serials are provided for all those aircraft that have been positively identified plus full sets of matching werke nummer component stencils and weight tables in the correct letter/number fonts. There are even spare ten-digit number sets for both serial numbers and component stencils to allow modellers to make up their own for other DrIs or for any that may become identified by later research.
In 1/32 scale there are 16 options completely filling the A4 sheet. Six for Jasta 12, one for Jasta 13, three for Jasta 15 and six for Jasta 19. Sufficient crosses are provided for one model in each of the three styles. The 1/32 markings were selected mainly on the basis that their serials and werke nummers were known – important in this scale as they are much more visible. No more hassles getting kit decals to behave in this scale!
Black diagonal tailplane stripes for Jasta 19 are included in the 1/72 and 1/48 sheets, but there was insufficient room for these on the 1/32 sheet. Its a straightforward masking job, particularly in this scale.
Some modellers may be wondering why Pheon have provided so many options when most modellers will probably only be building one in this scale – Pheon have stated that the cost savings from having fewer options would be minimal and that the production philosophy is to provide modellers with the maximum choice. After all, the whole idea of buying after-market decals is to enable you to build different versions to other modellers.
---
Extra bonus for 1/48 scale modellers
Some modellers have had difficulty fitting the four undercarriage legs correctly on the otherwise superb Eduard 1/48 kit. Pheon have included a template for building a simple jig and some additional assembly instructions which should simplify the assembly greatly.
---
Instruction Book
The markings are fully documented in a 15 page A5 booklet which provides a wealth of information on:
JGII's background,

an overview of the Triplane's service history,

evolution of the German cross markings,

DR.1 stencil markings,

colouring notes for the interior, Fokker green colour, underside Turquoise and the unique Fokker streaky finish,

Jasta identification markings, and

individual pilot and aircraft markings.
Pheon provide five full colour A4 sheets of profiles/placement guides printed on glossy card (in 1/32 scale four sheets), and a frameable postcard-sized glossy print of one of the options, chosen at random from the set. These cards are very nicely done, top-end quality.

These decals are superb! Great subjects, careful attention to accuracy, and outstanding quality. The price may seem quite high for a decal sheet but I absolutely recommend them. You will not be disappointed, in fact, you will probably want to buy some more Triplane kits to get the most out of the decals.
Thanks to Pheon Models for the review samples.
Click here to see the Hyperscale review of the first set featuring Sopwith Pups in 1/72 and 1/48 scales: http://www.hyperscale.com/2009/reviews/decals/pheon48001reviewjf_1.htm
. . . and here for the Hyperscale review of Pheon's Lafayette Spad VII decals in 1/48 and 1/32: http://www.hyperscale.com/2009/reviews/decals/pheon48002reviewjf_1.htm
Until Pheon's website is finished, you can check out their products here: http://www.britmodeller.com/forums/index.php?showforum=227 and the email address is mailto:pheon.models@hotmail.co.uk.
---
Next releases
Rowan continues to invite feedback and suggestions from the modelling community concerning future releases. 1/32 decals for Wingnut's SE5a are being printed now for release in mid-June.
Also in the pipeline are three 1/32 sets for Wingnut Wing's new Bristol F2B kit, one wartime sheet (including the Australians in the Middle East), one post war sheet and possibly a 141 Squadron nightfighter in 'special' markings. Further out are Sopwith Triplane decals for all the RNAS squadrons in 1/72 and 1/48, and research is under way for a release of Jasta 5 markings and Nieuports in RFC markings.
Of course the new releases will depend on support from WWI modellers for the current range.
---
available from pheon.models@hotmail.co.uk
---
Text and Images Copyright © 2009 by James Fahey
Page Created 8 May, 2009
Last updated 4 June, 2009
Back to HyperScale Main Page