RAF S.E.5a "McCudden"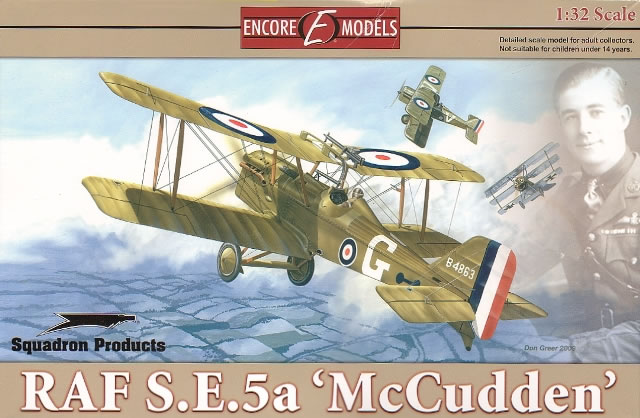 Encore Models, 1/32 scale
S u m m a r y

Catalogue Number:
Encore Models Kit No. EC32002 - RAF S.E.5a "McCudden"
Scale:
1/32
Contents and Media:
Over 150 parts in grey coloured plastic; 25 resin parts; three frets of photo-etched parts; painting maks; markings for four aircraft
Price:
USD$62.99 available online from Squadron
Review Type:
FirstLook
Advantages:

Well moulded plastic parts, sound basis for the packaged "upgrade" concept, excellent use of colored and non-coloured photo-etched items, included resin figure of McCudden, decals in perfect register with minimal carrier film.

Disadvantages:

Modelling experience helpful

Conclusion:

This release represents a complete makeover of the original Roden release. The photo-etched parts address the short comings of the original and allow a much more detailed kit to be built out of the box. The theme of this kit is "McCudden" and the perfectly cast resin figure will allow for a nice vignette. It's a fine addition for the SE5a enthusiast.

Reviewed by Rob Baumgartner


Encore Models' 1/32 scale SE5a is available online from Squadron.com

Roden's SE5a was a welcome release when it made its appearance nearly 3 years ago.
It is a beautifully moulded kit, with plenty of detail and a wealth of parts. In fact there are over 150 and they're all contained on seven sprues of gray coloured plastic. The original offering didn't contain any detailing accessories and this is where Encore Models come to the fore…but more on this later.
Accuracy wise, the main components match published plans very well. The wings are slightly longer than expected but this is easily fixed by a quick sanding of the extremities. If desired this procedure can also be used on the tailplane and elevators. Surprisingly the ribs are quite subtle for wings of this size, while the undersurfaces are even more restrained.
Each of the flying surfaces is in one piece and it is a credit to the manufacturers that there was no distortion at all. Commendably, each trailing edge is razor sharp and the built-in dihedral ensures perfect alignment.
The fuselage halves match precisely with published plans and all curves are correctly represented. The stitching is convincing and this delicacy is also present in the stringer detail. The fin is moulded integrally with the rear of the fuselage which eliminates any potential fit problems that would result from a separate entity.
The cockpit is well appointed and this is where one first gets to use the photo etched parts. There are 3 frets that supply nearly 200 items. Some of these are in colour and their obvious use will be in the "office". They comprise of both "seatbelts" and instrument faces but unfortunately the latter items were printed off centre on this example.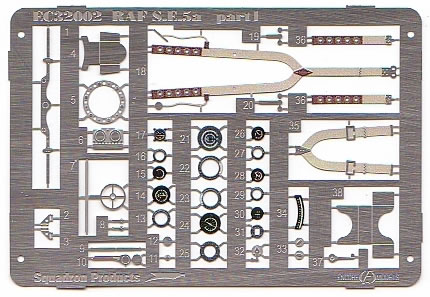 Other enhancements come in the form of the internal structure and associated bracing. The former is naturally limited by the metal's thickness but it's easily bulked up by overlaying some plastic strip. Also enriched with p-e are the control column, rudder bar, instrument panel, and Lewis drum holder. Further additions are the cowling battens as well as a host of smaller cockpit fittings.
The engine is a 38 piece affair and is a lovely kit in its own right. Care must be taken to assemble this gem but patience will reward.
Once the internals are fitted and the fuselage halves are cemented, it's time to add the upper decking. This also means a decision as to which aircraft one should build.
This boxing focuses on the mounts of Captain James McCudden. Thus we have markings for two aircraft that were flown by this famous ace.
Options 1 and 2 are SE5a serial B4863, which featured quite a different cockpit opening to that supplied in plastic. As a result, there's a resin replacement and it's simply superb. Along with the other items cast in this medium, there were no air bubbles or blemishes of any kind.
Nine victories were scored in B4863 between 19th September and 21st of October. However the aircraft was eventually wrecked when it ran into a house in a night landing at 53 Sqn.
SE5a serial B4891 is the 3rd choice in this kit and it also comes with an alternate deck. This is more detailed than the plastic offering and once again the casting is exceptional. All 3 schemes can be found with a four bladed propeller, with the one belonging to B4891 coming as 4 separate blades. This is to allow for the addition of the German LVG two-seater spinner that McCudden used on this aircraft. Once again resin is the substance of choice for these items.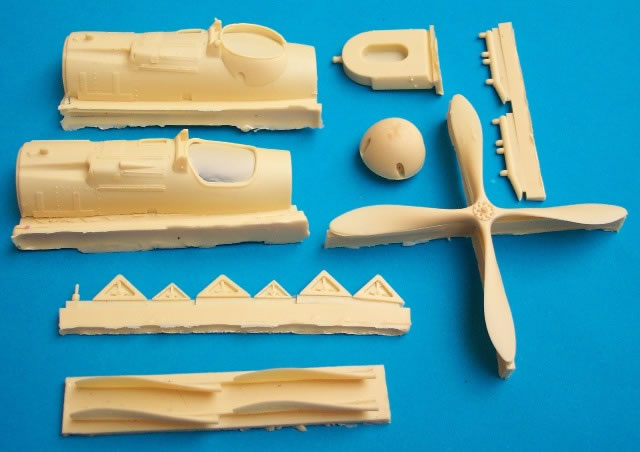 McCudden scored his first SE5a victory piloting this aircraft. He flew it from December 1917 until March 1918, before he left 56 Sqn. The white patches under the lower wing "6" are leftover markings of the letter 'G'. This letter was used as a Flight marking early in McCudden's use of B4891. When the "G" was changed to a six, the spinner of an LVG was added, this being from an aircraft he forced down the previous November. He shot down more aircraft (31) in B4891 than in any other machine he flew. After McCudden left, this aircraft had 2 more successes, this time in the hands of Major C M Crowe.
A disappointing aspect of the initial Roden release was their portrayal of the aileron and elevator pulleys. These are seen through clear inspection panels on the original but in the kit were represented by decals. This release more than makes up for that deficiency by supplying these mechanisms as resin inserts. They themselves are then covered in clear acetate sheet to give an excellent impression of the real thing.
It's a tricky operation creating the holes needed for these drop-in replacements but the results will be worth it.
The extra detailing does not stop here. A resin radiator "base" is provided for the express use of the photo etched radiator shutters. Others areas not forgotten by the p-e are strut and under carriage brackets, a pitot tube connection, bomb racks, control horns, rigging terminals, metal plating, and much, much more. There are actually 4 A4 pages of the booklet set aside for this endeavor alone!
Each of McCudden's aircraft featured a different type of undercarriage. As a result we find both the early steel-tube version and later wooden version in the kit. A printed acetate sheet takes care of the windscreen and this also accommodates the other clear items.
The instructions are well set out with a rigging diagram, painting guide, colour chart, and detailed biography of McCudden, all of which is squeezed between the 16 available pages.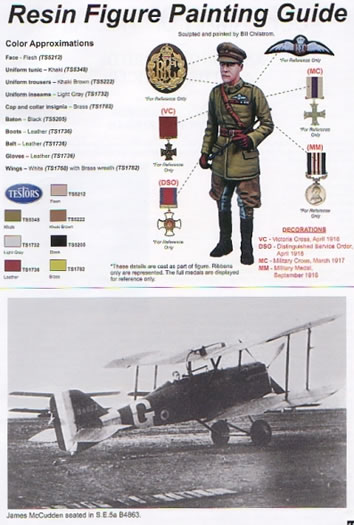 A new decal sheet comes courtesy of AeroMaster and these are printed by Cartograf of Italy. The registration was very good with the minimal carrier film being kept as thin as possible. The blue was a bit darker than we would normally expect but other than that, the printing was sharp and clear.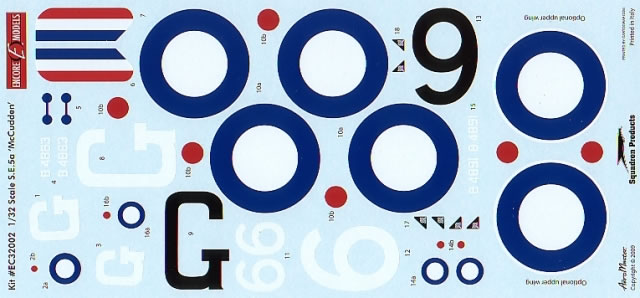 As the theme of this release is Captain James Byford McCudden, it is appropriate that Encore have included a resin figure of the man himself. It is also in 1:32 scale and was sculptured by Bill Chilstrom.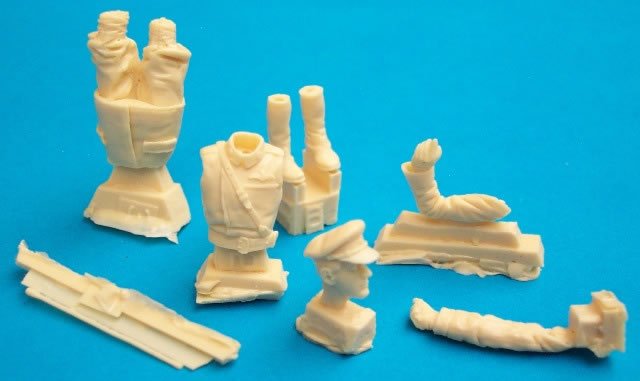 The casting is excellent and so is the detail. A painting guide lets the modeller know how it should be finished and enlarged drawings of the awards are included should your artistic skills be good enough to replicate them.
When the Roden release was first exposed to the public it was widely applauded…and rightfully so.
It was one of those kits that demanded careful attention during the assembly process and dry fitting of components was considered essential. As good as it was, this large scale aircraft called out for extra detailing which for most people meant seeking out "after-market" products.
Encore has done the hard work for us by supplying a copious amount of etched metal items to give the kit the extra detail it deserves. Some superb pieces of resin have been added to allow McCudden's individual aircraft to be accurately portrayed and the pilot figure is just icing on the cake.
If you want an SE5a with all the "fruit" already contained in the box, you can't go past this release.
Thanks to Squadron for the sample
---
Review Text Copyright © 2009 by Rob Baumgartner
Page Created 29 September, 2009
Last updated 30 September, 2009
Back to HyperScale Main Page
Back to Reviews Page