Fokker F.I Dreidecker "Voss"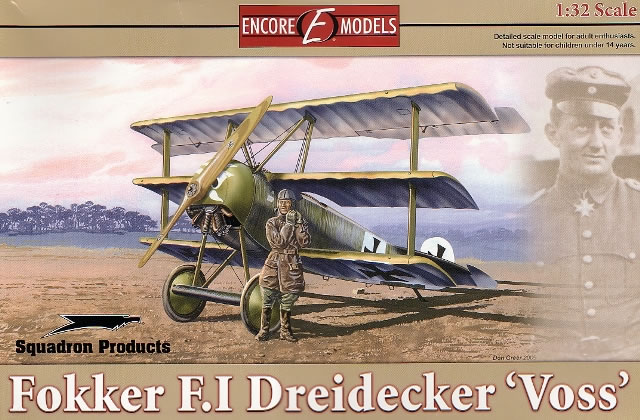 Encore Models, 1/32 scale
S u m m a r y

Catalogue Number:
Encore Models Kit No. EC32003 - Fokker F.I Dreidecker "Voss"
Scale:
1/32
Contents and Media:
Over 100 parts in grey coloured plastic; 24 resin parts; two frets of photo-etched parts; painting maks; markings for four aircraft
Price:
USD$62.99 available online from Squadron
Review Type:
FirstLook
Advantages:

A good basic kit is used as a starting point; two excellent frets of etched metal parts including one that's pre- coloured; well cast blemish-free resin enhancements; decals in perfect register with minimal carrier film; and a well detailed figure of the man himself.

Disadvantages:

Conclusion:

Another well thought out package that provides a welcome upgrade of the original 1/32 scale Roden Fokker triplane. By taking an existing release and sprucing it up with quality after-market extras we get a package that gives the modeler a more accurate and detailed representation of the original. And it does so at a price that's lower than the sum of its individual parts.

Reviewed by Rob Baumgartner


Encore Models' 1/32 scale Fokker F.I is available online from Squadron.com

The Fokker triplane has always been popular amongst the WWI modeling fraternity, so when Roden announced their version in 1/32 scale it rightly attracted a lot of attention. Roden's Fokker triplane was released in 2005 and overall it was seen as providing a sound basis for an accurate replica.
However, there were some caveats regarding details.
Roden's research department unknowingly perpetuated some errors that were found in a normally reliable reference source. Sadly they also managed to add a new one of their own.
This is where "Squadron Products" steps in…
Squadron's aim is to repackage existing kits with resin and photo-etched accessories to overcome, or diminish, any deficiencies found therein. Its "Encore Models" range has breathed new life into other WWI releases and this time it's the turn of Roden's 1/32 scale Fokker F.I.
Contents
The original boxing contained over 100 plastic parts. They were found on 6 light grey coloured sprues and presented crisp detail with very little "flash". This release contains those same 6 trees which look as good now as they did back then. The sinks marks found on the machine guns and airscrews remain but these are not too difficult to fill and sand.
Two frets of p-e are included and out of a total of 85 pieces, 15 are pre-coloured. Resin also makes a welcome appearance and comes in the form of a further 24 items. Six of these make up the pilot figure which represents Werner Voss, one of the two aircraft options included in the kit.
A close inspection reveals no distortion of any of the resin parts. The flying surfaces on my example were perfectly straight and there was not an air bubble in sight.
A single decal sheet is included that supplies markings for Fokker F.I. 102/17 and 103/17.
---
Fuselage
Each fuselage half is moulded as a single piece. The exterior is nicely rendered and depicts the subtle surface changes created by the internal structure. A much simplified plastic interior was originally provided for the modeler and this proved to be inadequate in 1/32 scale.
Fortunately, enhancements are what these releases are all about.
Photo etched parts replace the gun triggers, compass top, Bosch magneto switch, auxiliary throttle, amongst other cockpit fittings. They also replicate the missing plywood side fairings, bracing wires, mixture control and storage bag. Naturally the seatbelts are not forgotten and the pre-coloured items cater for these as well as the instrument dial faces.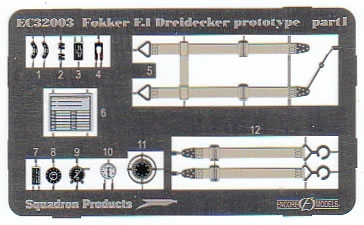 From the sprues we garner the seat, rear fabric panel, floor board, rudder, compass and an exquisite control column with handgrip. There are also the ammunition cans, tubular frames, fuel/oil tank, and pressure pump. To accommodate all this, two ejection plugs will need sanding off the inner fuselage walls.
---
Flying Surfaces
All of the main wings are split laterally and exhibit finely restrained rib detail. The parts are beautifully moulded and the sharp trailing edges will ensure that this feature remains, even when the halves are glued together.

There is a celluloid window on the top wing, which was used to view data on the spar. On the kit part, this should be sanded off and a new one created further forward.
The plastic kit ailerons are of the type fitted to production triplanes. As a result we have new ones fashioned in resin that exhibit the larger balances that were applicable to the F.I.
Roden supply the curved tailplane used on these types but unfortunately they introduced an anomaly. It comes in the form of a depression in the central area of both upper and lower surfaces. This pronounced step doesn't bare any resemblance to contemporary photos.
The resin replacement addresses this issue and is a perfect fit.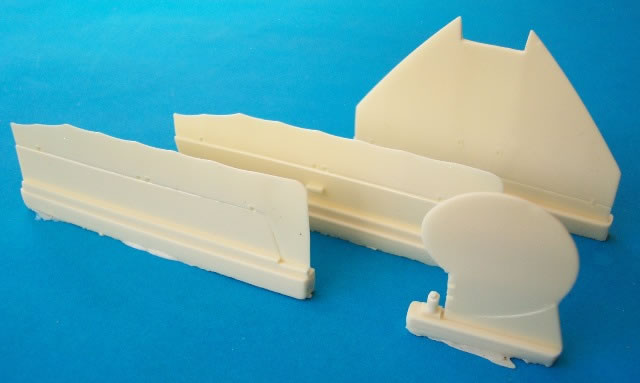 Moving to the axle wing, one finds that it's also in need of some modification. On the triplane this item could not be split for maintenance purposes so the six moulded "fittings" found underneath must be sanded off. However one could scribe the missing rectangular access hatches for the bungee cords which are found near the extremities of this surface.
Another resin item that is a huge improvement over the plastic equivalent is the metal plate that sits over the middle wing. Not only does this have both the oil and fuel filler caps but it also features the protective blast plates under the machine guns.
A newly profiled rudder also comes with the kit.
---
Engine / Cowling
The original kit engine is made up of two halves which can make cleaning up of the joins problematical. This is especially so on the cylinders so these are now supplied as one-piece items cast from resin.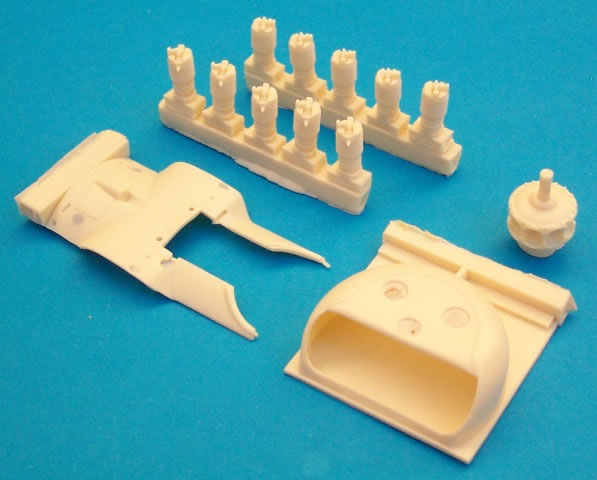 The plastic cowling found in this boxing is a vast improvement on Roden's initial boxing. It now has a two-piece look and much kudos to Roden for improving this part. However in this incarnation it doesn't fit the requirements of the F.I. as it's missing the distinctive lower lip. The resin part remedies this, although care will be needed to remove it from the casting block. If you do accidently sand off this rim, Encore thoughtfully provide a replacement in p-e.
---
Further Enhancements
In this scale, photo-etched machine gun jackets are pretty much mandatory. The aforementioned sink marks found on the casing are easily fixed. There may be some loss of detail due to the sanding process but this needs removal anyway to allow for the p-e improvements.
Other parts contained on the metal fret are for the spark plug leads, cable eyelets, compass variation table, and cowling strap. The stitching under the fuselage is accounted for as is the metal access hatch beneath the nose. The pre-painted data plates are the icing on the cake.
---
Marking Options
Naturally the two options catered for are F.I. 102/17 and F.I. 103/17.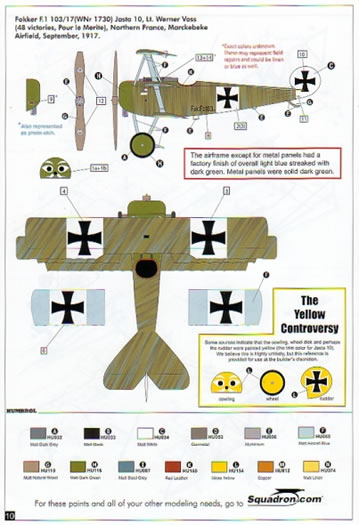 The decals are found on a single sheet of paper and were in perfect register. The carrier film is commendably thin and was kept to a minimum around each item. The attention to detail is excellent. Not only do we have Axial prop logos and stencil data, but one also finds the light coloured "decorations" found exclusively on the port side of F.I.103/17.
F.I.102/17 was flown by both Manfred von Richthofen and Kurt Wolff. It was the latter who lost his life in this machine after using it in combat while MvR was on leave. Wolff died on 15th September 1917 after amassing 33 victories, 31 of them with Jasta 11.

F.I.103/17 was of course the mount of Werner Voss who also fell after fighting against overwhelming odds in the air. His score reached 48 before falling on 23 September 1917. He was only 20 years old and the man that was credited with his downfall, Lieutenant Arthur Rhys Davids, was just 3 days short of his own twentieth birthday.
As usual with WWI aircraft, the question of colours raises its controversial head. There has been much debate as to whether or not this aircraft wore any Jasta 10 unit colours. This is mentioned in the instructions, and is assisted with the appropriate illustrations; thus the choice lies ultimately with the modeler.
---
The Voss figure
As befits the boxing, a bonus figure of Werner Voss is included and this is to the same 1/32 scale as the aircraft.
It is sculptured by Bill Chilstrom and the casting is free of any defects whatsoever. The detail is very nicely done and it's refreshing to see that the pose does not clash with other recent releases of this famous airman.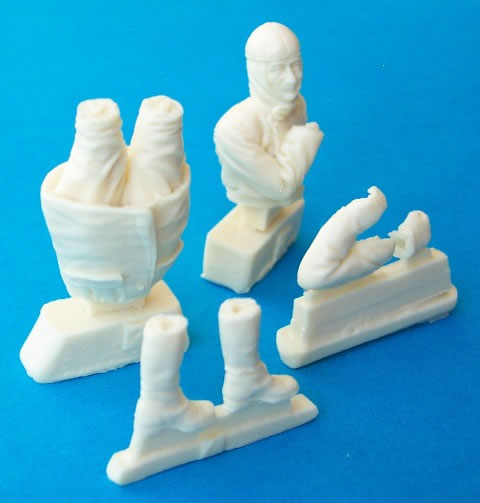 A colour image of the painted figure is included as well as some handy colour reproductions of the various medals awarded for commendation.
This is another superb package in the "Encore Models" series.
It successfully addresses a number of shortfalls from the original Roden offering and adds many more benefits besides. The instructions are very easy to follow and leave no doubt as to how everything fits together.
The photo etched parts are up to their usual high standard and the resin items are also particularly nice. It will require some care to remove them from the casting blocks but it's nothing that can't be handled if you exercise some patience.
The impressive pilot figure is well sculptured and it wouldn't take much for the average painter to give it a Voss persona. In common with the other resin items, no air bubbles, or deformities of any kind were found.
So if want a package that turns a good model into an outstanding one, then look no further than this welcome release.
Thanks to Squadron for the sample
---
Review Text Copyright © 2009 by Rob Baumgartner
Page Created 7 December, 2009
Last updated 7 December, 2009
Back to HyperScale Main Page
Back to Reviews Page