Bristol F.2b Fighter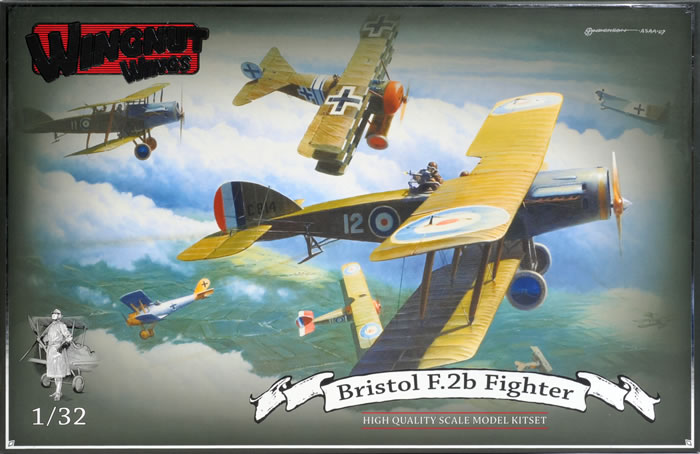 Wingnut Wings, 1/32 scale
S u m m a r y

Catalogue Number:

Wingnut Wings 32004 - Bristol F.2b Fighter

Scale:

1/32

Contents and Media:

Crisp clean mouldings, excellent level of detail, superb fit of parts, accurate shape, photo-etched seatbelts, and decals in perfect register with thin carrier film

Price:

USD$79.00 only available online from Wingnut Wings includes free international postage for a limited time

Review Type:

First Look

Advantages:

Superb quality of moulding, excellent detail, engineered to allow ease of assembly, photo-etched parts for seat belts and scarf ring, instruction book that doubles as reference material, comprehensive decal sheet with minimal carrier film and no registration problems.

Disadvantages:

Conclusion:

An amazing package that allows the modeller to build a quality 1:32 scale example of this iconic aircraft for their collection. Non WWI aficionados need not be afraid as the clever parts breakdown allows ease of construction without compromising detail. Certainly one of the most impressive of the Wingnut Wings range.
Reviewed by Rob Baumgartner

The F.2b was one of the best two-seaters of WWI, but to have a quality injection moulded example was thought to be a dream at best.
With the surprise emergence of Wingnut Wings this subject has become a reality and forms part of the quartet of debut releases from this manufacturer.
Inside the box are 7 sprues of medium grey plastic. There is also an additional clear sprue that provides for the windscreen as well as the navigation lamps should you choose that particular option. Every one of the plastic parts is beautifully moulded with sharp detail and no deformities.
Complimenting this is a fret of photo-etched metal and 2 well apportioned decal sheets containing a total of 5 subjects. The smaller of the two reproduces the propeller and strut logos and all are superbly printed.
There is a lot to see inside the "office" of a two-seater. Thankfully Wingnut Wings provide all of the essential items to give this area the "busy" look it deserves. Over 2 dozen parts are used to accomplish this including a gorgeous 4-piece wicker seat.
Separate internal framework is supplied and this is augmented by the fuel tank, floor, rudder bar, control columns (both front and rear), adjusting lever and pressure pump. Not forgotten is the rear portion of the Vickers gun (with mount), plenty of ammunition drums, and well detailed instrument panel. This latter item is enhanced with decals for the dial faces which look superb under a coat of gloss varnish.
The photo-etched parts come into play here and are used for the seats and rear ammunition pouch. This container is creased and then folded before mounting in the gunner's compartment. If done right, the result is impressive.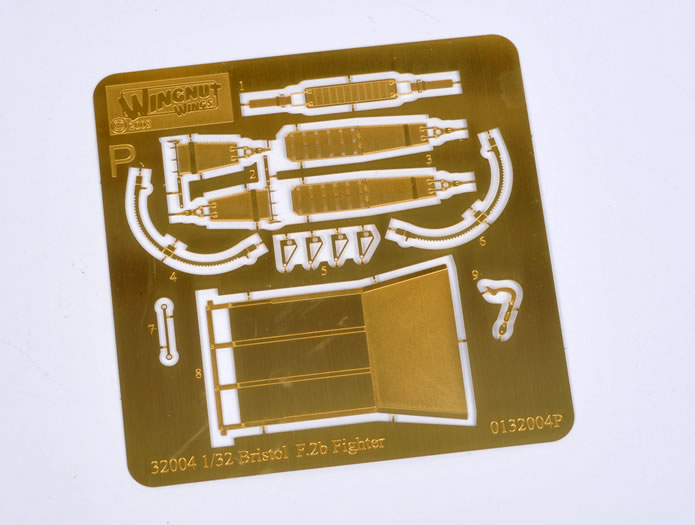 The instructions show you how to rig the interior before closing up the fuselage halves and a dry-run will suggest that everything fits perfectly. The split is done vertically to ensure that no damage is conveyed to the delicate fuselage stitching when filling and sanding the join. As result of this engineering, the assembled cockpit can be added after these halves are joined together with the floor doubling as the lower forward panel.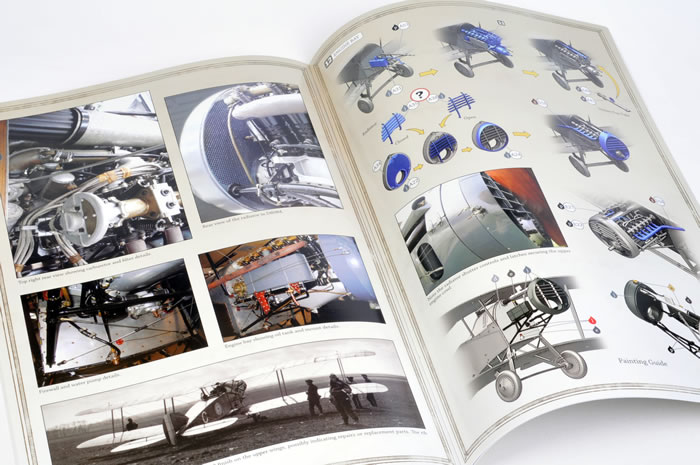 Now we can add the Rolls Royce Falcon engine and this is made up of nearly 30 parts. It's a stunning little kit in its own right and could easily be marketed as a standalone product.
"Brisfits" have an unusual lower wing attachment and this can manifest itself into all sorts of problems for the builder. Not so here. The method used is logical and does not compromise the strength of the assembly.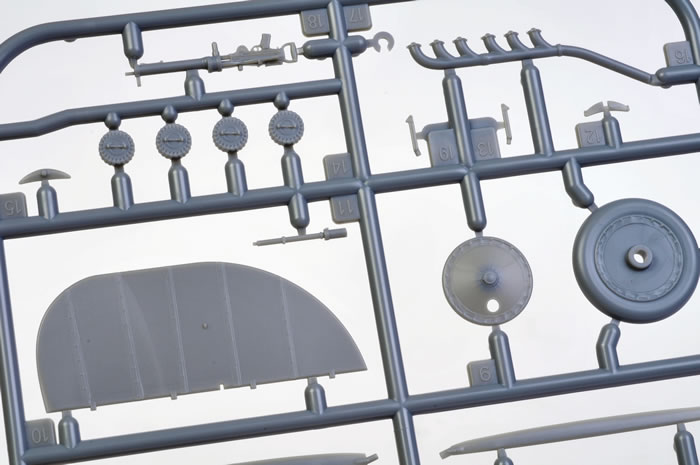 To further the range of options, two types of undercarriage are supplied. There is the "standard" vee strut as well as the strengthened variety with lower brace. A nice addition is the Rotherham air pump that is found on the starboard leg.
Other items catered for in the kit are Holt flare holders and the moulded on "hard points" for the bombs. Naturally an early choice of options is required before attaching the lower flying surfaces.
For practical reasons, the upper and lower wings are split into port and starboard halves. These are works of art as close inspection reveals a level of detail not usually see in World War One kits.
The rib tapes are subtle and relate a delicate representation of the underlying stitching. A look at the trailing edges show that these are commendably thin and the large location tabs allow for accurate and positive alignment to their respective centre sections. Note that some trimming of these stubs is recommended as the fit is rather tight.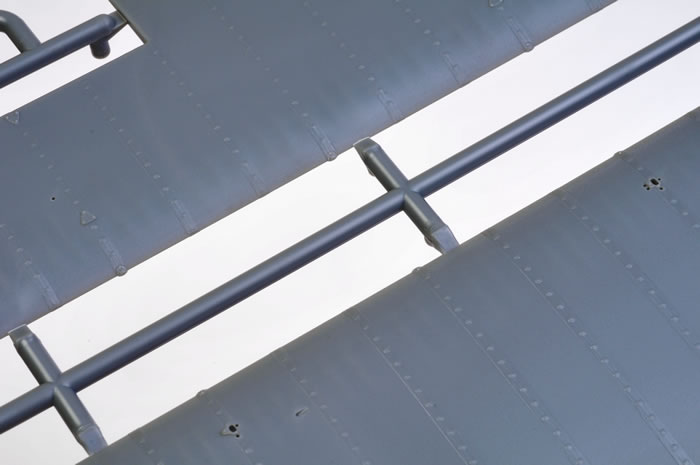 Ailerons, elevators and rudder are all separate items so one can easily add a personal touch by deflecting these surfaces.
As is the norm with this manufacturer, the instruction book is a treasure in itself. Side by side with the graphical assembly drawings, one finds excellent reference pictures of their 1:1 scale counterparts.
This includes details of strut, lower wing and rigging attachment points, tires, undercarriage bungee cord, air pump, cockpit interior, compass mount, wing skid, complete engine views, radiator shutter controls, scarf ring etc.
Speaking of the latter, more of the p-e material is used here, both for the curved ratchet and the gunner's sling. Single or dual Lewis guns can be added with the whole assembly drop fitting into the rear fuselage opening.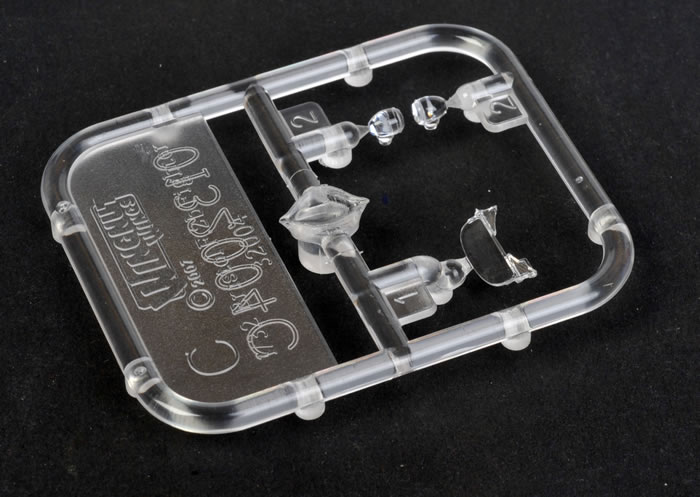 The rigging diagram is comprehensive and points out the differences between the control cables and RAF aerodynamic wire. How one simulates the latter will be very interesting in this scale.

---
Marking Options
The generous decal sheet holds enough material to choose between 5 aircraft.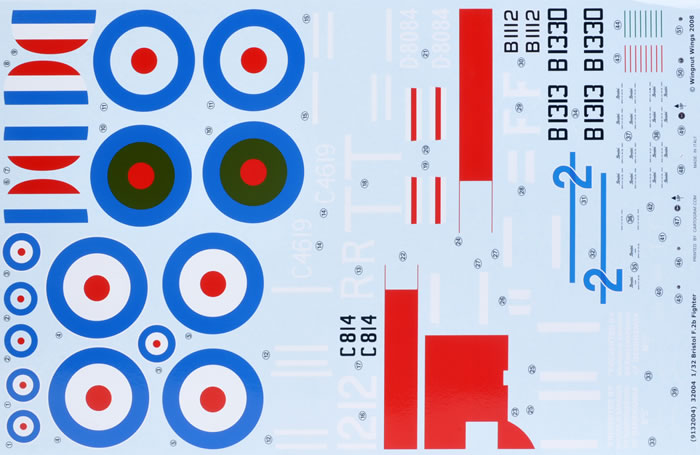 The printing was spot-on with all items in perfect register. The aforementioned instrument dials are superbly printed as are the propeller and strut logos. The minimal carrier film is very thin and decal setting solutions are not a recommended requirement.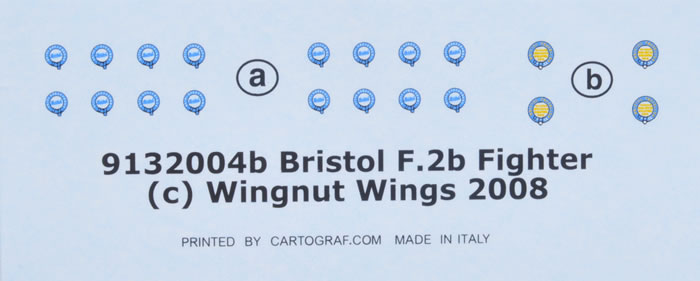 Thankfully decals are also provided for the bomb stripes which will eliminate the need for painting these little horrors.
1. Bristol F.2b Fighter "white F", serial B.1112

Although wearing No.22 Squadron markings this aircraft (Falcon-powered) was detached to No.16 Squadron which was an RE8 unit. The purpose was to give them some experience on the Bristol as their own replacement aircraft were delayed thanks to the development problems with the alternative engines.

2. Bristol F.2b Fighter "Blue 2", serial B.1330, of No.39 (HD) Squadron.

This was a presentation aircraft donated by the Maharajah Bahadur Sir Rameswar Singh of Darbangha, No.5. It had previously been used by No.22 Squadron and is thought to have downed a Pfalz D.III in the hands of 2Lts IO Stead and WA Cowie on 6 August 1918.

3. Bristol F.2b Fighter "white R", serial C.4619, of No.62 Squadron

On the 13 March 1918, this aircraft was flying near Cambrai with 2/Lt. WE Staton at the controls and Lt. HE Merritt as his competent observer. The pilot went on to shoot down an Albatros fighter while his companion accounted for a Fokker Dr.I. Staton gained a total of 25.5 victories which made him No.62 Squadron's top scoring pilot.

4. Bristol F.2b Fighter "white 12", serial C.814, No.48 Sqn. RAF, 1918

C.814 became a victim of Jasta 10 when Offstv. Paul Aue brought it down on 3 May 1918 for his 6th victory. The crew of 2/Lt. CG Brown and Captain AW Sainsbury were made Prisoners of War.

5. Bristol F.2b Fighter "white T", serial D.8084 of No.139 Squadron, 1918.

This is quite a famous aircraft as later in its life it accounted for quite a few enemy fighters. By then it was wearing an "S" rather than the illustrated "T" and had a considerable number of white stripes around the fuselage. Here we see it in its earlier incarnation while in the Italian theatre of war. It sports a red stripe on the upper wing which also covers the entire centre section, both items of which are thoughtfully includ
The Bristol F.2b had an unfortunate introduction to the war when it was initially used as a conventional two-seater when faced with enemy opposition. Tactics were revised however when it became apparent that the aircraft was strong enough to be treated as a fighter with the additional protection of a rear facing gun. From that point on it excelled.
Wingnut Wings have captured the essence of this aircraft perfectly. Not only that, they have done it in a way that still allows the model to be assembled easily by those with little experience in World War One aircraft. Most parts fit precisely and those that don't only require a swipe or two of wet 'n dry to remove the odd burr or dag.
The level of detail is excellent throughout and for those that like to add more, the manufacturer gives you the perfect basis on which to do so. And if you want to build it straight from the box, it will be one of the most rewarding decisions you can make.
Thanks to Wingnut Wings for the review sample.
---
Text Copyright © 2009 by Rob Baumgartner
Images Copyright © 2009 by Brett Green
Page Created 31 May, 2009
Last updated 1 June, 2009
Back to HyperScale Main Page