SAAB J21 / J21R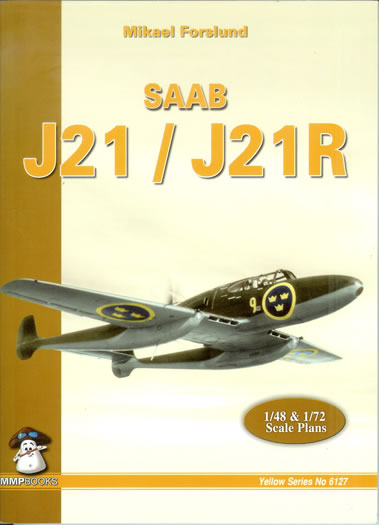 Mushroom Model Publications
S u m m a r y :

Catalogue Number:

Mushroom Model Publications Yellow Series 6127
SAAB J21 / J21R
ISBN 978-83-61421-08-5

Contents & Media:

A5 portrait format, glossy soft-cover with 144 pages (48 in colour), detail drawings, 1/72 plans and removable 1/48 plans, colour schemes and walk-around.

Price:

Available on-line from MMP Books for £13.99, and it should be with these stockists of MMP Books in due course: Hannants, Squadron and Casemate Publishing.

Review Type:

First Look

Advantages:

Good quality of finish plus very well researched and laid out, with excellent photos and illustrations.

Disadvantages:

None apparent.

Conclusions:

An excellent book, and suitable as a prime reference on the SAAB 21 & 21R
Reviewed by Mark Davies

HyperScale is proudly supported by Squadron
The SAAB J21 was the first in an unbroken line of SAAB fighters. Its unusual pusher configuration required the use of one of the earliest ejector seats. Whilst conferring some advantages like a nose clear for armament and good visibility, it also meant it tended to have cooling problems and suffered from nose leg collapses. None the less it was a successful design, although soon eclipsed in the interceptor role post-war by the acquisition of P-51D's. However it went on to prove successful as a ground attack platform.
The twin-boom layout seemed ideal for a ready conversion to jet power using a de Havilland Goblin engine as the SAAB J21R. In the end, and despite appearances, about 90% of the airframe had to be changed to some degree from the piston-engined J21. Once again the J21R was short-lived as an interceptor following the adoption of the de Havilland Vampire, and once again it was put to use as a ground attack aircraft.
I'm a SAAB fan, being an admirer of their aircraft designs and a fondness for their cars (I drive one), so I was very pleased to get this book to review. I just wish I had it about 8 years ago when I built my Heller SAAB J21!
---
The Book
MMP Books is well established as a quality source of reference material on various aircraft. This book is typical of previous Yellow series issues. It is attractively produced with semi-gloss pages, well-reproduced photos, and easy to read English text. By this I mean it has no obvious signs of being a translation with the somewhat awkward phrasing that sometimes occurs.
The book covers the aircraft's history, development and versions, as well as unit employment. The J21R is covered in depth as well, and in fact the books is almost two in one in this respect as the format is repeated for the two principle versions.
Excellent photos are a feature throughout with some superb walk-around colour shots of museum examples. Numerous detail drawings are provided (these look to be from period technical manuals) and add interest as well as serving the needs of super-detailers.
Colour scheme drawings are produced as attractive full-colour multi-view plates.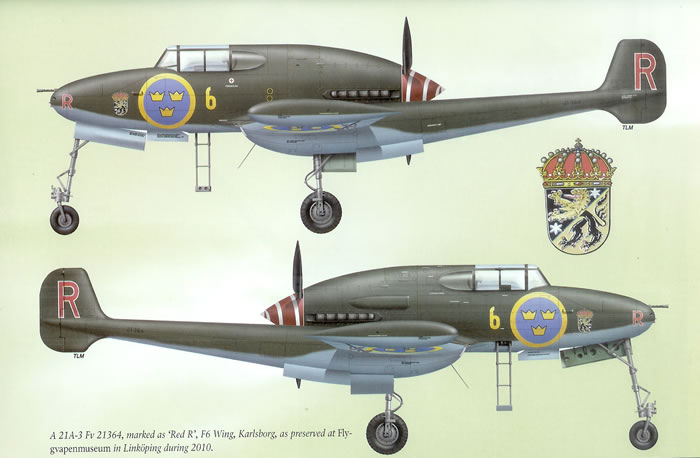 There are superbly drawn plans in 1/72 scale within the book, and the same plans are enlarged to 1/48 scale on two sides of a folded and removable A-2 sheet. Of course I can't confirm their level of accuracy, but such is the level of research in the book I should think they are very good.
---
Conclusion
This book succeeds in providing the historian and modeller with an excellent account of SAAB J21 and J21R development and operational histories. It's an interesting read in its own right, but is a goldmine of information for the modeller. Despite being a dedicated 1/72 builder, I hope that the content and 1/48 plans prompt some kit company to produce a 1/48 J21kit for our quarter-scale brethren.
I did say I was a SAAB fan, and this predisposes me to be pleased about a book on the J21. However I am confident that my bias has not distorted my assessment regarding the book's high quality presentation, and appreciation of how much good stuff is packed into a fairly small package.
Highly Recommended.
Thanks to Mushroom Model Publictions for the sample.
---
All Mushroom Model Publications books are available direct from the publishers, who now accept credit cards (Visa, MC, Amex, Switch)
North American distributors are MMD, Australian distributors are Platypus Publications. In Europe, the books are available from any good bookshop (via our UK distributors, Orca). Contact MMP direct in case of difficulties.
Thanks to Roger at Mushroom Model Magazine for the sample.
---
Review Copyright 2010 by Mark Davies
This Page Created on 14 December, 2010
Last updated 14 December, 2010
Back to HyperScale Main Page
Back to Reviews Page