Modelling Tools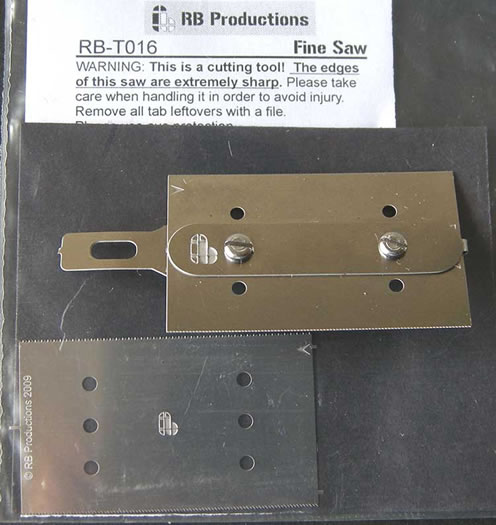 RB Productions
Summary

Catalogue Number:

RB Productions:

Various Tools, all available online from RB Productions' website


Scale:

N/A

Contents and Media:

See details below

Review Type:

First Look

Advantages:

Simple; versatile with different levels of cut

Disadvantages:

Conclusion

Compact, easy to use tools that will cover most modelling cutting, scribing and folding requirements for plastic, resin, wood and other media.
Reviewed by Peter Mossong

HyperScale is proudly supported by Squadron.com

After seeing several online reports of Radu Brinzan's line of scribers, razor saws and riveting tools, I took the plunge a few weeks back and ordered a selection via his website at: http://www.radubstore.com/
Seven days later, an envelope postmarked Republic of Ireland arrived in my letter box containing several photo-etch frets of stainless steel.
After a morning spent cutting the items out from the frets and some clean-up with a diamond nail file, I then assembled them and began to try them out.
The most useful appears to be the Scribe-R which is small enough to use with the tiniest of templates for hatches/panels etc.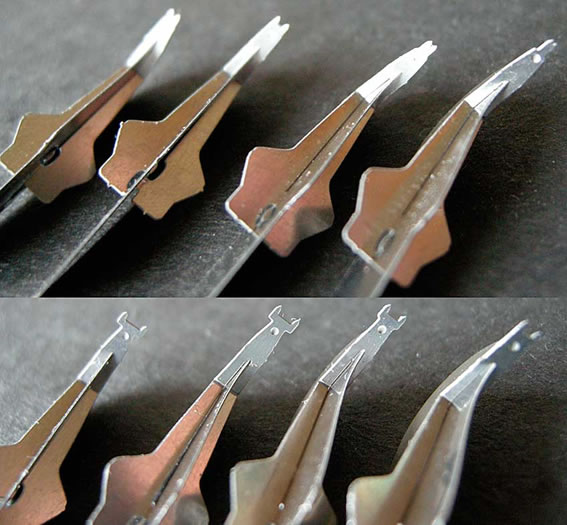 One pass is probably enough for 1:72 scale, 2 for 1:48 and 3 for 1:32 and 1:24th.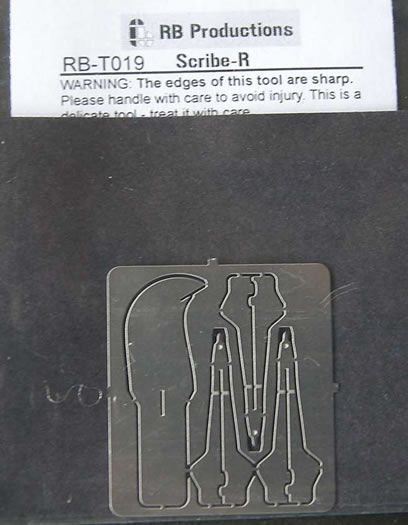 It cuts a ribbon from the plastic, and just leaves a slightly raised ridge that a quick pass of the sanding stick soon removes. Two spare tips are also provided in this pack.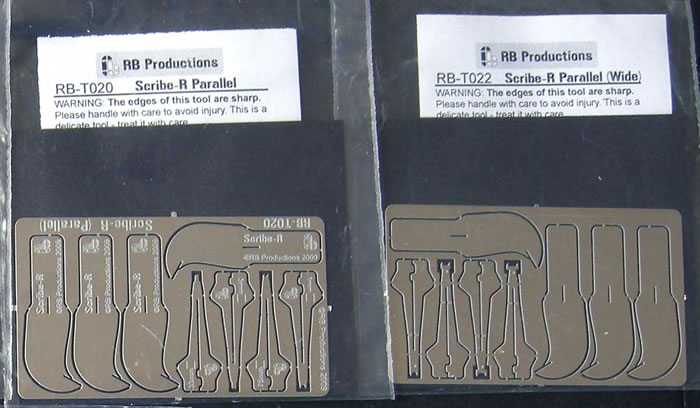 I can see several uses for the parallel scribers, specially on wing panels over spars, and out on the wing tips where several strips make up the panels.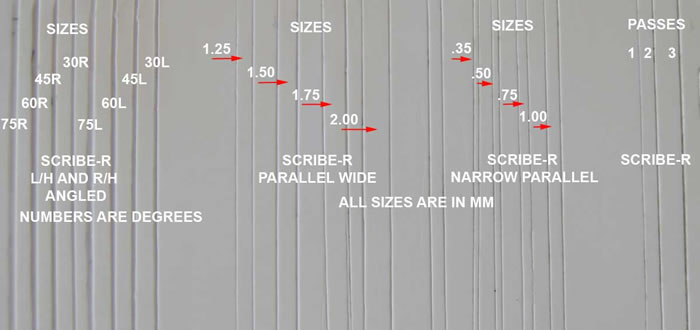 The angled scriber's. Well, possibly for enhancing elevator and aileron joints, and opening up louvres. I need to 'play' with these a bit more!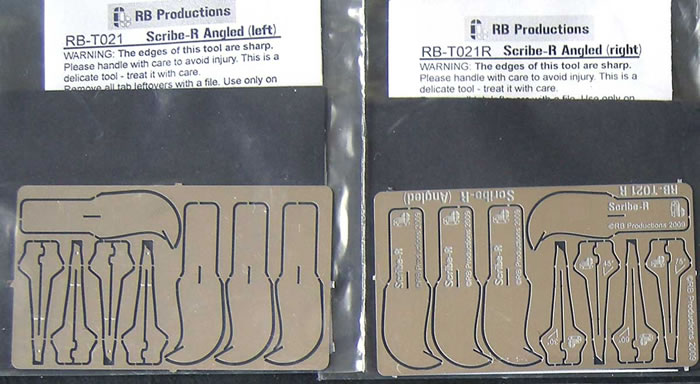 One further note on these scribers. All the blade holders have teeth etched into the back of them, so this can also be used for scribing or quick cut jobs!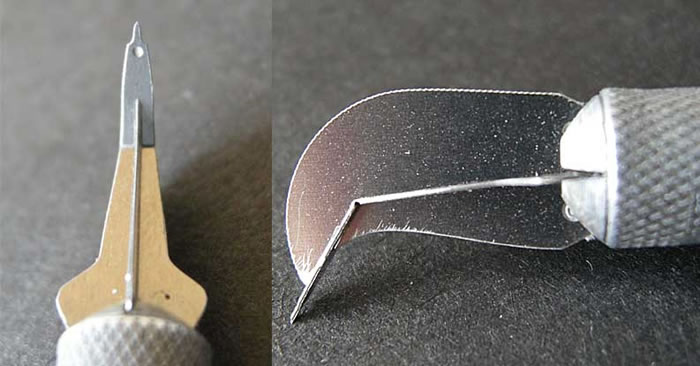 The razor saws and Micro saws are little beauties. They cut very well and cleanly.

The one problem I did find with all of them was that I had to modify one of my knife holders to grip them properly, as the blade holders are much thinner than standard knife blades.

They need to be mounted into a four slot type holder, and after much trying to tighten up my old Pro-Edge knife holder, and still not quite getting them to lock in securely without 'flopping' around, I then modified an older Olfa knife holder I had in my tool box. As it has a plastic body, all I had to do was cut another slot at 90 degrees to the main one, and 'bob's your uncle', problem solved!

A picture of the cuts they make is included here. It is pretty hard to get a really good idea of what they are like from this, but no other way! I tried to get a picture of the edge of the plastic, but my camera just wouldn't focus.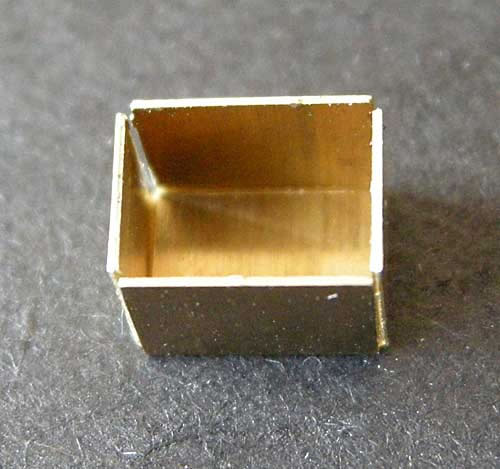 Next up is the PE holding/folding tool. It works just the same as a bending brake that proper panel beaters use for making panels on 1:1 cars. I also purchased the two optional guides for angled bends, and parallel bends. I've yet to test these out, and just did a quickie box from my PE spares box. Took about one minute to do!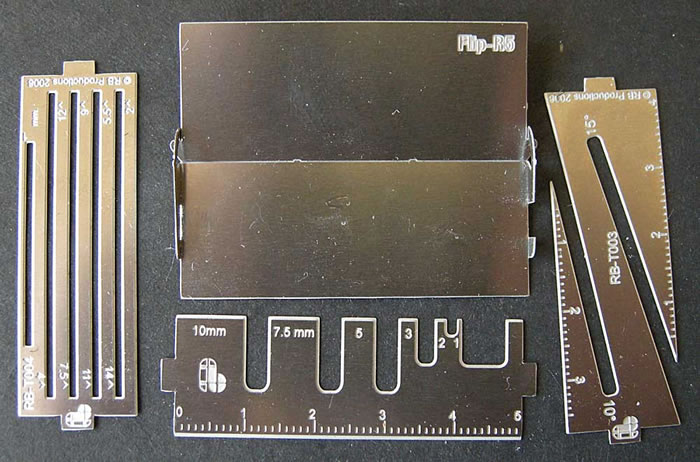 My recommendation is to get at least the basic Scribe-R, the micro saws and the razor saw. As noted, I purchased the fine and the ultra fine blades. This is the number of teeth, not the thickness.
The other scriber's are really luxuries that may come in handy from time to time, but they're not really needed.

I might look at the riveting tools at some later time, as the modified super fine pounce wheels I have at present do a pretty good job!
These tools are very well priced, and Radu's service was top notch.
Many of his other great products will also temp you when venturing further into his website..be warned!
---
Text Copyright © 2009 by Peter Mossong
This Page Created on 12 October, 2010
Last updated 12 October, 2010
Back to HyperScale Main Page