Rogozarski IK-3 "Belgrade Defence"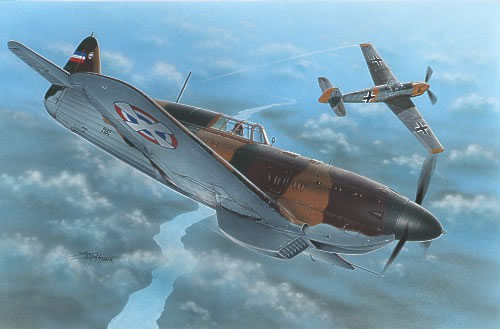 Azur Serie FRROM, 1/72 scale
S u m m a r y :

Catalogue Number:

Azur Serie FRROM Kit No. FR013 - Rogozarski IK-3 "Belgrade Defence"

Scale:

1/72

Contents & Media

39 x styrene airframe parts, 1 x injected & 2 x vac-form canopies, & decals for 4 subjects (3 are similar schemes).

Price:

Available on-line from Hannants for £14.46, and Great Models US$27.85

Review Type:

First Look

Advantages:

The best 1/72 Ik-3 kit to date. Well-produced with nice surface detail and good decals. A choice of injected or vac-form canopies is a plus.

Disadvantages:

The tail fin, and in particular the rudder are the wrong shape. Also the nose guns-troughs are missing. The rear frame of the windscreen is too vertical (easy to fix on injected canopy). The spinner looks too blunt, but it could be reshaped or replaced.

Conclusion:

Rudder shape, lack of gun-troughs, blunt spinner etc aside, this is the best 1/72 IK-3 to date. Surface detail is nicely executed, and interior detail is adequate. The choice of injected or vac-form a canopies is a good feature - Recommended.

Reviewed by Mark Davies


MPM's 1/72 scale Douglas A-20G Havoc is available online from Squadron.com


Design began on the IK 3 in 1936, with the prototype first flying in 1938, It was to be Yugoslavia's first monoplane fighter, and featured a V-12 engine, retractable undercarriage and enclosed canopy. So in broad terms at least it was a contemporary of the Bf 109, Spitfire, Hurricane, MS 406, D 520. In fact it shared the same Hispano-Suiza 920 hp engine as the last two French fighters, albeit a Czechoslovakian licence-built version. In terms of its mixed metal, wood and fabric construction it was most similar to the Hurricane and MS 406. Its single cannon and twin machine gun armament was typically European.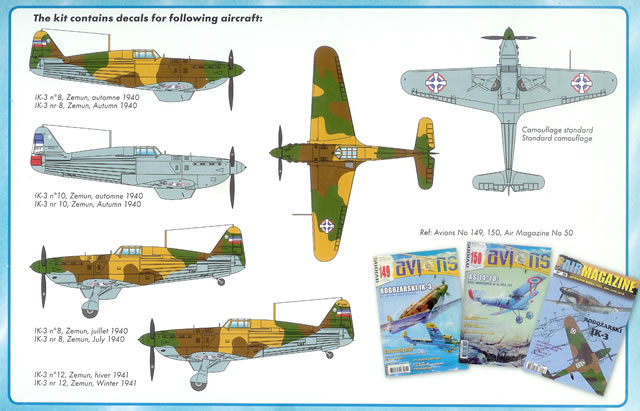 The first IK-3's were delivered into service in 1940. Pilots liked the design, valuing its very good manoeuvrability, which they found to be superior to the Hurricane. 12 aircraft had been delivered by the time of the German invasion in 1941, although production was about to commence on a further 25. Planning was also under way for licence production in Turkey, but this failed to materialise. Consideration had also been given to using a more powerful engine, either the French Hispano-Suiza 12Y-51, Daimler-Benz DB 601A or Rolls Royce Merlin III, all in the 1,000 to 1,100 hp class. Of course these plans too were overtaken by events.
Only about half of the production IK-3's were available for operations at the time of the German invasion. They performed well for their small numbers, and may have destroyed as many as 11 enemy aircraft before they themselves were either destroyed or ceased operations.
---
Previous 1/72 scale IAR 39 Kits
It's surprising just how many 1/72 kit releases there have been for an aircraft that whose production run was limited to 12 with only half a dozen seeing brief active service. There have been:
A vac-form by Formaplane.
An early-style limited run injected kit by Aviation USK/Xotic 72.
Resin kits by Aeropoxy, L&M Resin, CMK and CMR. The CMK kit was first issued before CMK split into CMR and the CMK/MPM Group of companies. The same kit was then issued under the CMR label. In fact CMR had mastered a second much improved kit for 1009 release, but AZ Model advised them it planned to release an injected kit, so CMR cancelled their release. Despite this it seems that there is a possibility that Aeropoxy may be planning a new resin kit release sometime soon.
Modern limited run injected kits from AZ Model and lastly Azur, as reviewed here. (The Azur kit is also boxed by Lift Here for the Serbian market with some extra details).
And there may well be others.
...but first a short detour
So Azur's release roughly coincides with AZ Models. As an aside, the Aviation USK/Xotic 72 kit was produced by the MPM Group, who also produces the Azur kit being reviewed here. They seem to have little if anything in common, which is a good thing as Aviation USK/Xotic 72 kit above suffers from various accuracy issues.
Normally my first look reviews focus on advising of kit contents, their quality and so on. I only mention accuracy issues I am very confident about, and I specifically avoid comparing kits to published plans because it's a potential minefield. In this case I did not have an AZ Model release for comparison with the Azur kit, but since they have been released at around the same time I did a bit of research into some other reviews. The most useful I found on the Mythbusters Team site. They are particularly interested in Yugoslav types and their accurate scale portrayal. They felt that the AZ Models release is inferior to the Azur in terms of accuracy, particularly in the rear fuselage cross-sectional shape, along with several other issues. Based on their comments Azur's kit clearly has the edge.
However, I found a discussion on another site that was quite critical of the Azur kit's nose contour, and windscreen framing angle and spinner shape. So take this apparently welcome news under advisement, and on the basis that free advice may be worth nothing. But from what I have read and the photo comparisons I've made I'd still put my money on Azur as currently the best choice.
I shall now return to the more usual "First Look" format.
---
The Kit
The kit comes packed in a typically Czech end-opening box, with attractive artwork on the front and colour schemes on the rear. Azur is a French concern, but the kit is produced by the MPM/CMK-Group of the Czech Republic. The styrene parts, canopies and decals & resin parts are each enclosed in a plastic bag. The instructions are A5 format with a brief aircraft history in English and French, as are most remaining written notes. The constructional diagrams are well drawn and easy to follow.
emaining written instructions and paint colours are in English and French. The diagrammatic assembly instructions are clear and easy to follow. Detail colour call-outs are provided and include FS, Gunze Sangyo and another brand colour numbers.
The parts have fine surface detail, with the fuselage fabric areas being very subtly done. Small parts are moulded cleanly enough, but a little tidying up of parts here and there will be needed as is typical with this type of kit.
The cockpit detail is adequate for the scale and small size of the model's cockpit. All parts are styrene. It's a pity Azur have not provided any PE with this kit, as at least some seat belts would have been nice (the very limited Lift Here Serbian market boxing has quite a bit of PE, but is probably hard to obtain).
There is a choice of injected or vac-formed canopies (you get two of the latter), something several new Azur releases have also offered. This is a good choice as different modellers can have a love/hate relationship with either media type. They are both well produced and clear, although obviously the vac-form item has the least optical distortion. However, the rear frame of the windscreen is clearly too vertical, and should be slanted backwards (see combined image of actual & kit fin/rudder). Fortunately with a styrene canopy the incorrect framing can be sanded off, the canopy polished, framing corrected by either careful masking or painted decal strip. Of course the vac-from canopy can only be corrected by painting or decaling the framing at the correct angle, and hope that the original framing is not too obtrusive.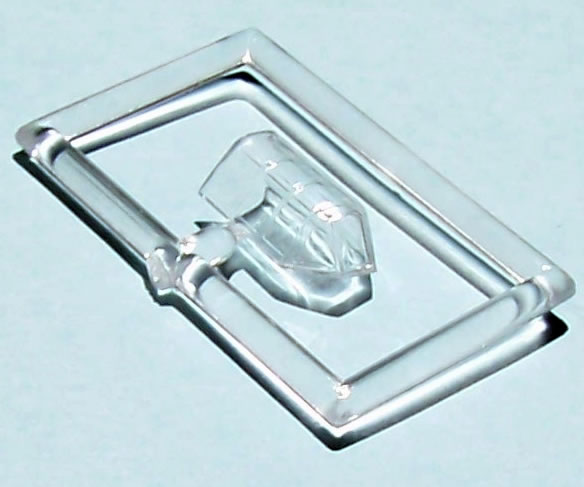 Construction looks to be straightforward, and conventional. The instructions direct you to drill some locating holes for undercarriage leg braces and scratch-build the engine-mounted cannon's blast-tube. A resin spinner with the cannon blast-tube cast in place would have been preferable.
Despite this kit possibly being the best issued so far in 1/72 scale it does have some obvious faults. Perhaps the most glaring is the tail fin. The fin's leading edge is a bit too steep, but it's the rudder's trailing edge that is far too vertical, and therefore reduced in chord, that really looks wrong (see image of actual fin and rudder). Some reshaping of the fin and scratch-built rudder will fix this issue, or maybe you can graft on some additional plastic to the rudder and reshape. The instructions clearly show the nose gun troughs on top of the cowling, however these are absent from the kit. With luck some careful drilling might remedy this, although usually this type of job needs more surgery, and the insertion of plastic tube that can then be pared back and sanded flush with the cowl. Also absent from the lower cowl is the oil-cooler matrix detail (see here for image of oil-cooler). The kit's representation is smooth and possibly just a tad shallow. I'm also unconvinced that the spinner is pointed enough, as it looks rather blunt and rounded in profile.
Four decal options are provided for in the instructions, three are essentially the same dark green, ochre and dark brown over blue-grey scheme and the fourth is overall blue-grey. These options are illustrated in colour on the rear of the box.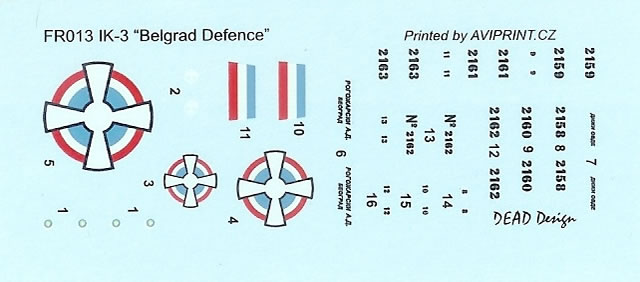 The decals themselves look excellent, with good registration and colour density.
Azur has also offered two other IK-3 boxings, these being FR012 "April Fights" and FR014 "Fighting Prototypes". No doubt they will be very similar to the FR013 "Belgrade Defence" boxing reviewed here.
This looks to be a generally good kit of a rare WW2 type. From what I can determine I believe that it surpasses numerous past efforts at representing this subject in 1/72 scale. Yet it is let down by with a poor outline to the tail fin and rudder, although this is surmountable with a bit of scratch building.
The absence of nose-gun troughs is an annoyance most builders could do without, and these may prove harder to remedy than might be assumed. . On the plus side it seems overall shapes and dimensions are good, surface detail is well executed, although at least some PE seatbelts would have been nice.

Despite these not insignificant criticisms, this is a generally well-produced kit, and the best of the 1/72 IK-3's on offer. Consequently I am happy to still recommend it.
Thanks to MPM for the review sample.
---
Review Text and Images Copyright © 2011 by Mark Davies
Page Created 7 March, 2011
Last updated 7 March, 2011
Back to HyperScale Main Page
Back to Reviews Page