MiG-21MF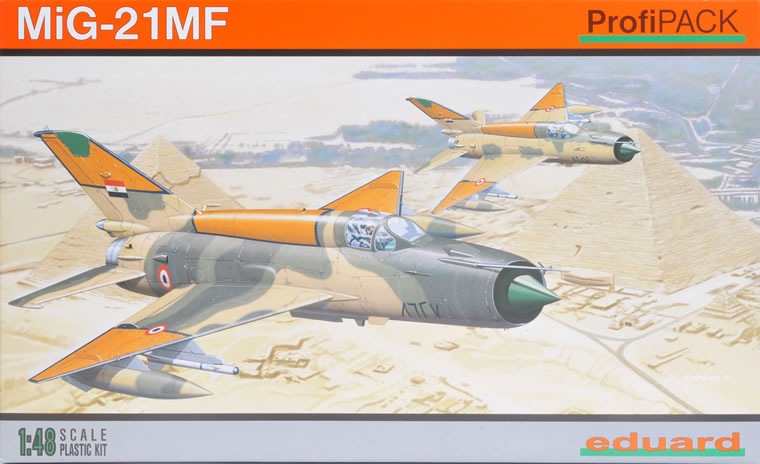 Eduard, 1/48 scale
S u m m a r y

Catalogue Number:
Eduard Kit No. 8231

-

MiG-21MF
Scale:
1/48
Contents and Media:

Eight dark grey sprues; one clear sprue; a set of masks; two sheets of photo etch (one colored); markings for six aircraft plus a bonus of two "Brassin" UB-16 rocket pods

Price:
USD$59.95 plus shipping available online from Eduard's website
and specialist hobby retailers worldwide
Review Type:
FirstLook
Advantages:

Lavish attention to detail; beautifully restrained and consistent surface detail; plenty of optional parts and ordnance; important subject.

Disadvantages:

Recommendation:

Eduard's MiG-21MF is the absolute last word on the subject in this scale.

Reviewed by Jennings Heilig


Eduard's 1/48 scale MiG-21MF is available online from Squadron.com

Could any modern warplane need less of an introduction than the icon of the Cold War, the MiG-21?
In case you've been living in a cave for the past 50+ years, the MiG-21 is the most produced jet fighter in history, with well over 13,000 of all variants, including a number of unique Chinese derivatives. Given the NATO code name "Fishbed" for the single seaters and "Mongol" for the two-seat trainers, the MiG-21 and its variants have been used by more air arms around the world than any other fighter, a record that is likely to stand for a long time.
The Ye-4 prototype of what would become the MiG-21 first flew in 1955, and the initial production version, the MiG-21F, went into service in the Soviet Union in 1960. In the USSR the MiG OKB (Experimental Design Bureau) created a large family of ever more capable versions, with production continuing in China until very recently. Soviet production ended in 1985 with the MiG-21bis. Indian license production of the 'bis' continued until 1987, and many thousands of MiG-21s remain in service around the world.
It is difficult to believe that the MiG-21 has now been out of production (in the USSR at least) for longer than it was in production, but its longevity stands as a monument to the basic soundness of its design.
---
Previous 1/48 MiG-21 kits
First out of the gate with a 1/48 Fishbed was Revell from the USA with their early 1970s MiG-21PF. At the time not much unclassified detail on the MiG-21 was available in the West, so the kit was vague on details and inaccurate in many areas.
Toward the end of the Cold War, a then-brand new company from Czechoslovakia called OEZ released a 1/48 kit that allowed the choice of a MiG-21bis or an SMT to be built. Like most OEZ kits of the era it suffered from feeling quite chunky, with rather heavy detail and some notable inaccuracies. But for Fishbed aficionados, the OEZ kit caused quite a stir in the late 1980s, since kits of its complexity and - as far as we knew then - accuracy were unheard of from behind the Iron Curtain.
Academy came to the rescue with their 1/48 MiG-21bis (also inaccurately marketed as an MF) in the mid-1990s. While a quantum leap ahead of the OEZ kit in finesse and detail, the Academy kit also suffered from some notable inaccuracies in detail and shape. But it has remained the best 1/48 MiG-21 kit out there - until now.
Eduard first announced their 1/48 MiG-21 kit several years ago. At subsequent industry and model shows they gave us tantalizing glimpses of CAD renderings. From these early images it was difficult to tell much, but given Eduard's access to the real article for research, modelers have held out high hopes for the definitive 1/48 Fishbed - and they have not been in any way disappointed with the final product. Eduard has wisely listened to modelers' inputs, and they seem to have covered all bases in this kit when it comes to detail accuracy and the subtle differences between variants. This first release is the widely used and widely exported MF variant and its essentially identical Soviet Air Force equivalent, the SM.
The kit features a beautiful box top painting of a pair Egyptian MiGs over the Great Pyramids. It comprises eight dark grey sprues, one clear sprue, a set of masks, two sheets of photo etch (one colored), plus a bonus of "Brassin" UB-16 rocket pods.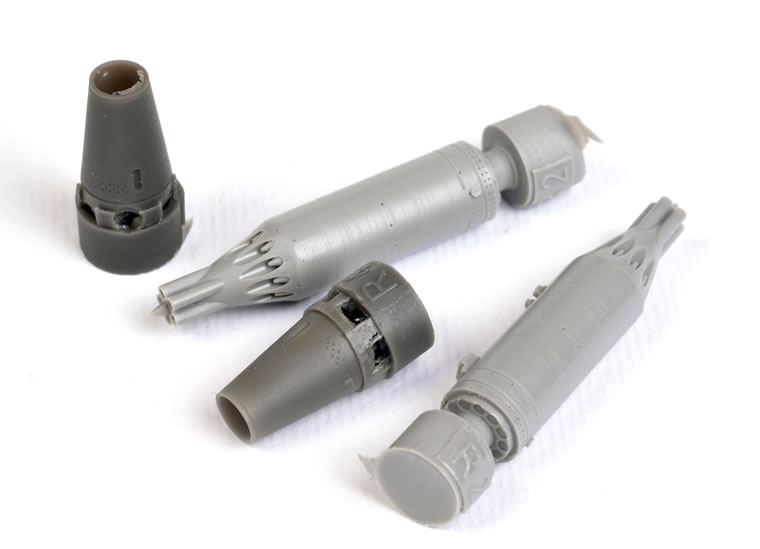 A full suite of weapons, both air-to-air and air-to-ground are provided, as is a full compliment of drop tanks. A number of items labeled "not for use" are applicable to future variants, and will be great additions to the spares box.
All parts are extremely finely molded, with no trace of flash or mold misalignment noted. The very few ejector pin marks I found are well hidden, and mostly not a factor in final assembly. Panel lines are very finely engraved throughout, with a few raised details where appropriate, mainly the weld seams on the drop tanks. The airframe is molded as a late build MiG-21MF, which shares some characteristics with the forthcoming SMT and 'bis' variants. As a result, a couple of prominent oval panel lines on the upper wing surfaces are not molded in place. Instead, Eduard provides a photo etched template allowing the modeler to add these panels if the subject requires them.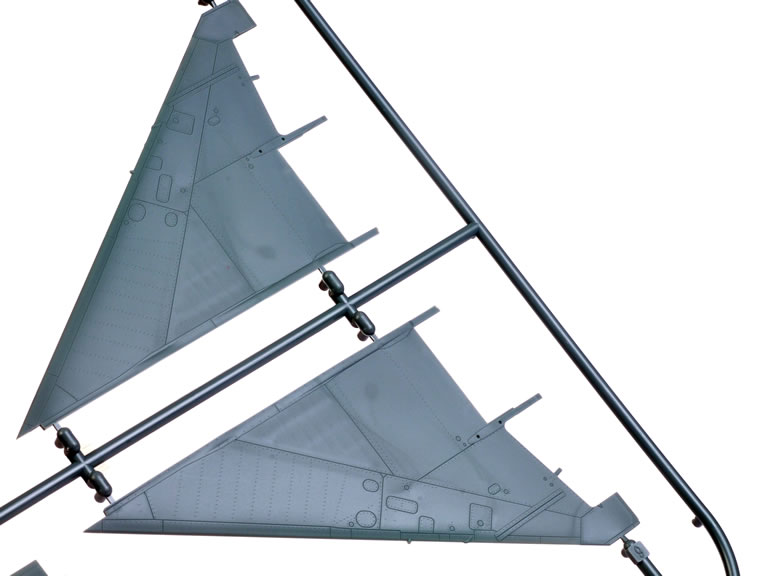 If you don't feel your scribing skills are up to the task, Eduard also provides these panel lines on the decal sheet. I think this may be a first. Kudos to Eduard for this thoughtful approach.
All kit markings options are for early (pre-1975 build) MFs.

Airframe breakdown is essentially conventional, although Eduard has obviously put a great deal of thought into the balance between modularity (catering to the different variants to be released), detail, and ease of build. For example, unlike other 1/48 MiG-21 kits, the entire wing lower surfaces and a large section of the lower fuselage are a single piece. This allows a significant amount of detail to be included in the wheel wells (hydraulic and pneumatic accumulator bottles, etc) Molded-in detail is impressive in all three wheel wells. Separate drop-in sections are provided allowing display of the prominent belly-mounted air brake either open or closed. The separate open air brake has impressive interior detail.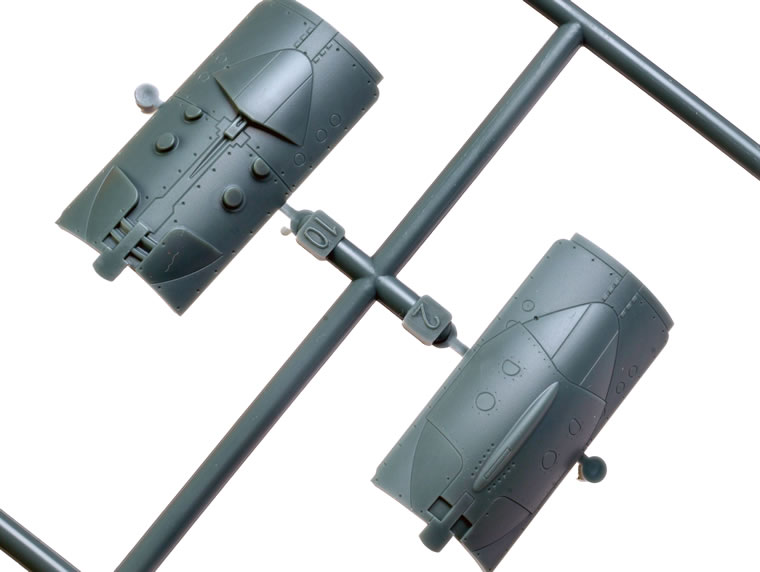 As might be expected, the fuselage spine fairing and vertical fin are separate parts. The MF had a unique style of spine and fin, and these are molded on a separate sprue, confirming that other variants are coming down the line as already announced by Eduard (the SMT and 'bis' variants are next).
Internally, much detail is provided that has been absent or simplified in other kits. The well appointed cockpit/nose gear well assembly is made up of separate side consoles using both plastic and colored PE parts. The modeler will have to match the blue-green shade of the PE parts for the balance of the cockpit.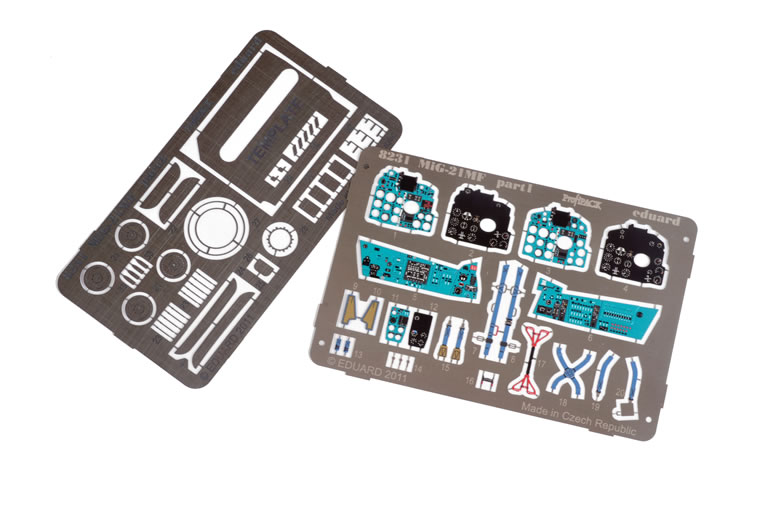 I would have liked to see a full set of plastic parts here, as not all MiG-21 cockpits are exactly the same color (after they've been in service and had depot maintenance, for example). Perhaps the aftermarket will grace us with a resin replacement in due course. A choice of main instrument panels is provided in both clear styrene and build-up PE forms, and all look exquisite. Be careful which one you use, as there are different panels for different versions included in the decal choices. Separate parts are provided for the gun sight and instrument panel coaming. The KM-1 seat is made up of no less than 18 plastic parts, plus a full set of color PE seat belts and ejection handles. Eduard has also announced a replacement KM-1 (late) seat in their Brassin range.
Two styles of windscreen (one only applicable to the late MiG-21bis), and three different main canopies are provided. The difference in the main canopies is the style of the periscopic rear view mirror, and again this shows the attention to detail Eduard have brought to this kit The third main canopy is only applicable to the forthcoming SMT variant, so use care in selecting the one to use. All parts are crystal clear with no distortion. There is no internal structural detail in the main canopy sections, although this is quite prominent on the real aircraft. A main canopy retaining prop is provided.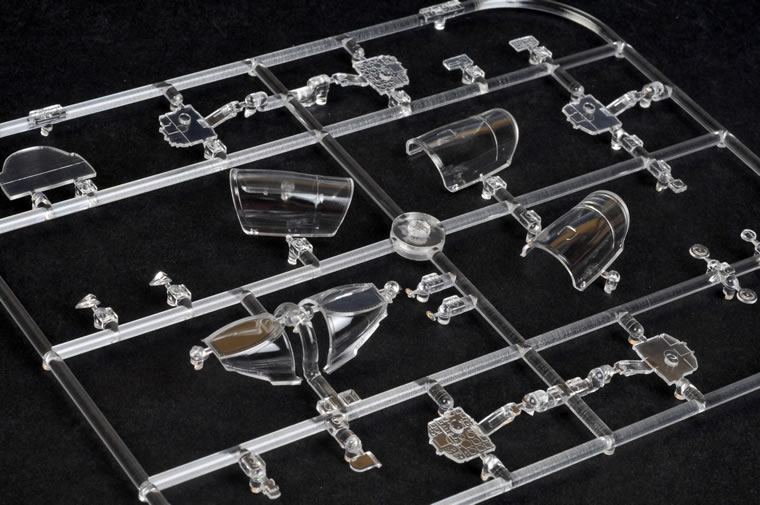 The fuselage portion of the main gear wells is a separate subassembly consisting of two transverse bulkheads with separate inner walls. Some detail is molded in place, and some of the more prominent larger details are molded separately. Along with several other internal bulkheads, this should make the fuselage assembly quite sturdy.
The engine exhaust is very finely detailed. Thirteen styrene and two PE parts make up the last turbine stage and the afterburner nozzle. I puzzled at first over Eduard's color call-out for the inside of the burner and the PE flame holder (bright green), but as it turns out they are absolutely correct. The WWP MiG-21 In Detail book clearly shows a heat resistant paint applied in these areas that is bright green! Here again, Eduard have announced a Brassin replacement for the afterburner nozzle. However, given that the MiG-21's nozzle is completely contained inside the aft fuselage with nothing protruding beyond the end of the opening, I think the kit parts will more than suffice for most modelers. No other engine detail is provided, but since the compressor intake is not visible from the front of the aircraft, its absence from the kit is not a drawback.
All control surfaces are separate parts. MiG-21s are invariably parked with flaps up, but dropping them will be no problem, at least with blown-flap (SPS) variants. Earlier variants had a Fowler type flap. The many small cooling intakes on the aft fuselage, the control surface actuator fairings, and the five-part GSh-23 gun fairing are all separate parts (leaving off the gun fairing and using the main canopy without a rear view mirror will give you a MiG-21S). Fences on the upper wings are provided both in styrene and PE. As noted above, the main under-fuselage air brake can be assembled open or closed. The twin forward fuselage air brakes are molded closed, however separate wells, actuators, and the brakes themselves are provided, requiring cutting out the molded-in brakes to display them in the open position. The small gun gas deflector plates just forward of the forward air brakes are also provided in styrene and PE.
The landing gear exhibits the same superb level of detail seen throughout the rest of the kit. Each leg is made up of multiple parts, with separate oleo scissors. Each wheel is made up of two tire halves, with separate hubs and brake assemblies. Both early and late style main gear hubs are provided. The gear doors are well detailed, with separate actuator arms for the main doors. Eduard have announced a Brassin wheel/hub/brake set, although I cannot see where it will be a marked improvement over the excellent kit parts.
The prominent pitot boom has PE yaw/pitch vanes. This is probably one of the weakest areas of the kit, as these PE vanes are simply butt joined to the pitot boom, and will undoubtedly break off easily if not handled carefully. Photo etch is provided for the two IFF antennas (NATO "Odd Rods") and the static wicks on the wings and horizontal stabilators.
Three fuel tanks, one 800 l for the fuselage, and two 490 l for the wings or fuselage, with their appropriate pylons (depending on which variant is chosen) are provided. The 490 l tanks have their fins molded in place, but they look acceptably thin. Air-to-air ordnance is extensive, and is comprised of two each multi-part RS-2US (NATO AA-1 "Alkalai") beam riders, R-3S (NATO AA-2 "Atoll"), R-3R, and R-13s. Also provided, but labeled "not for use" are four R-60 (NATO AA-8 "Aphid") missiles. The missiles also have appropriate launcher rails for each type. All missile fins are styrene.
Air-to-ground ordnance includes eight 100 kg FAB-100 bombs and two quadruple racks to hang them on, two 250 kg FAB-250 bombs, and a pair of 240 mm S-24 unguided rockets. In the limited edition boxing, a pair of Brassin UB-16 57 mm unguided rocket pods in resin and PE is also provided, and these will be available separately. All ordnance is very well detailed and appears quite accurate. Rounding out the items to hang on the model is a pair of SPRD RATO pods and their mounts.
---
Markings
Decals printed by Cartograf are provided for six different MiG-21MF/SM's. A full set of stencils in both Czech and Russian are provided. Or at least that appears to be what Eduard were aiming for. The Czech language stencils look fine, but most of the Cyrillic stencils are gibberish. The decals are well printed, with perfect register and great color. Aircraft included are:
MiG-21MF no. 7628, Egyptian Air Force, 1988 in camouflage with orange ID panels

MiG-21MF no. 9712, Czechoslovak Peoples' Army, 1989-1993 in camouflage

MiG-21MF no. 7713, Slovak Air Force, 1999 in camouflage

MiG-21MF no. 7809, Polish Air Force, 2001-2003 in camouflage

MiG-21SM no. 127 yellow, Soviet Air Force, 1991 in camouflage with shark mouth

MiG-21MF no. 687, East German Air Force, 1990 in camouflage

The featured Egyptian aircraft suffers somewhat from rather oddly drawn Arabic numerals. There may well be photographic proof to support the Eduard version somewhere but they do not match the style I have seen in photos of other EAF aircraft. The Soviet/Russian stars lack the thin red outer border. Again, while such stars may have existed on this particular MiG-21, they certainly were not common.
To say I am excited by this first MiG-21 release from Eduard would be putting it mildly. I've been an avid fan of the Fishbed since early childhood, having been riveted by my favorite uncle's Cold War stories of being intercepted by MiGs, Yaks, and Sukhois when he was an RC-135 crew member in the 1960s.
Eduard's love for the MiG-21 is amply demonstrated by the lavish attention to detail evident in their new kit. By mixing and matching parts provided in the MF kit, and with the announcement of forthcoming kits of the MiG-21F, PF, PFM, R, SMT, 'bis', and UM, the entire Soviet Fishbed family will at long last be available to the 1/48 model builder.
Suffice it to say, I think this kit represents the absolute last word on the subject in this scale. It will provide modelers a superb canvas on which to practice their hobby for many years to come.
Výborne Eduard! Well done!
Review kit purchased by myself
---
Construction Impressions by Brett Green
My Eduard MiG-21MF turned up last Thursday, some days before Jennings' arrived, and I started building the kit straight away.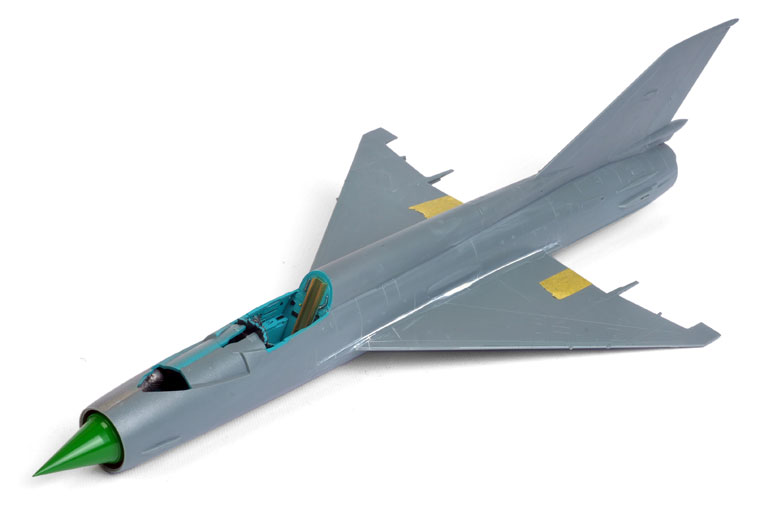 Basic construction is now complete and fit has generally been excellent. The only exception was a narrow gap at the top of each wing root but these were easily dealt with. The white Milliput you can see in the photo above was not sanded back at that stage, just smoothed with a damp fingertip, so it looks more dramatic than it really is.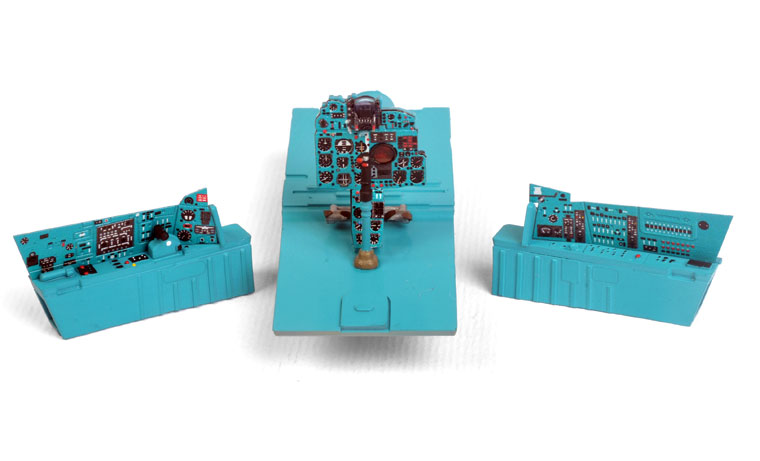 The cockpit is fantastic straight from the box with its colour photo-etched parts.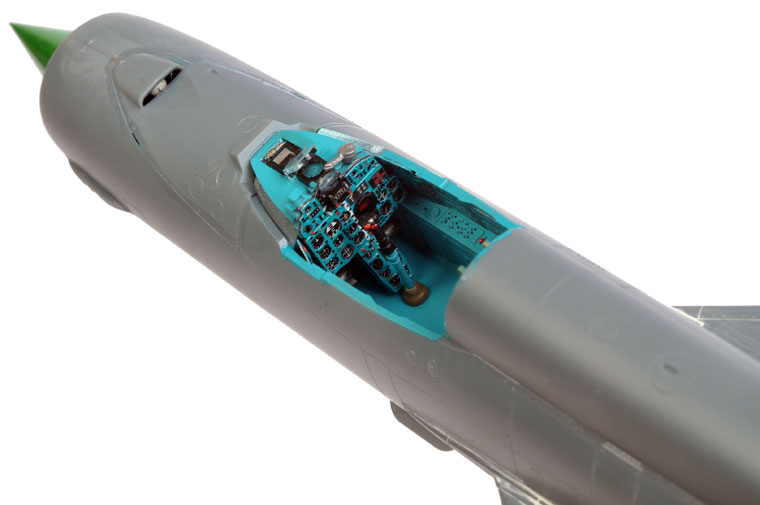 The seat is very effective with its colour harness and ejection handle.
The construction and painting of this model will be covered in detail in the debut issue of Military Illustrated Modeller - Aircraft Edition.
This will be available during April.
---
Review Text Copyright © 2011 by Jennings Heilig
Images Copyright © 2011 by Brett Green
Page Created 22 March, 2011
Last updated 23 March, 2011
Back to HyperScale Main Page
Back to Reviews Page