MD-500D with Floats
MD-520N
& Helicopter Trailer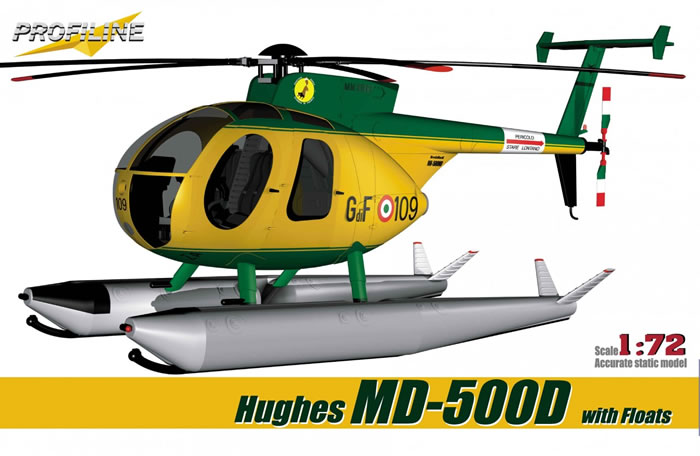 Profiline, 1/72 scale
S u m m a r y :

Catalogue Number:

Profiline Kit Nos.:
7013 (MD-500D with Floats)
7011 (Hughes 500E)
7014 (Helicopter Trailer)

Scale:

1/72

Contents & Media:

Helicopters: About 45 x tan and 6 x clear styrene parts in each case, decals for 8 & 10 subjects (MD-500D & MD-N respectively), 1 x self-adhesive film for cockpit instrumentation.
Trailer: 27 Styrene parts.

Price:

MD-500D with Floats €16.00
MD-520N €16.00
Helicopter Trailer €9.00

Available on-line from Profiline

Review Type:

First Look

Advantages:

Good quality helicopter kits of attractive and interesting subjects. Superb range of decal choices.

Disadvantages:

Nothing significant.

Conclusions:

The helicopters are very nice kits of interesting and attractive subjects, with a fantastic choice of quality decals. A printed scrap paper instrument panel is a disappointment, why was a decal not offered? Despite this last point, still highly recommended.

I'm not convinced of the value of the trailer, but no doubt some will want one.
Reviewed by Mark Davies


HyperScale is proudly supported by Squadron.com
The Hughes 500 family of helicopters came about in response to a 1960 US Department of Defense's (DoD) requirement for a new Light Observation Helicopter (LOH). The new LOH was to be turbine-powered and replace the Bell and Hiller piston-engined designs then in use. 12 companies responded to the DoD requirement. The selection was initially reduced to designs from just Bell and Hiller, these being the YHO-4 and YHO-5 respectively. However, the Hughes Helicopters Model 369 was given consideration due to its low price and designated the YHO-6.
Five YHO-6's were ordered for evaluation in 1961. In 1965 the Model 369 was declared winner of the LOH contract, and was accepted into service as the OH-6A Cayuse. 1,300 OH-6A's were quickly ordered, and the first machines entered service in September 1966.
Hughes had already announced a civilian version of the OH-6A Cayuse prior its adoption by the military, called the Hughes 500. Both military and civilian versions proved to be very successful in a wide variety of roles and applications. The OH-6/500 series have gone through steady development over the years. McDonnel Douglas acquired Hughes Helicopters in 1984, which in turn merged with Boeing in 1997. Boeing then sold the former MD civilian helicopter lines to MD Helicopters in 1999. So the more recent versions are known as MD 500's.
---
Previous 1/72 OH-6 / 500 Kits
The only previous 1/72 OH-6/500 kits I am aware of are the very good Italeri AH-6A offering, and a recently released series of kits from AZ Model (which almost coincided with Profiline's first MD-500 releases). The AZ kits are to some extent similar to Italeri's in parts breakdown, but with recessed surface detail. All of these kits are good, with some subtle shape differences in the tail-boom section between Profiline and the other two in the case of the conventional tailed versions. However Profiline is the only company to offer float and NOTAR options in 1/72 (and probably any scale).
Both kits come in typical Czech end-opening boxes with attractive art-work on the front, and an indication of the colour schemes covered on the rear. The instructions are simple and uncluttered, with generally very clear assembly diagrams using CAD coloured images. I know many prefer outline graphics to CAD photo-style images, but these ones are ok for what are quite simpe kits. These are in English and provide additional advice where needed. The parts and decals are enclosed in a zip-lock plastic bag. Colour call-outs are generic.
Both kits share a well-moulded common sprue with a nice gloss finish to the tan coloured parts (also shared by the other 500D & E boxings). These are from a metal mould, with fine moulding of detail parts, small sprue gates and parts numbering. There is just the tiniest hint of flash along some edges, but this should be dealt with very easily. Airframe surfaces have very fine recessed panel lines and raised detail where appropriate. Small detail parts are nicely done too.
Obviously the MD-500 with floats comes with a floats sprue, but is otherwise the same as the earlier 500D kits. The MD-520N has a separate sprue of 13 parts. This includes the much fatter NOTAR boom that is designed to fit onto the cabin "Egg" in place of the conventional tail-boom, leaving some unused parts from the tail-rotor version for the spares box.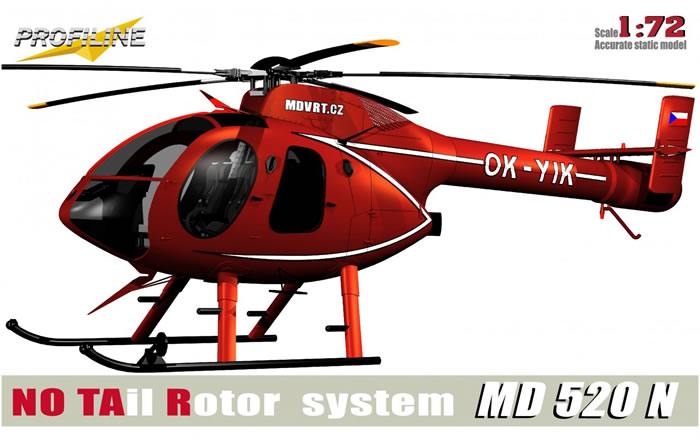 The cabin in both cases is moulded in two clear halves with four separate doors. The MD520N uses the pointed nose cabin parts from the earlier MD-500E kit. These clear parts are moulded to a very high standard, as obviously the mould needs to be as near perfect and smooth as possible for transparencies
There is enough interior detail to keep most happy in this scale, but some will want to at least add seatbelts. An interesting aspect of the first Profiline MD-500 kits was that a self-adhesive film catered for the instrument panel and centre-console, with instruments and switches printed in colour. The modeller needed to cut along the outlines before fixing in place. I had mixed feelings about this, but felt it was acceptable. However, with these tow latest releases the self adhesive clear film has been replaced by a scrap of photo-copy paper with ink-jet printed consoles. This is definitely a step backwards, and a decals should have been substituted. Scraps of paper representing instrument panels that need to be glued in place belong in the 1960's, not the 21st century!
The rationale behind the films is that representation of all that is on the real consoles is not possible in this scale in styrene, yet they provide more than is generally possible with a decal. I think that there is some truth in this. However I think some modellers would like to have seen an attempt, albeit it compromised in terms of accuracy, at providing a 3-D instrument panel and console as an option. Personally I'm happy enough with the film provided that the adhesive backing is good for the expected life of the model.
Decals for no less than eight MD-500D's on floats and ten MD-520N's, in both military and civil service, are provided. Please see the images for a guide as to the variety on offer. There are some great choices of colour schemes, and these serve to emphasise just how diverse the operators of these helicopters are. The sheets also include full decals for the tail rotor, which is a nice touch to save on some tricky masking and painting. The decals look to be well registered with good colour density, and in fact I'd rate the decal quality and their range of choices a stand out feature of these kits. There is quite a large correction sheet with the MD-520N because a colour seems to have been wrong on the original sheet.
I should briefly mention the helicopter trailer. It comes in a plastic bag with card header. The back of this provides the simple instructions required. The trailer is moulded to similar standard as the helicopter kits and is quite simple as the image reveals, although possibly a little fiddly to build. Some might be drawn to it, but I feel at €9.00 compared to the helicopters' €16.00 it's a "luxury" I'd pass on.
I have no hesitation in recommending either of the aircraft kits to helicopter fans, or for that matter, modellers of other subjects who are tempted by the MD-500's cute shape and variety of plumage. In fact choosing which decal scheme to use may be the major challenge associated with these kits! The blurred printed paper for the centre console is not acceptable in this day and age. If Profiline have stopped using self adhesive clear film they should substitute it with a decals.
I'm not all that enthusiastic about trailer, perhaps because it does not appeal that much to me, but also because the value proposition is nowhere near as good as the helicopter kits.
Well done to Profiline for an excellent choice of subject and high quality execution. I encourage readers to support this new company as they are showing much promise, and I for one would like to see more of what they can do.
Thanks to Profiline for these review samples.
---
Text Copyright © 2011 by Mark Davies
This Page Created on 9 May, 2011
Last updated 9 May, 2011
Back to HyperScale Main Page
Back to Reviews Page