Dewoitine D.520
Luftwaffe / Vichy French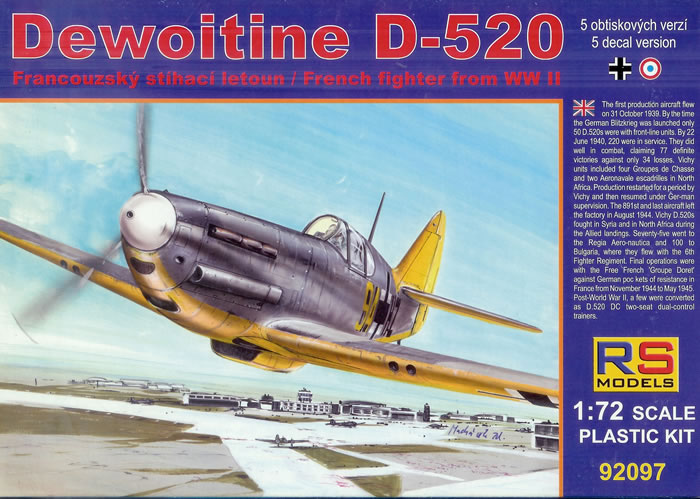 RS Models, 1/72 scale
S u m m a r y :

Catalogue Number:

RS Models Kit No. 92097 - Dewoitine D.520 Luftwaffe / Vichy French

Scale:

1/72

Contents & Media

35 x grey styrene airframe parts, 3 x clear styrene canopy parts and decals for five aircraft.

Price:

Available online from Hannants for £13.17, Squadron for US$26.95, Modelimex for €15.21, and NKR Models for AU$18.18 (Click here for currency conversion)

Review Type:

First Look

Advantages:

Nice surface detail, best cockpit interior of available 1/72-scale D.520 kits, straightforward kit.

Disadvantages:

Instructions could give better guidance regarding parts choices.

Conclusions:

If assembly proves a good fit of parts then I would rank this kit as the best D.520 in 1/72-scale. Recommended.
Reviewed by Mark Davies

Valom's 1/48 scale An-2 Colt is available online from Squadron.com
Background
The Dewoitine D.520 was developed as a private venture following lack of official interest in the type initially. The first prototype flew in October 1938 with Hispano-Suiza 12Y-29 engine delivering 890-hp, but it failed to fulfil performance expectations. The second prototype flew with much better results in January 1939 after some design changes to the wing and radiator. State trials followed in the same month, after which the third prototype was fitted with a 12Y-31 giving 1,100-hp. This participated in further trials, but was not to influence the March 1939 production order specifying a 12Y-45 engine of 930-hp. Initially 200 were ordered for the Armee de l'Air, then 600, and after war broke out orders totalled 1,280. The Aeronavale also ordered 120. The first production aircraft were delivered in October 1939.
Engine supply soon proved a problem and alternate engines were considered. These included the Rolls Royce Merlin III and Alison V-1710-C5. In fact one D.520 was tested a Merlin III and achieved a 356-mph, but it had centre of gravity problems. Several other developments were proposed or built using more powerful engines with incremental model numbers from D.521 upwards, for example the D.530 proposal was to use either a 1,400-hp Merlin or 1,800-hp version of the Hispano-Suiza 12Y family. But most surprisingly of all was the fact that in 1940 Dewoitine developed speed record version of the D.520 as a private venture. This was the D.550 with smaller span wings and was capable of over 400-mph. It last flew in May 1940 at the height of the battle of France. You can but wonder about somebody's sense of priorities! 18 militarised versions of the D.550, known as the D.551/552, were in various stages of assembly at the time of the armistice with Germany. None were finished despite a German proposal to complete two as D.560 sports aeroplanes.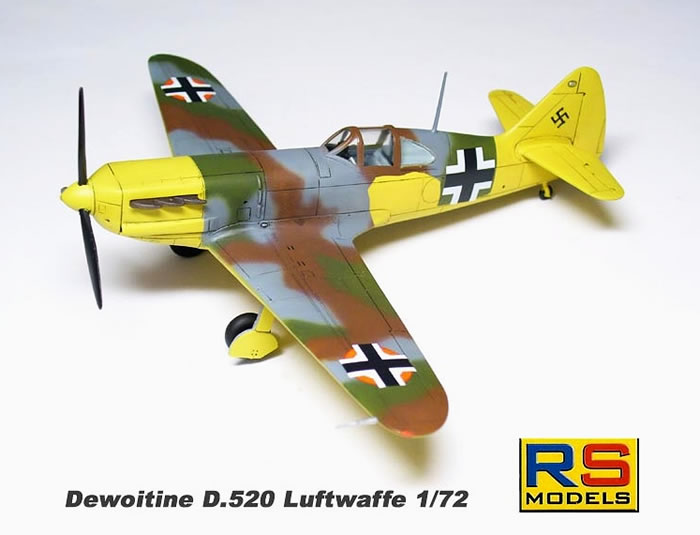 The D.520's performance was better than the MS 406 and MB 152 also in French service. It was able to confront the German Bf 109E on broadly equal terms, with its lower top-speed compared to the German aircraft being offset by superior manoeuvrability. Of course the Bf 190E's speed advantage often enabled it to dictate whether to participate in or evade combat.
Around 230 D.520's had been produced by the beginning of the Battle for France, but only 75 of these had reached operational units. However 403 were completed by the time of the armistice. Following the armistice D.520's replaced some MS 406's, MB 152's and H-75's in the Vichy French air force, and later opposed the allied landings in North Africa. Production was resumed post-armistice with a further 349 aircraft being completed. Some became training aircraft for the Luftwaffe, 75 served with the Italians and 100 with the Bulgarians. The Free-French Groupe Doret used liberated D.520's against the Germans in for ground attack during the last months of war in Europe. There were also 12 post-war conversions to tandem-seat trainers known as D.520 DC (Double Commande).
---
Previous 1/72 D-520 Kits
I'm aware of four previous 172-scale D.520 kits, these being from:
Frog – Typical of this brand's kits, a reasonable model can result with a little effort. I don't think that Novo offered this kit, as it had a policy of not offering Frog releases of Axis subjects; so the D.520's Vichy service probably ruled it out.

Heller/SMER – A step up from Frog's kit, but not by as much as you might assume because this one is not as refined as some later Heller offerings. Very simple, 25 parts or so and no cockpit detail.

Hasegawa – Typical of this brand's late 1990's releases with fine recessed surface detail, flawless assembly (mine was a filler-less build), and with basic cockpit detail. It has been released in several boxings with different markings

Hobby Boss – Typical of this brand's early releases with refined recessed surface detail, superb fit but some simplified details. It can result in a model approaching the Hasegawa kit's standards and for a lot less money these days.
---
Other Scales
If for some reason the "One True Scale" is not to your taste then LTD, Gull Models, JM. Goutte-Toquet and Tamiya have all offered 1:48-scale kits; but obviously Tamiya's the one to go for. If size is your thing, then both Azur and AZ Model released 1:32-scale kits.
The kit comes in a typically Czech end-opening box with attractive artwork on the front. The instructions provide a parts map and easy to follow diagrammatic assembly format. There is also a brief history of the aircraft with Czech and English text. Painting and decal guides are quite adequate and printed in colour on the back of the box for two schemes, whilst an additional three schemes are catered on a well-printed two-page colour A-4 sheet inside it. The coloured sheet also includes two Free-French schemes, but these relate to boxing # 92101, and so decals for these are not included. Generic and French colour names, plus RLM Codes are used for colour call-outs.
I have numerous RS kits and this one is quite typical of the brand. All parts are cleanly moulded with very fine surface detail, and the sprue gates are narrow. Just a little flash is visible in places but will be easily dealt with.
Construction sequence and parts breakdown is conventional for the type, and it looks as if it should be a very straightforward build. In fact there's something about the D.520's airframe that seems to make for a very simple kit, as previous issues in this scale from other brands attest. The surface detail is restrained and consists of fine recessed panel lines and a few acceptable rivet lines along the wing root fairings. It is very reminiscent of the Hasegawa kit aside from the slightly less shiny and softer plastic.
Cockpit detail is good for the scale. Detail is moulded on the cockpit walls, and the floor, control column and instrument panel are also well done. The seat is good, but lacks two tubular braces at the sides between the seat and backrest due to moulding limitations. These can easily be scratch-built. Seat belts are also lacking, which is a pity as some RS Models kits include seats with nicely moulded belts. The gun-sight mount is well done, but a clear plastic cube might be better represent the unusual framed-cube that formed French reflector sights, rather than the solid shape supplied atop the mount. Overall the interior is by far the best of the avialble1/72-scale D.520 kits.
The clear one-piece canopy is injected, bright and clear, and reasonably thin. The two thin and clear side windows will need care when fixing in place.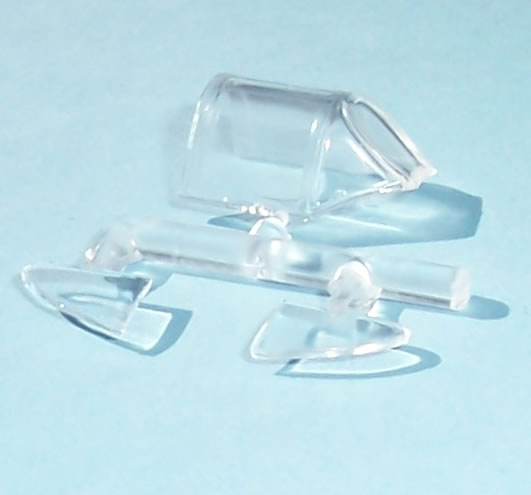 The bottom half the wing has the main wheels wells moulded in place and these look good. The undercarriage doors could perhaps do with being a bit thinner in section, but I'm nit-picking a little here. The wheels seem to me possibly very slightly out of round. If I'm right then placing the thinner side of the tyre towards the ground will simulate weight on the wheel. There is a choice of tail-wheels (also a feature of Hasegawa's kit), but there's no help from the instructions as to which to use for the decal options provided. I can offer no informed explanation as to which should be used on which version, but I have seen photos of both styles. So check photos or at least the colour guide for the markings you plan to use.
There is a vertical line of three air-vents midway between the exhausts and windscreen. You have the option to replace the bottom-most of these next to the wing-root with a wedge of plastic. This simulates a larger flap-type vent capable of being opened and closed seen on some aircraft. I cannot advise why the some D.520's had this, but it may relate to post-armistice production with the 12Y-49 engine. Again at least check photos and painting guides to help decide whether or not to fit these parts on both fuselage sides.
One prop and two different spinners are provided. No guidance is provided as to choice by colour scheme. The choice is to cover the fact that the first 350 airframes used a 12Y-45 engine with Ratier 1060 propellers, and the remainder had 12Y-49 engines with Chauviere 3981 props. The former is the slightly more elongated of the two. In some instances modellers should be able to select the correct spinner because French practice meant that an aircraft's manufacture number appears on the rudder, meaning No 351 onwards would have the Chauviere prop. This said I would have expected the blades to differ as well as the spinners. Both props were 3 metres in diameter, and Ratier used electric pitch control, whilst Chauviere's was pneumatic. Having looked at some photos it's hard to clearly see what differences in blade shape may apply, so RS Models can probably be forgiven for using one prop for both.
The 92097 boxing focuses on Vichy French and Luftwaffe machines. The former offer some really colourful schemes with the red and orange recognition stripes, three colour upper camouflage and tricolour wing flashes.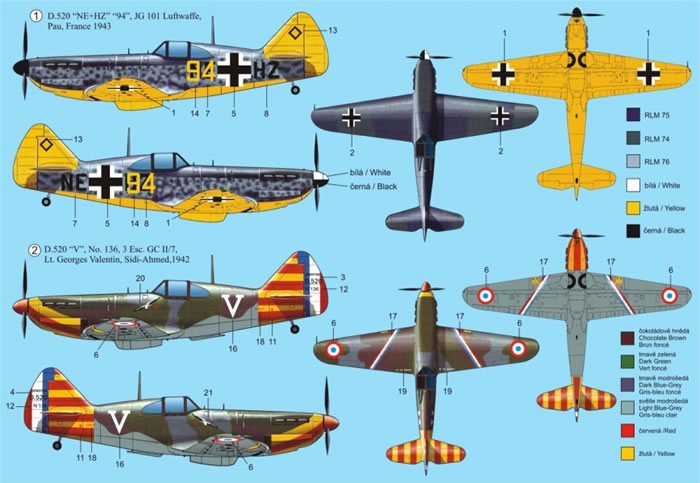 The Luftwaffe options are perhaps a bit messier to look at with their possibly hastily applied yellow patches over the original French schemes, although the one with full Luftwaffe camouflage and yellow undersurfaces is a lot smarter in appearance.

Decals look to be well registered with good opacity. Five options are included:
"Yellow 94" of JG 101, Pau, France 1943. RLM 74/75 (grey-green/grey-violet) upper surfaces and RLM 74/75 mottle over RLM 76 (light-blue) fuselage sides and RLM 04 (yellow) under-surfaces

"No 136 V" of 3 Esc. GCII/7, Sidi-Ahmed, 1942. Brun Fonce/Vert Fonce/Gris-Bleu Fonce upper surfaces over Gris-Bleu Claire under-surfaces (chocolate-brown/dark green/dark grey-blue over light grey-blue). It also has red and yellow Vichy recognition stripes on the nose and tail.

No unit markings on Luftwaffe aircraft based St Martin-du-Touch, France 1941. Brun Fonce/Vert Fonce/Gris-Bleu Fonce upper surfaces. RLM 04 under-surfaces extend over entire nose and tail, and lower rear fuselage sides to obscure French unit codes.

"I" of 3 Esc. GCII/5, Casablanca, November 1942. Brun Fonce/Vert Fonce/Gris-Bleu Fonce upper surfaces over Gris-Bleu Claire under-surfaces. It also has red and yellow Vichy recognition stripes on the nose and tail.

"05+60" based Factory Airfield Toulouse-Francazal, 1943/44 Brun Fonce/Vert Fonce/Gris-Bleu Fonce upper surfaces. RLM 04 under-surfaces extend over entire nose and tail.
---
Other RS Models D 520 Boxings
92101 Free French (France post D-Day)

92090 France (France 1940)\

92091 Bulgaria (Includes Italian 1943 & French 1940 markings)
The instructions could have been a more helpful concerning the parts options provided with the kit and which to choose for the colour schemes offered. But they are no worse in this regard than several other limited run kit manufacturers I could mention.
Overall RS Models D.502 is a well executed limited run kit with the best interior detail of any of the 1/72 D.520 kits offered so far. Its surface detail is the equal of the Hasegawa and Hobby Boss kits. I'd guess that whilst fit looks good it may not quite be on par with these brands because of the mould technology used. This said I should think it would be pretty good, as a couple of older RS Kits I've built were generally fine to assemble. I'm confident that an attractive and worthwhile model should result from this kit. (The images of a completed D.520 model accompanying this article are from RS Models web-site).
Employed by several air forces, there is quite a variety of colour schemes applicable to D.520's, and RS Models caters for this with several boxings which I confidently assume will all share the same parts, and so this review should largely apply to these as well. On this basis I definitely recommend the #92097 boxing reviewed here and the others as well.
If assembly proves a good fit of parts then I would rank this kit as the best D.520 in 1/72-scale.
Thanks to RS Models for these review samples.
---
Review Text and Images Copyright © 2011 by Mark Davies
Page Created 25 August, 2010
Last updated 26 August, 2011
Back to HyperScale Main Page
Back to Reviews Page