Roden's 1/32 scale
Albatros D.III

by Doug Craner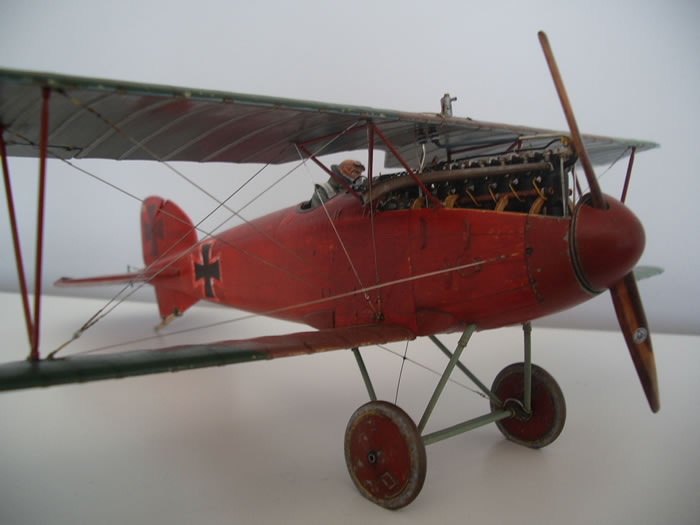 Albatros D.III

Roden's 1/32 scale Albatos D.III is available online from Squadron.com
Here are some photos of my lmost finished Manfred Von Richtofen 1/32 scale Albatros DIII from Roden, Around April 1917 vintage. ( control wires still to fit).
I scratched new plumbing from fuse wire. The longer water pipe appears to have been partly clad, scratched spark plugs from brass tube,wire and PE nuts, new rocker springs..fuse wire wound round a pin, then pushed together and cut into desired lengths whilst on the pin. Extra plumbing on the Merc 160hp, including two new brass taps, with butterfly wings. I used the kit radiator, but removed the moulded wire and drilled through the rad to take a wire, which would be taped to the smaller water pipe. The "V" strutts were drilled at the base to take a steel pin,and I drilled right through the lower wing so this pin would hold the weight of the upper wing, along with the small water pipe. The bungee, is round elastic and covered in cotton, that came off a clothing label, which I dyed in black ink. The axle is brass, again for strength.. All metal panels, undercarriage "spreader" etc are PE parts.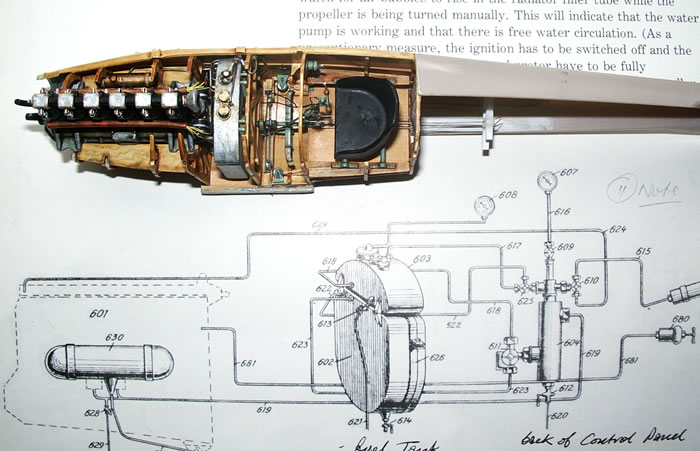 The pilot is sculpted from Milliput and paper, with clear plastic moulded goggles.

The undercarriage on the original is not red!... very pale... It look's like it could be a replacement so I've painted it in Albatros factory grey-green. Also the windscreen is very small, and looks like it could of come off a Fokker EIII... Hence it's been painted black.
The red was sampled from a museum photo of some fabric from MVR's Fokker Dr.I
---
Images and Text Copyright © 2012 by Doug Craner
Page Created 26 November, 2012
Last Updated 26 November, 2012
Back to HyperScale Main Page