A-26 Invader
Invading Esquire Girls Parts I, II & III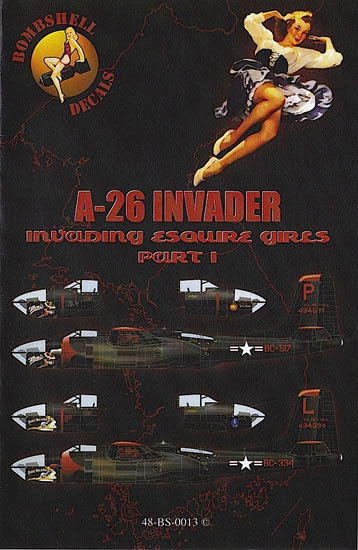 Bombshell Decals, 1/48 scale
S u m m a r y:

Catalogue numbers and description

Bombshell Decals 1/48 A-26 Invader – Invading Esquire Girls

Part I: 48-BS-0013

Part II: 48-BS-0014

Part III: 48-BS-0015

Scale

1/48

Contents and Media

Each part contains 1 x waterslide decal sheet of national insignia, code numbers, nose art and stencils for two Douglas B-26C Invaders, and 1 x four page A5 full colour instruction sheet and marking guide.

Price

US $16.00 for each part.

Available online from

Review Type

First Look

Advantages

Excellent choice of subjects; well-researched, accurate and high quality decals, including exceptionally reproduced nose art.

Disadvantages

None noted.

Conclusion

Three more great sets from Bombshell that will seriously tempt you to pull out your old Monogram A/B-26C kit.

Reviewed by Brad Fallen


HyperScale is proudly supported by Squadron.com


Bombshell Decals is a US decal company that entered the market several years ago with three well-received 1/48 sheets on Corsica-based USAAF B-25Js. Since then Bombshell has released further excellent sets featuring P-38 Lightnings (1/32 and 1/48), P-47 Thunderbolts (1/48) and B-26 Marauders (1/48 and 1/72), as well as a 1/72 selection of its B-25 markings.

The common theme linking all of these releases is pin-up nose art – a subject that has attracted many decal producers over the years, but which few have been able to authentically reproduce. Before Bombshell, arguably the best nose art decals were offered by Meteor Productions' Pyn-Up line. However, since Meteor closed four years ago, Pyn-Up Decals have generally become quite expensive, when you can find them at all. So Bombshell's focus on providing high-quality decals of US nose art subjects fills a significant void in the market, and is very welcome.
Bombshell has now turned its attention to the Douglas B-26 Invader, releasing three new 1/48 sets covering Invaders that served with the USAF during the Korean War.
All are glass-nosed aircraft painted black for night operations, with red codes and – not surprisingly – excellent nose art. Each set features two aircraft from the same, or closely related, units:
"Invading Esquire Girls Part I"
A-26B-61-DL, 44-34517 'Monie' of the 37th Bomb Squadron, 17th Bomb Wing, Korea.

A-26B-55-DL, 44-34334 'Sweet Miss Lillian' of the 452nd and the 17th BWs.
"Invading Esquire Girls Part II"
A-26C-35-DT, 44-35423 'Dream Girl' of the 34th BS, 17th BW, Korea.

A-26B-55-DL, 44-35684 'Toni C II' of the 34th BS, 17th BW, Korea.
"Invading Esquire Girls Part III"
A-26B-15-DT, 43-22342 'Sylvia' of the 13th BS, Korea.

A-26C-35-DT, 44-35361 'Little Sheba' of the 13th BS, Korea.
In each set, this information is provided in a succinct four page A5 instruction and marking guide, which folds out to reveal a full-colour and highly detailed port-side profile of each aircraft. The guides also contain scrap views of both sides of the forward fuselage, a small overhead view, a photograph of one (but not both) of the featured aircraft, and other images and advice to assist with specific decal placement.

While not as comprehensive as they could be – more photographs of the subject aircraft would have been welcome – Bombshell's marking guides provide enough information for modelers to be able to thoroughly research their chosen aircraft. The secret lies in the supplied production block and serial number details, which allow you to find out when and where a particular aircraft was manufactured, and the features specific to its production block. This is a fascinating subject in its own right, given the Invader's troubled development, production at several locations, number of type redesignations and long service history. There are a few useful websites where you can research this information, but I found a good starting point to be Martin Simpson's A/B-26 Invader site (http://napoleon130.tripod.com/index.html).

No matter how useful the instructions, any decal set is only as good as the decals themselves. Here Bombshell has done very well, with all three decal sheets produced to a high standard. Printed by Cartograf, each sheet contains sufficient markings to complete two Invaders, with the exception of the large 'USAF' letters carried on the upper starboard and lower port wings. As Bombshell points out, however, not all B-26s operating in Korea carried these markings in both positions, so check your references. The decals are very crisply printed, with good colour definition and excellent quality control – I could find no quality control errors on any of the sheets.

Specific mention needs to be made of the nose art decals, which are almost photo-realistic in their detail. They are also very good matches for the art applied to the real aircraft. However, only one copy of each nose art decal is provided, so there is no room for slip-ups. One way to minimize this risk would be to apply the nose art decal before applying any of the aircraft-specific codes – that way, if you make a mistake, you at least have the option of finishing your model in the alternative scheme provided, without having to source another copy of the original nose art decal.

Finally, I need to make special mention of the ziplock bags that Bombshell uses for packaging its decal sets, because these are actually big enough for you to easily remove and insert the decals and the instructions. This compares positively with the bags used by some other decal companies, which seem to be slightly too small for the decals to go back into once they've been removed.
Conclusion

These are the first sets of Bombshell Decals that I've looked at, and I am very impressed with their overall quality. Bombshell's subject choices are great, the decals look excellent, and the supporting information is comprehensive. The sets have already prompted me to go out and pick up Squadron's A-26 Invader Walk Around book, and now I'm rummaging about looking for my old Monogram A/B-26C kit to see if I really want to rescribe it. Bombshell's Invader decals will hopefully prompt some renewed interest in the Monogram kit, because any model finished in one of these schemes should look fantastic.

Highly Recommended.
Thanks to Bombshell Decals for this sample.
---
Text and Images Copyright © 2012 by Brad Fallen
This Page Created on 18 July, 2012
Last updated 18 July, 2012
Back to HyperScale Main Page