Ilyushin Il-18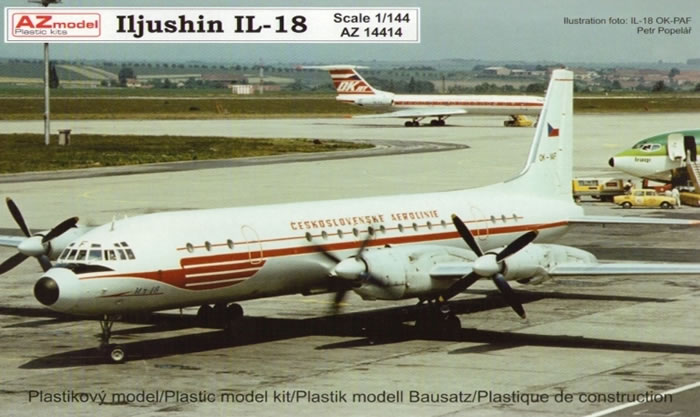 A.Z. Model, 1/144 scale
S u m m a r y :

Catalogue Number:

A.Z. Model Kit No. AZ14412 - Ilyushin Il-18

Scale:

1/72

Contents & Media

Sixteen tan and seventy white styrene parts, with decals for two subjects.

Price:

Available online AZ Models for €21.70 and Hannants for £22.25. Other AZ Model stockists that may carry or offer this kit can be found here.

Review Type:

First Look.

Advantages:

Simple kit with attractive markings

Disadvantages:

Some flash to clean up (but no surprise given the mould technology used).

Conclusions:

This kit should simple and enjoyable to build, and result in an attractive model - Recommended.
Reviewed by

Mark Davies

HyperScale is proudly sponsored by Squadron.com
The Il-18n was the second Soviet turbine powered airliner, the first being the Tu-104 that derived from the Tu-16 bomber. However, the Il-18 was turboprop powered, unlike the turbojet Tu-104. The Antonov design bureau developed a competitive airliner based on its existing An-8 transport; this became the An-10. As an aside, the An-10 was in turn was developed into the very successful An-12 transport. Both the Il-18 and An-10 had the choice of using two new turboprop engine designs; these being Kuznetsov NK-4 or Ivchenko AI-20, both being derived from German wartime concepts.

The Il-18 was in some respects analogous to Lockheed's L-188 Electra. Like the Electra, it too suffered early crashes due to engine problems. Ilyushin also developed the Il-18 into an anti-submarine aircraft known as the Il-38, just as Lockheed had developed their L-188 into the P-3 Orion.

The Il-18 used the same nomenclature as a piston-engined airliner design dating from 1946 that only ever flew as prototype; but it had nothing in common with this earlier design. The Il-18 first flew in July 1957 powered by NK-4 engines. Four more NK-4 powered prototypes, and twenty pre-production aircraft using AI-20 engines, soon followed this. The AI-20 was chosen to power production examples after the engine trial period ended in March 1958.

The Il-18 was a well built and a capable machine that enjoyed a successful career once the problems with early versions of the engines that led to crashes were resolved. Other versions were developed that had greater range or payload, until Il-18 production ended in 1968. The Il-18 gave good service to both in soviet and satellite states, and to a variety of third world operators. In fact, it was probably one of the most successful soviet airliner designs of the 1960s.

Contents
The kit comes boxed in a typical end-opening box with a nice photographic image of an IL-18 in Ceskoslovenske Aerolinie livery. The quality and appeal of this box-art is a huge improvement over that used for AZ Models Tu-134 I reviewed a short while ago. The painting & decaling guide is on the box's rear face, where colours have generic names and are not cross-referenced to any colour system or model paint codes. Oddly enough, my sample was labelled as kit number AZ 14414, which has already been used by AZ Model for one of their Yak-40 releases. The correct box number seems to be AZ14412.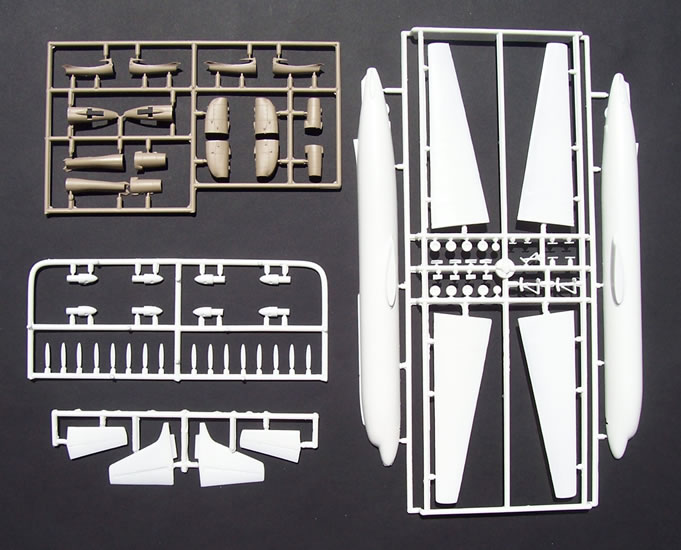 The instructions are basic in appearance and style. They give a brief aircraft history, provide a parts map, and have adequate assembly diagrams. The last page has some plans that seem to serve no particular purpose other than to illustrate panel lines.

This is a very simple kit in terms despite a moderately high parts count. For some reason the engines and their nacelles come moulded in tan plastic whilst the remainder of the parts are in white. I know that AZ Model uses third party moulders, so perhaps different producers were used for the tan and white sprues.
---
The Kit
Like other AZ Model 1/144-scale airliner kits this is a limited run production, so there is flash evident in a number of areas; although this should be easy enough to remedy. Thankfully, the sprue gates are generally quite narrow, and so simplify parts removal and cleanup.
The trailing edges of the flying surfaces will benefit from thinning down but the panel line detail is done finely enough. I increased the contrast and adjusted the backlighting in the images to try and make the panel lines on the white plastic stand out enough to be seen. In so doing I have made them look a bit softer and deeper than they are in reality. The panel lines on the engine nacelles are just a little heavier than elsewhere on the airframe, I assume because they are removable on the real aircraft; or they were tooled by a different mould maker.
The wings are a butt join which I think will be fine, but some may wish to insert a spar of some kind for added strength. This is not an issue with the much smaller tail surfaces that are also butt joins.
Detail on the undercarriage parts is simplified as might be expected in this scale. The wheels and legs will also need some cleaning up in places. The instructions direct that the nose wheel doors be scratch-built from plastic sheet, which is easy enough to do.
I think that it will generally build easily enough, although no doubt some filling will be needed because the limited run nature of the kit. Most of the work will be involved in assembling the propeller blades and two-part spinners I think.
There are no clear parts for windows, these instead being represented by decals. Again this is not all that unusual with this type of subject, and quite a few builders fill in clear windows when they are supplied for small scale airliners and elect to use decals instead. This approach generally works well in 1/144 and smaller scales. However, I feel that also renders an appearance akin to that of a die-cast model.
I think that this is a fairly basic kit that should build easily enough once the parts cleanup is completed.
---
Colours and Markings
The decals look to be very well produced and are crisply printed.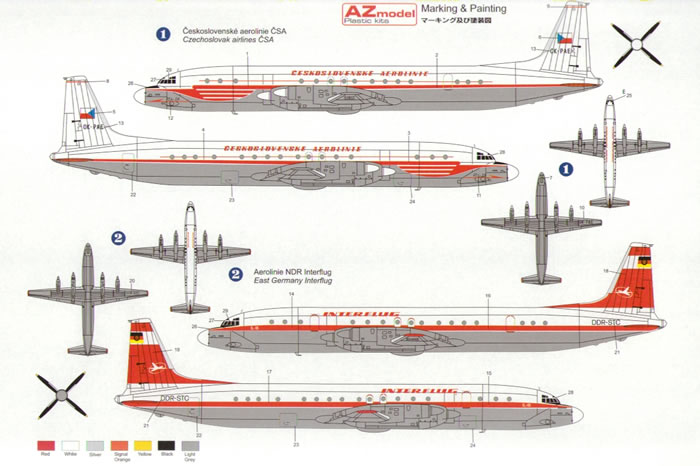 They cover quite colourful and attractive schemes for: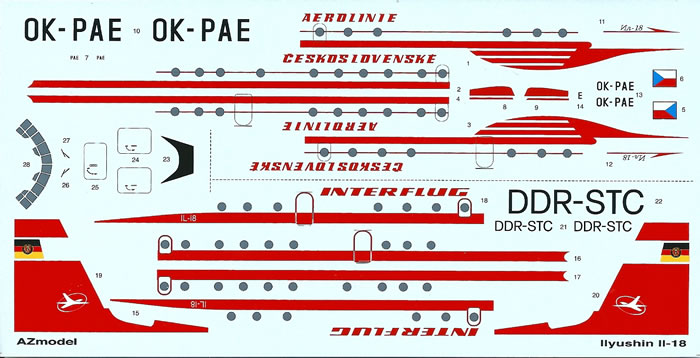 Although not reviewed here, it seems that the same kit is to be released in at least two other boxings with different markings; these being:
AZ14413 "IL-8 LOT & Malev", and

AZ14417 "Il-18 VIP" with markings for Polish and Yugoslav air forces and a West German civil scheme.
This is a simple kit that will suit builders who primarily want a representative Il-18 wearing a nice livery on their display shelf, given its lack of clear parts, and simplified undercarriage detail etc. In many ways it is a simpler kit than even the 1/144 airliners Airfix was turning out in the 1960s, albeit with more refined engraved surface detail. It undoubtedly will build into a smart model, but for those wanting more detail a fair bit of work will be needed.
I recommend this kit to those who want to build an Il-18 without too much fuss and focus on fine details, or to those who enjoy enhancing and adding detail in this small scale.
Thanks to AZ Model for these review samples.
---
Review Text & Images Copyright © 2012 by Mark Davies
Page Created 18 December, 2012
Last updated 18 December, 2012
Back to HyperScale Main Page