Vickers/CASA Type 245
"Spanish Vildebeest"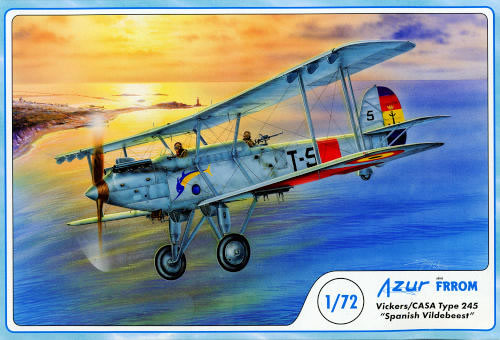 Azur-FRROM, 1/72 scale
S u m m a r y :

Catalogue Number:

FR0188 Vickers/CASA Type 245 "Spanish Vildebeest"

Scale:

1/72

Contents & Media:

Parts consist of 52 grey styrene, 3 clear styrene and 9 resin pieces, plus 1 PE fret of 36 pieces, instrument film and decals for 5 subjects.

Price:

Available from these on-line stockists:

Hannants

West Coast Hobbys

Aviation Megastore

Click here for currency conversion.

Review Type:

First Look.

Advantages:

Good levels of detail for the scale, sensible kit design and use of different media, plus attractive colour schemes. The moulding and surface detail is very nicely done.

Disadvantages:

No bombs or bomb racks are included.

Conclusions:

A very nice and well-executed kit that should build well given some care. The lack of bombs or bomb racks is a pity, but it is hard to complain when we have such a good injected multi-media kit of this obscure but interesting subject. I definitely recommend it to SCW enthusiasts and those who like obscure aircraft, or just have a thing for the Vildebeest family.
Reviewed by

Mark Davies

HyperScale is proudly sponsored by Squadron.com
Prologue - Modelling Prayers Answered
When I first reviewed the Azur-FRROM Vildebeest Mk.III here on HyperScale I was chuffed that a modern injected kit of this subject was now available. I went on to express the hope that they would offer a kit of the Type 245 Vildebeest, and mentioned that wishing for the float version of the Type 245 was probably being over optimistic. Well the modelling gods have smiled on the one true scale, with Azur-FRROM releasing a kit of the land-based Type 245 and Special Hobby the float version (based on the Azur-FRROM kit). What wonderful times we live in!
---
Background
The Vildebeest was Vickers response to specification 24/25 for a land-based coastal defence aircraft capable of carrying bombs or a torpedo. The winning design was to replace the Hawker Horsely that had been fulfilling this role.
Vickers' 24/25 proposal was successful. The official convention at the time was to name this type of aircraft after a mammal beginning with "V" for Vickers, and the company's South African consultant suggested they use the Afrikaans name for a Gnu, which is Vildebeest. I have always thought naming rather ungainly looking aeroplane after rather ungainly looking animal really was most appropriate.
The Vildebeest was to have a somewhat protracted development, due largely to early engine problems. The radial engine originally specified was the Bristol Jupiter VI, with the Bristol Orion intended to replace it in later versions. However, the Orion did not materialise, and instead the prototype had a Jupiter VIII installed, and first flew in April 1928. The Jupiter VIII had continual over-heating problems, and a change to a Jupiter XF gave no improvement.
Vickers displayed the Vildebeest prototype at the 1930 Paris Aero Show re-engined for the third time using a Jupiter XIF enclosed with a Townend ring. It was here that the Spanish first showed strong interest in the type. A second prototype, although intended to have a Jupiter XIF, was fitted with an Armstrong-Siddely Panther IIA. The intention was to use this second prototype for demonstrations to potential export customers who had also shown interest at the Paris show. These included Argentina, Romania, Yugoslavia, Turkey and Switzerland. The remaining history of radial engine changes falls outside of the Spanish Vildebeest's story, but is worth mentioning regardless. Another Jupiter version, the XFBM, which used mineral rather than vegetable oils resolved the over-heating problems. This became the famous Bristol Pegasus and powered the first British production Vildebeests. The last engine change was the Mk.IV's cowled 845 hp Bristol Perseus sleeve-valve radial.
Vickers fitted a Vildebeest with a Hispano-Suiza 12Lbr in-line engine at the suggestion of the Spanish. After observing favourable trials of this aircraft in floatplane configuration, the Spanish obtained a licence to build 25 Hispano-Suiza powered versions. Type 245 Vildebeest was the designation used for these CASA-built Spanish aircraft. Meanwhile the V-12 engined prototype then went on a tour of Baltic States, but it seems little resulted from this trip. Spain purchased the aircraft after it returned to England from this unsuccessful promotional tour.
C.A.S.A. started assembly at Getafe in 1932, but only began deliveries of the first aircraft in 1935. They built twenty-five aircraft under licence and bought two already assembled from the UK, including the prototype mentioned earlier. These Vickers assembled planes were given the last serial numbers of T-26 and T-27.
The Vildebeests deployed to San Javier (Murcia) shortly before the civil war began, and lacked machine guns and essential weapons-related equipment like bombsights and bomb racks. All Type 245 Vildebeests fell under Republican control in July 1936 following the outbreak of civil war. They employed them as bombers during the first months of the war despite their lack of bombing equipment, and used a third crewmember to despatch the bombs by hand through a panel under the pilot's seat! The Vildebeests moved to Manises (Valencia) to support the Aragon front by bombing Teruel whilst operating from El Prat, Sarinena and Lerida, whilst some planes also fought in Andalusia. In all seven Vildebeests were lost after one and a half months of front-line operations.
The surviving Vildebeests underwent repairs at San Javier and Los Alcazares at the end of 1936, where they were at last fitted with bombsights and racks. They were allocated to Grupo 73 for coastal defence duties until the war's end, being distributed over various airfields on Spain's East coast. Only two Vildebeests survived the civil war, these were T-23 at Los Alcazares and T-17 at Barcelona, the latter in floatplane configuration. There are no accounts a Vildebeest torpedoing a vessel during the civil war.
---
Previous 1/72-Scale Vildebeest Kits
I am aware of two other brands of 1/72 Vildebeest kits aside from Azur-FRROM's Mk.III released about a year ago. One from long ago was by Contrail with the option to build a Vincent. The other much more recent releases were resin kits of the Mk.I, II, III, IV and CASA Type 245 by Kiwi Resins (they offered a Vincent too). The Contrail kit still appears on auction sites, but this would be a masochistic way to satisfy a craving for Vildebeest. The Kiwi Resin kit received a good review in SAMI January 2007 which said "...a challenging but very rewarding kit to build. Not quite state of the art, it's nevertheless very well cast with great detail, and while preparation and finishing is time consuming, the resulting model is a delight." AZ Models also announced a 1/72 injected kit of the Vildebeest Mk.III a year or so ago, but it seems that they may have yielded the market to Azur-FRROM.
The Contents
It is pleasing that the kit comes in a top-opening box rather than the more typical end-opening type used for many Czech-made kits. It also has some nice box-art, as do most Azur-FRROM and Azur kits. Having grown up in the 1960s with Airfix and Revell kits I appreciate a good painting over the mediocre artwork used by some companies these days. The kit parts come in a re-sealable plastic bag, with the resin and clear parts further protected in their own bags, as are the decals and PE, which come packed together. The instructions are in English and French and have a type history, parts map, diagrammatic assembly guide and colour schemes in A5 format. Colour call-outs use generic names but provide cross-references to Gunze Sangyo and I think Mr. Color paint codes. The well-drawn instructional diagrams are clear and generally easy to follow.
The two main sprues are common to this and earlier Mk.III kit (and obviously the new Special Hobby floatplane version too). They supply the flying surfaces, struts, undercarriage and major interior detail parts. There are two new sprues with the Type 245 fuselage halves, fin and rudder, and spinner equipped propeller. A further small new sprue has two louvered sections to form part of the engine cowl's underside, a venturi pitot and what I think is a wing-mounted landing light. The resin parts supply the upper exposed top part of the Hispano-Suiza V-12 engine, an oil cooler and wing-mounted radiators. Also in resin are a control column, rudder bar, wingtip navigation lights and machinegun for the rear cockpit. The same PE fret as the earlier Mk.III kit covers off torpedo fins and screw blades, its carrying frame, seatbelts and instrument panel (with instrument film), rear gun elevation ratchets, leading-edge slat rails, aileron and trim-tab actuators, mass balances, boarding step, tail struts and one or two other small details. Two clear sprues have a small windscreen and two circular windows. A sheet of water-slide decals printed by Aviprint completes the package.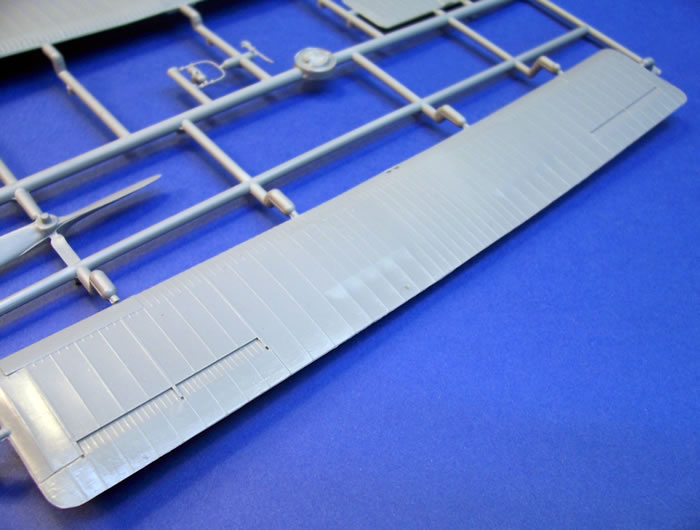 The resin and PE parts are good quality, and the clear parts are quite acceptable.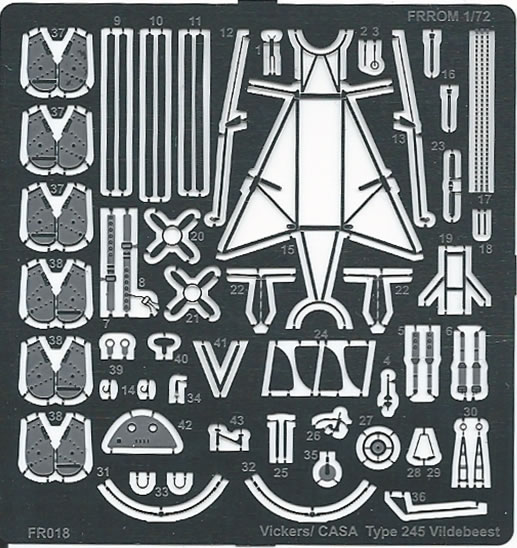 The styrene parts shared in common with the MK.III are crisp and cleanly moulded, and despite having a hint of flash on most parts these are very good for limited run items (I did however find a tiny bit of mould damage underneath the upper wing that was not present when I reviewed the Mk.III). The new sprues, particularly the main ones carrying the fuselage parts, look good in terms of detail definition but they have a slightly rougher surface finish that can be felt when you run a finger along their outer surfaces (Yes, I sometimes caress my kits – don't you?). You can remedy this minor issue with very light sanding if you feel inclined to do so.
---
The Airframe
The main parts have some particularly nice tooling, especially the wings with their realistic taught fabric effect. Also captured are the variations in surface levels around the fuel tanks and the way the aileron's section tapers where the hinge on the rear spars. The leading edge slats are moulded shut with the upper wing, which I think this is acceptable because photos often show them closed on the ground. Deployed slats would need more PE and resin parts, and no doubt would have added to the kit's cost.
The fuselage has restrained recessed surface detail, and correctly has the side and bottom fabric covering very taught and smooth. The inside of the fuselage halves features the metal frame structure for the length of the cockpit and beyond. A combination a styrene, resin and PE parts provide for a very nicely detailed cockpit interior. These include more tubular structure, instrument panel, pilot's controls including throttle and trim wheel, seat belts and obviously seats, the rear gun, its mount and spare ammo drums. The kit also provides the two clear small porthole windows and a windscreen.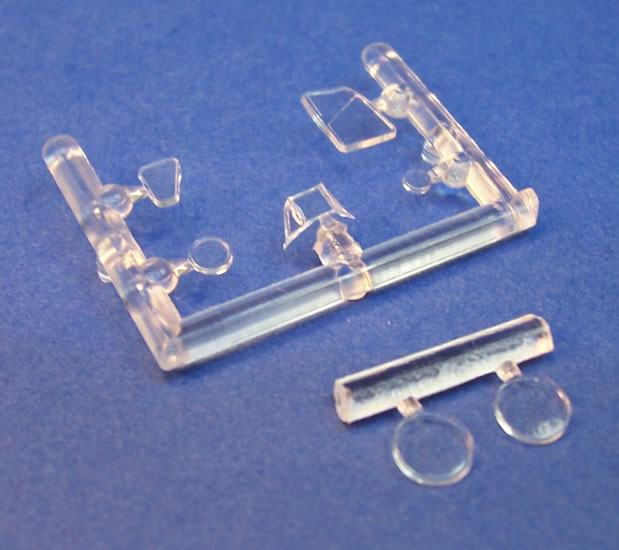 There is a choice indicated in the instructions regarding the tail-plane, dependent on the decal option selected (only one of the five is different). I had to study this point several times before I realised what the choice was. It concerns the rearmost pair of tail-plane PE bracing struts. There is a tiny difference in length, barely 1mm, so keep this point in mind to avoid getting the three pairs of struts mixed up. However, I am puzzled as to why one aircraft, T-23, built towards the end of the Spanish production run would have slightly different struts.
The kit has the same torpedo and launch paraphernalia as the Mk.III kit. However, the instructions seem to indicate that this applied to the trials prototype, but do not indicate which, if any, of the decal schemes it relates. The torpedo mounts to the fuselage underside on an elaborate and very fine PE framework, which, like the real thing, establishes the correct angle for the torpedo to enter the water upon release. The angled carriage of the torpedo would add interest to a finished model, but sadly, it may be an unlikely payload for Spanish Civil War machines, unless Grupo 73 carried them in the coastal defence role despite not torpedoing any ships. However, I am no expert, so check your references. It is unfortunate that bomb racks & bombs were not included, as the Type 245 definitely used these. The racks could be scratch-built without too much trouble using the box art for a reference, or better still, period photos that may include the type of bombs carried.
A nicely cast resin piece provides the exposed top portion of the Hispano-Suiza V-12. A small resin oil-cooler fits under the nose and has a PE V-strut to brace it. Just ahead of the oil cooler on the cowl's underside are two styrene panels with what I think may be closed louvers of some kind. The two resin wing-mounted resin radiators look good, and these plus a quite reasonable propeller round out the power-plant side of things.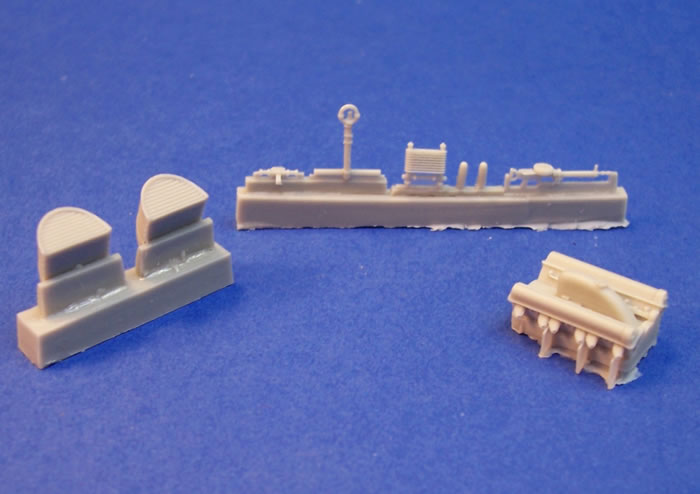 A simple widely spaced main undercarriage, without wheel spats, but still with a spatted tail-wheel, takes care of the undercarriage and captures the look of the original. Numerous small PE details will add to the character of the finished model, which with all the rigging should have an interesting if somewhat cluttered appearance
I would expect this kit to build well in a fashion typical of late Azur-FRROM kits. As 1/72 biplanes go this one has a couple of constructional advantages; it is reasonably large, has only one pair of inter-plane struts per wing, and there is no wing stagger. The strut mounting holes are there, but a bit difficult to see and may need a little enlargement. The instructions direct the modeller to drill holes for the aileron linkages and provide dimensional locations for these. I can only think that they mould-makers overlooked them.
---
Colours & Markings
Initially painted overall in aluminium, the Spanish Vildebeests had the four roundels in the usual locations on the wings. The rudder had three equal horizontal bands running top to bottom of red, yellow and mauve. Superimposed on this were an anchor and crown, symbolising the Aeronautica Naval. Aircraft displayed their serial numbers preceded by the letter T and a hyphen (e.g. T-22) on the fin, both sides of the fuselage and the underside of the lower wing. The nose was the location for any squadron insignia. The Republicans added red bands on the topside of the upper wing, underside of the lower wing and around the fuselage following the outbreak of civil war, although there were many variations across different aircraft and units. Grupo 73 camouflaged the surviving planes with green and brown blotches on top of the wings and fuselage.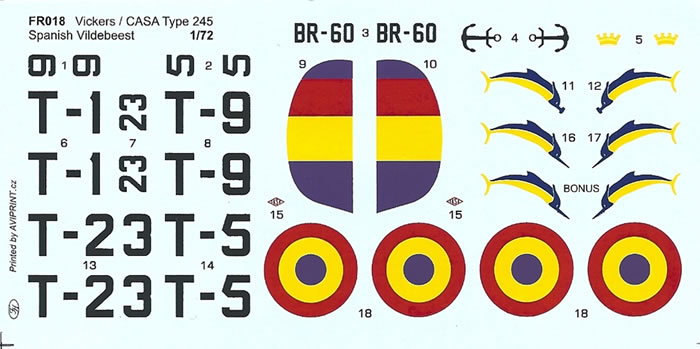 A four-view black & white shaded diagram illustrates each of the five colour schemes. The decal sheet appears to be of very good quality and provides for five attractive options:

T-5, based at Sarinena airfield, for operations over the Aragon Front, summer 1937. This was an overall aluminium machine with Spanish roundels, fin stripes, swordfish motif, and Republican red bands on fuselage and wings.

T-23, based at Los Alcaceres after arriving from the Southern Front in 1937. This was a camouflaged machine with dark green and tan mottle over aluminium upper surfaces. Spanish roundels remained only on the aluminium under-surfaces; it retained the fin stripes and swordfish motif, and had Republican red bands on fuselage and wings.

T-9, based at Manises airfield, for operations over Teruel. This was an overall aluminium machine with Spanish roundels, fin stripes, swordfish motif, and Republican red bands on fuselage and wings.

T-1, as first delivered in overall aluminium machine with Spanish roundels, fin stripes, swordfish motif, but no under-wing serial number, initially at least (and of course no Republican red bands on fuselage or wings at the time).

BR-60, Grupo 72 de Defensa Costas, based at Los Alcaceres, 1938. Believed to be the only Type 245 painted in the standard Republican finish of overall dark green upper surfaces and aluminium under-surfaces, and Republican red bands on fuselage and wings (No Spanish roundels or crown and anchor symbol over the fin stripes).
---
Brand Name
Azur-FRROM is a niche line of kits produced under the umbrella of the Azur label. The Azur brand a cooperative undertaking between its French patron and MPM Productions Ltd, whose brand stable includes MPM, Azur, Special Hobby, Planet Models, CMK, CMK 1/35, Condor, HML, Elf, HPH, Special Armour, Special Navy and Best Choice.
FRROM stands for France & Romania, and refers to the nationalities originally envisaged for this series of aircraft kits, although the range quickly expanded beyond subjects from just these two nations. The choice of subjects selected for production will remain ones that appeal to Azur-FRROM, and that are unlikely choices for bigger kit manufacturers to offer. They aim to provide good quality limited run kits at more affordable prices than would be the case if their subject choices remained the province of resin kit manufacturers.
Azur-FRROM markets its kits separately from the MPM-group's Azur label and other brands. The distribution channels for Azur-FRROM differ from Azur's, although they do have some stockists in common. One thing I have noticed is that various on-line shops list Azur-FRROM in a number of ways, so if you are looking for Azur-FRROM kits check under any these combinations: Azur-FRROM, FRROM, FRROM-Azur, and even just Azur. Remember that an Azur stockist will not necessarily carry Azur-FRROM kits, and vice-versa.
Azur-FRROM will have pleased many SCW fans by going back to their roots and releasing a CASA Type 245. Who would have thought, even just a few years ago, that we would have a modern good quality injected kit of this relatively obscure, pre-WW2 Spanish type whose production totalled only 27 units?
Like the earlier Videbeest Mk.III kit by Azur-FRROM, I feel that this kit scores well terms of design and execution. It has very good levels of detail for the scale, sensible kit design and use of different media, plus attractive colour schemes. The moulding and surface detail is also very nicely done. The very slight difference in surface smoothness of the fuselage compared to the wings is more an observation by me as a reviewer than a problem, so subtle is the difference. Some care is necessary during assembly, not only because it's biplane, but also because there are quite a number of fiddly and delicate PE parts.
Although well drawn, the instructions require careful study just to determine where some things go, and a better explanation of the torpedo option would help. The lack of bombs and bomb racks is a pity. These however are relatively minor complaints and should not detract from what is a very nice limited run kit of an obscure but interesting subject.
I recommend this as being a very good kit.
Thanks to Azur-FRROM for the review samples.
---
Review Text and Blue Background Images Copyright © 2012 by Mark Davies
Page Created 20 May, 2012
Last updated 21 June, 2012
Back to HyperScale Main Page