MiG-29 Fulcrum
Late Type 9-12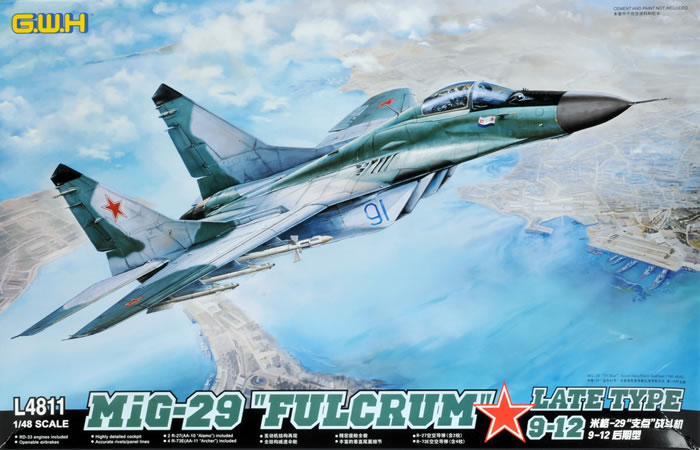 G.W.H., 1/48 scale
S u m m a r y :

Description and Item No.:

G.W.H. Kit No. L4811 - MiG-29 Fulcrum Late Type 9-12

Contents and Media:

198 parts in medium grey plastic; 8 parts in clear plastic; two photo-etched frets; clear printed acetate sheet; two decal sheets covering three aircraft

Price:

TBA

Scale:

1/48

Review Type:

First Look

Advantages:

Beautifully detailed; crisp and finely recessed panel lines; full engine detail and optional external engine stand; amazing one-piece rockets; clever parts breakdown and engineering; many optional position parts including intakes, auxiliary vents, speed brakes and undercarriage; canopy free from seam lines; includes photo-etched parts; thoughtful packaging.

Disadvantages:

Recommendation:

At last, a state-of-the-art MiG-29 in 1/48 scale. G.W.H. has exceeded their own high standard with their first modern aircraft subject. This kit is beautifully detailed and features superb surface textures. Highly Recommended.
Reviewed by Brett Green


G.W.H.s 1/48 scale MiG-29 will be available online from Squadron.com
The MiG-29 is a fourth-generation Russian air superiority fighter that originally entered service with the Soviet Union in 1983.
It remains in widespread service today with the Russian Air Force, former states of the Soviet Union and a range of export countries,
Monogram released a 1/48 scale MiG-29 not long after the aircraft was first publicly displayed in the West in Finland during 1986. The model was based on photographs and was consequently inaccurate as a result. Academy followed with their kit during the 1990s. Although it featured crisply recessed panel lines, it too was inaccurate in a number of important areas and also suffered from poor fit.
---
What's in the box?
The latest model from the company previously known as Great Wall Hobby, G.W.H., is also their first modern aircraft subject. G.W.H.'s 1/48 scale MiG-29 Fulcrum 9-12 Late Type comprises 198 parts in medium grey plastic, eight parts in clear plastic, two photo-etched frets and decals for three aircraft.
Surface detail is made up from a combination of fine, crisply recessed panel lines and recessed rivets of various sizes, some of which are almost invisible at certain angles. Hinge lines, intakes, bumps and vents compliment the panel detail to good effect. The surface and structural features are really very impressive. Note that I have intentionally photographed some of the parts into the hard light of my studio flash, which tends to exaggerate the effect - the features really are very fine when viewed under normal light.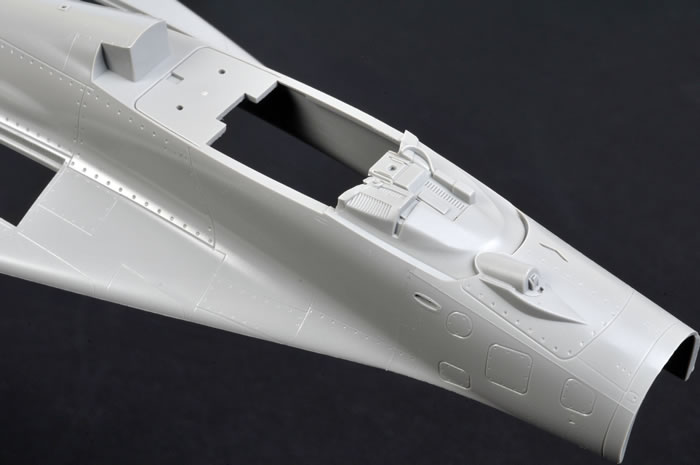 The kit is sensibly broken down into upper and lower "pancakes" incorporating the wing and fuselage elements in a single piece each. These large parts are carefully packed to avoid damage during shipping and storage. The upper fuselage requires no inserts for the single-seat configuration, reducing the amount of joins and potential for misalignment. If G.W.H are planning either a two-seater or a hump-backed MiG-29 9-13 (oh please do a 9-13!), a whole new upper fuselage will be required.
The cockpit is fitted out with an eight part plastic ejection seat supplemented with a further five photo-etched parts, including the harness. Photo-etched parts are also used to detail the rudder pedals, gunsight and pilot's mirrors. The instrument panel is injection moulded plastic. Individual dials are supplied on the decal sheet. These are clearly marked with numbers, with a corresponding illustration in the instruction sheet.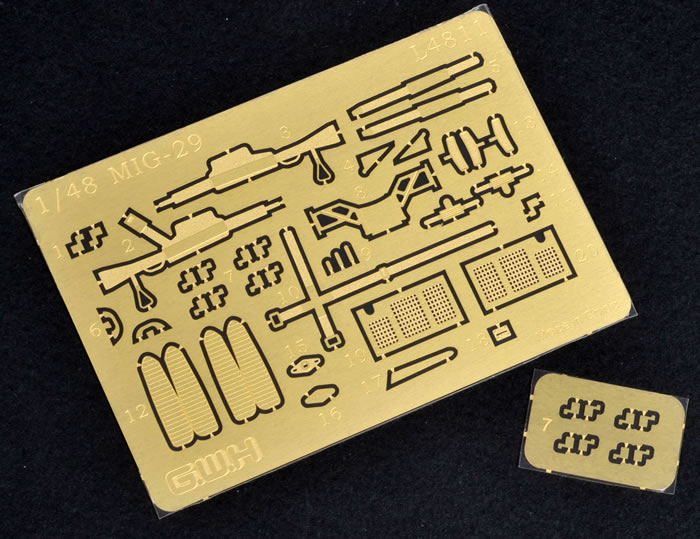 The canopy parts are impressively thin and sparklingly free from distortion. Even more impressive is the absence of the usual centreline seam down the centre of the main canopy part - no cleanup required here! Of course, the canopy may be posed either open or closed.
The windscreen is moulded with two faint lines down either side. These are not moulding seams, so do not remove them. They represent the structural rods fitted to the inside of the windscreen of the real aircraft. You could try painting these fine lines from the inside, but I think they will look just fine as they are.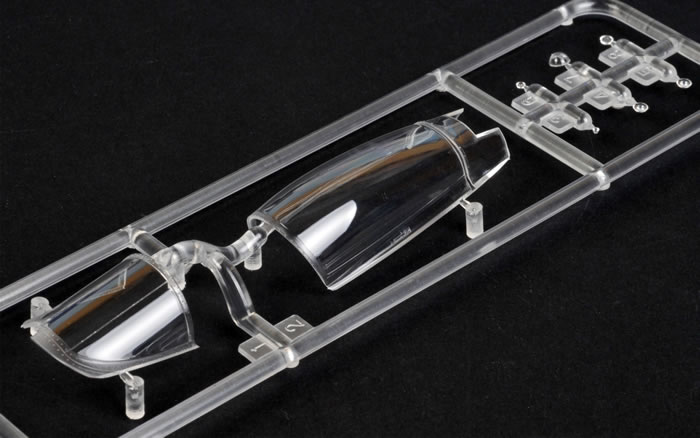 Separate parts are supplied for either open or closed auxiliary intake vents on the top of the fuselage - a really nice touch. Alternate cannon vent panels (open or covered) are included too. Speed brakes may be posed open or closed.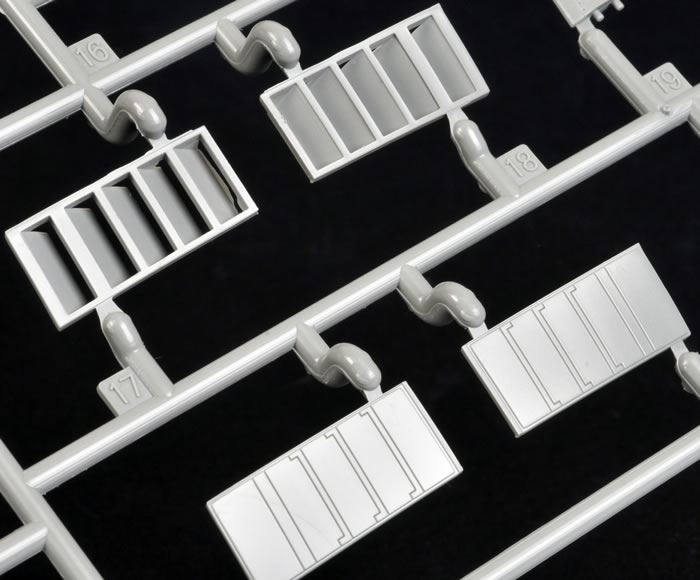 The wheel wells are comprehensively detailed with structural features moulded in place.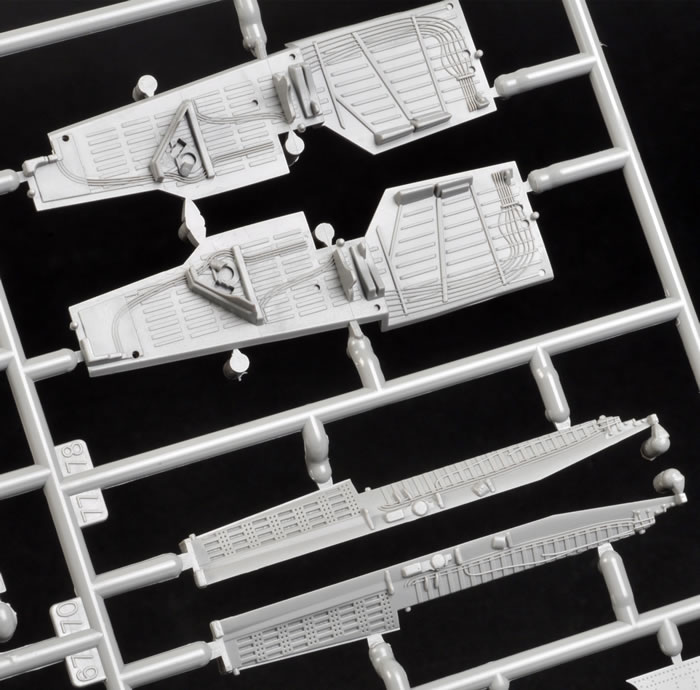 Two full engines are included. The intake fans, engine bodies and exhausts are some of the best I have seen in a 1/48 scale plastic kit. In fact, I would suggest that they are up to the standard of some after-market resin parts. if you just cannot bear to hide the engines away inside the fuselage, G.W.H. has supplied an engine stand to display this little masterpiece separately.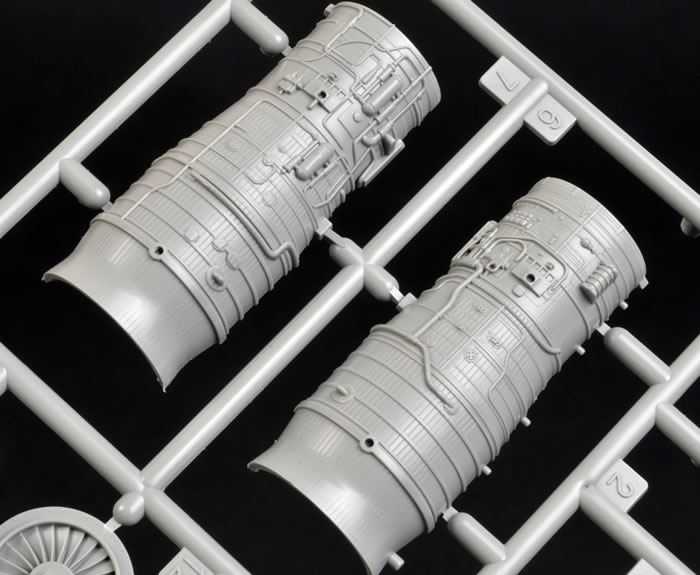 Undercarriage parts are also very well detailed. The tyres are injection moulded plastic, which will please modellers who do not like working with vinyl tyres (myself included).
A large centreline fuel tank is supplied along with two slim wing mounted tanks.
Additional ordnance includes two R-27R and four R-73R missiles. These are truly a remarkable achievement in modern moulding technology. They are all presented in one piece each, with their fine fins moulded in place. They really have to be seen to be appreciated.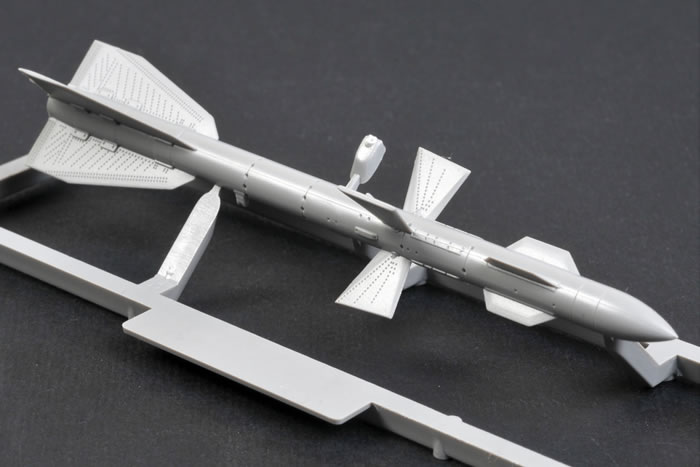 The decal sheet is well printed, and includes markings for three Fulcrums:
"44 Blue", Russian Air Force, 20th IAD/404th IAP/Sqn. 1, Orlovka AB

"91 Blue", Soviet Navy Black Sea Fleet, 119th MIAD

Syrian Air Force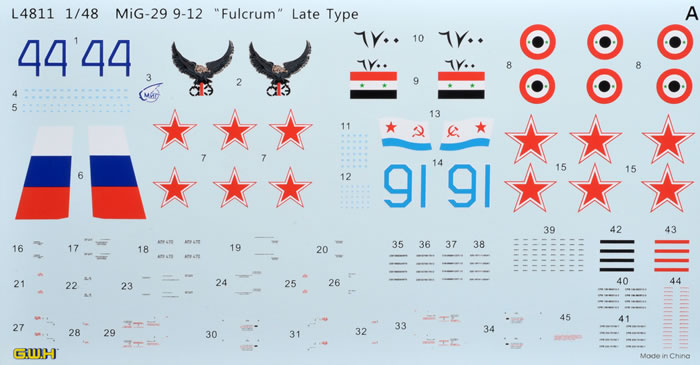 All are finished in light blue overall with green-grey disruptive camouflage.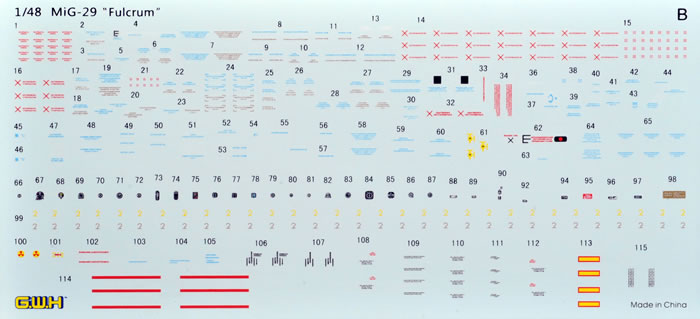 A separate decal sheet is provided for stencil markings.
At last, a state-of-the-art MiG-29 in 1/48 scale!
G.W.H. seems to be a company determined to learn and improve from every new release.
G.W.H. has exceeded their own high standard with their first modern aircraft subject. Their 1/48 scale MiG-29 9-12 Late Type is beautifully detailed and features superb surface textures. Despite the level of detail, parts breakdown is quite conventional and construction should not present any problems to modellers with a few plastic kits already under their belts.
I look forward to hearing if G.W.H. is planning to expand their Fulcrum family to include the current 9-13 hump backed version too.
Thanks to Great Wall Hobby for the sample
---
Review Text and Images Copyright © 2012 by Brett Green
Page Created 21 November, 2012
Last updated 21 November, 2012
Back to HyperScale Main Page
Back to Reviews Page