Heinkel He 219 A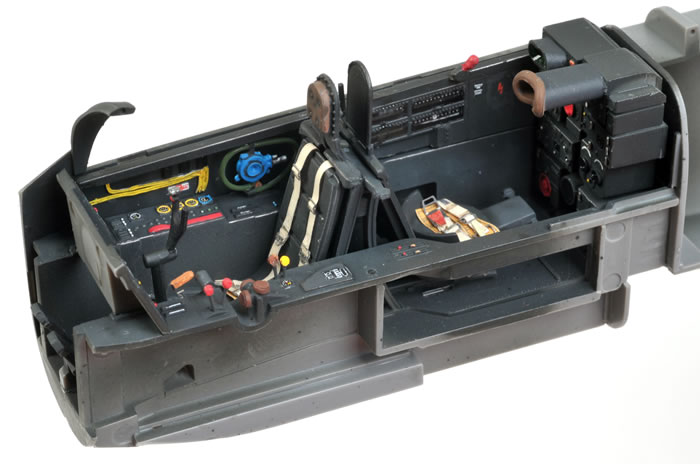 Revell, 1/32 scale
S u m m a r y

Catalogue Number:

Revell Kit No. 04666 - Heinkel He 219 A

Scale:
1/32
Contents and Media:

247 parts in medium grey plastic; 14 parts in clear; markings for six aircraft

Price:
Review Type:
FirstLook
Advantages:
Crisp and restrained surface textures; high level of detail; optional parts to build He 219 A-2, A-5 or A-7; positionable control surfaces; solid and straightforward engineering; nice clear and thin transparencies;
Disadvantages:
Some understated cockpit detail.
Conclusion:

Revell's 1/32 scale Heinkel He 219 is well detailed, thoughtfully engineered and keenly priced. This is clearly another big winner from Revell, in every sense of the word! Highly Recommended.

Reviewed by Brett Green


HyperScale is proudly supported by Squadron.com
The British night-bombing campaign over Germany was in full swing by mid-1943.

Germany's air defences used radar-based technology to counter this threat from the summer of 1941. These early tactics involved ground-based radar guiding a fighter into a zone where it could then engage the enemy aircraft.

Swift improvements in technology soon allowed more sophisticated radar to be installed in night-fighter aircraft, permitting more independent operations. However, the size, weight and additional workload imposed by the radar meant that the aircraft needed to be fairly large and manned by at least two crew - a pilot and a radar operator. Consequently, the aircraft used as night-fighters tended to be bomber or zerstorer types adapted to the role out of expediency. The Messerschmitt Bf 110, Dornier Do 17 and 217 and the Junkers Ju 88 formed the backbone of the Luftwaffe's night fighter units.

Although the Ju 88 was quite well suited to the role, other types were barely capable of keeping up with the bomber stream.

Heinkel commenced work on a purpose-built night fighter as early as January 1942. The Heinkel 219 V1 flew for the first time on 15 November, 1942. The road to production was plagued with supply problems and interference by the RLM. Only 320 He 219s had been delivered to Luftwaffe units by the end of 1944.

Nevertheless, the aircraft was by far the best production night-fighter the Luftwaffe could field. Even equipped with its massive offensive firepower of four 30mm MK 108 cannon, two 30mm MK 103 cannon and two 20mm MG 151 cannon, it could still attain a top speed of 416mph. Its flight characteristics were forgiving, and it proved to be easy to maintain under operational conditions.

I/NJG 1 was the only Gruppe to be equipped with the He 219, although a small number of aircraft were attached to other units on the western front, including NJG 3.
---
Tradition!
Revell USA established a tradition in the 1960s and 1970s with their iconic 1/32 scale fighter kits. Surely any modeller who was a child of this era prized their 1/32 scale Revell Spitfires, P-40s and Bf 109s above the regular 1/72 scale run-of-the-mill. I know that they were spectacular to my young eye at the time.

Revell of Germany has resurrected this large-scale tradition over the last decade with some remarkable new large-scale releases. The difference is that these new models benefit from 21st century research, much higher levels of detail, and fewer gimmicks. One thing that has not changed, however, is Revell's affordable price tag.

In my opinion, the most impressive of these recent offerings has been the 1/32 scale Junkers Ju 88 A-1, the Heinkel He 111 and the Arado Ar 196.

Now Revell is about to release the best of the Luftwaffe's night fighters, the Heinkel He 219, in 1/32 scale.

I was fortunate to receive a test shot of this kit, due for release around December 2012. The sprues are from the third generation of test shots. They are not quite production standard at this stage, but they are close. The differences between what you see in these photos and the final kit are likely to be cleaner parts with less flash, no scuffing on the plastic, and more highly polished moulds resulting in shinier clear plastic.

My test shot was accompanied by a pre-production set of instructions (almost ready by the look of it), and a complete sheet of decals. In other words, I had enough to build the kit!

Revell's new 1/32 scale Heinkel He 219 A comprises 247 parts in grey plastic and 14 parts in clear, with markings for an impressive selection of six aircraft.
The kit offers optional parts that will allow the modeller to finish this He 219 as an A-2, an A-5 or an A-7.

These options include blanked-off lower gun ports, three styles of canopy including one with the NAXOS radar bulge, two styles of spinner hub, early and late FuG 220 Lichtenstein SN-2 radar, NAXOS tail radar, Schrage Musik cannon and more.

Surface detail is mainly by way of crisp and consistently recessed panel lines. By consistent, I mean that the depth and emphasis of the lines is the same even on complex parts with multiple curves such as the fuselage halves. By the way, the lighting used in the photography tend to overemphasise the panel lines. They really are very fine.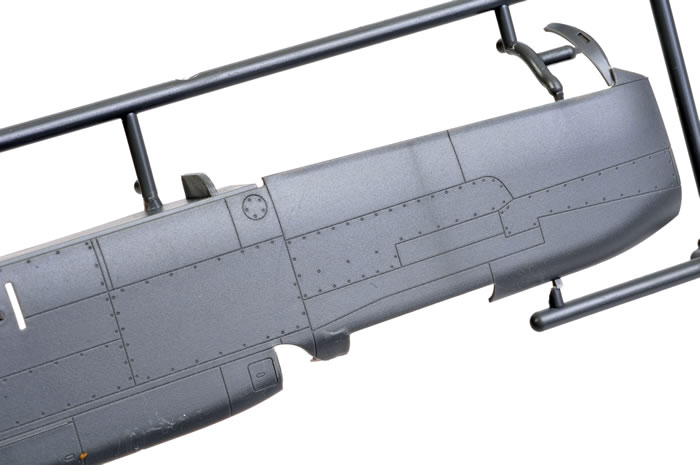 Detail is excellent. The cockpit is very well fitted out and looks accurate. The only areas that could use some improvement are the half-hearted moulded-on harness straps (shoulder harness only for the pilot and lap straps for the radar operator); and the understated throttle and mixture quadrants on the portside console.

The instruments are supplied as individual decals that are applied over flat circles inside raised bezels. I really like this approach and I have already applied all the instrument decals to my cockpit. They look convincing and performed perfectly under a coat of Solvaset.


The wheel wells and landing gear are also well detailed. The nose gear and pilot's ladder bays are integrated with the cockpit sub-assembly.

All control surfaces including landing flaps are separate and may be posed neutral or deflected / dropped. The annular radiators inside the forward engine cowls are correctly depicted by five separate elements on each side.

The engineering of this kit is similar to others in Revell's latest generation of 1/32 scale kits. The wings are held in place by a pair of stout spars that are fitted between the fuselage halves, which should result in a robust fit and perfect dihedral. There are long dorsal and ventral inserts for the fuselage, which means that seam lines will not fall on the centreline but on natural panels.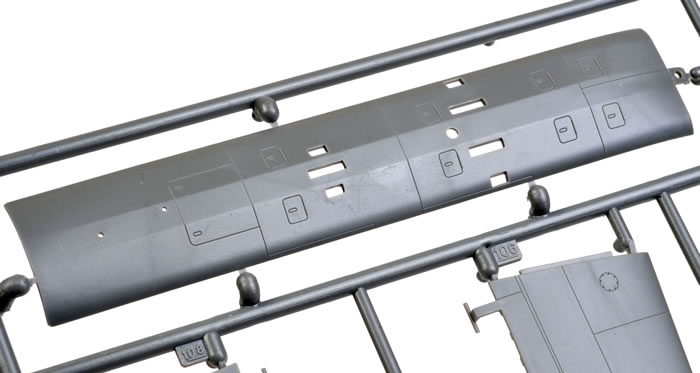 There are a few holes that need to be drilled out depending on what variant you are building, so make your decision early and keep an eye on the instructions.
The 14 clear parts include options for three styles of canopy and an innovative starboard cockpit sidewall that depicts the switch display - nice touch.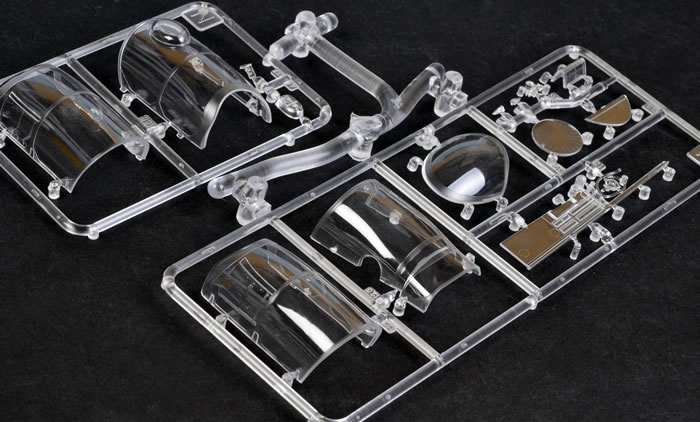 Markings for six aircraft are included – five from NJG 1 and one attached to NJG 3. Five of the aircraft are finished in RLM 76 Light Blue lower surfaces with an RLM 76 and RLM 75 mottle (or squiggle) on top. The remaining aircraft sports black lower surface with mottled upper surfaces.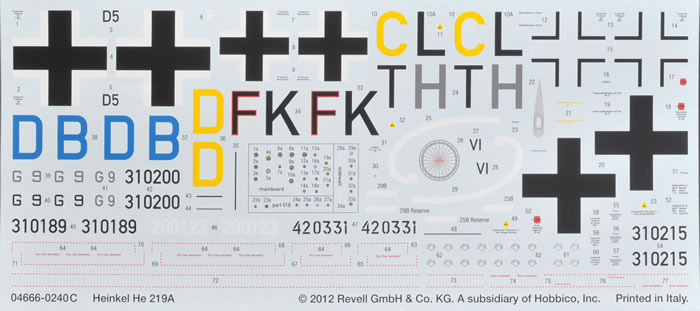 Although the instructions quite reasonably call out RLM 76 Light Blue and RLM 75 Grey Violet for the upper surfaces, based on the example at the Smithsonian Institution this may well be the "sky green" colour in a tight squiggle over grey.
---

The Building Experience (so far)
I have already finished the cockpit and will be sealing up the fuselage tomorrow. A few photos of the cockpit under construction are included here.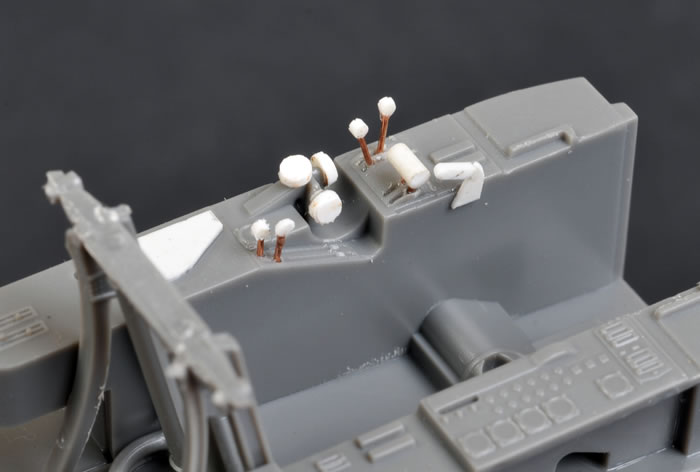 Engineering and fit have been superb so far. As mentioned earlier, the instrument decals are all straight from the Revell decal sheet.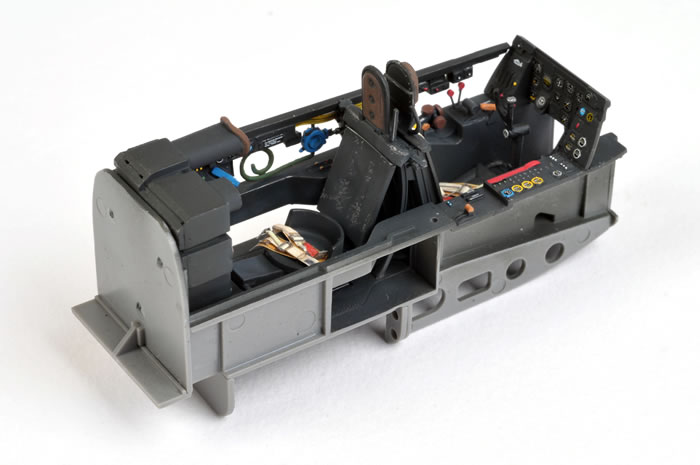 The only additions here are two sets of HGW harness straps, several Airscale placard decals and some scratch build handle and knob detail on the port side pilot's side console.
In common with its recent large-scale siblings, Revell's 1/32 scale Heinkel He 219 is well detailed, thoughtfully engineered and keenly priced.
Although it is undeniably a large model, all indications so far suggest that it will be a straightforward build with no major challenges.

This is clearly another big winner from Revell, in every sense of the word!

Highly Recommended.
Revell model kits are available from all good toy and model retailers. For
further information visit www.revell.eu
---
Text and Images Copyright © 2012 by Brett Green
This Page Created on 6 September, 2012
Last updated 7 September, 2012
Back to HyperScale Main Page