Messerschmitt Bf 109 G-2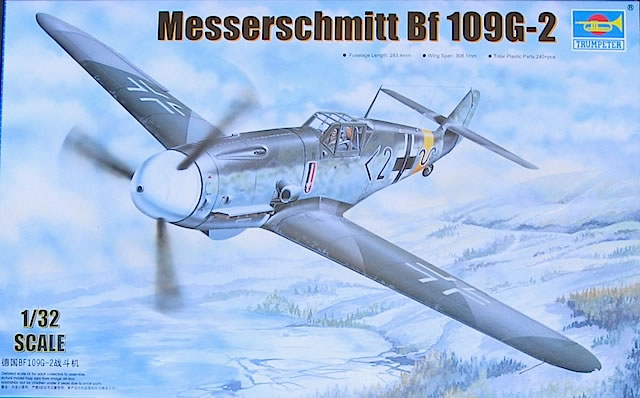 Trumpeter, 1/32 scale
S u m m a r y :

Catalogue Number:

Trumpeter kit no.02294 – Messerschmitt Bf 109 G-2

Scale

1/32

Contents and Media

Approx. 210 mid-grey plastic parts; 11 clear plastic parts; three rubber tyres; two frets of photo-etched detail parts; one waterslide decal sheet containing markings for three aircraft; A3 double-sided full colour painting and marking guide; 12 page A4 black and white instruction booklet

Price

Distributed in Australia by J.B. Wholesalers; retail price around AUD$56.99

Review Type

First Look

Advantages

High quality and well detailed mouldings

Disadvantages

Inaccurate rudder; rubber tyres

Conclusion

A good kit of one of the best looking Bf 109s – highly recommended
Reviewed by Brad Fallen


Trumpeter's 1/32 scale Messerschmitt Bf 109 G-2
is available online from Squadron for USD$21.99!

The Messerschmitt Bf 109 G-2 and its pressurised stablemate, the G-1, arguably represent a tipping point in the development of the Bf 109, beyond which the Luftwaffe's demands for increased performance began to exceed the design's capacity to meet. The G-1 and the G-2 were fitted with the new, more powerful Daimler-Benz DB 605 engine but retained the armament of the earlier F-4: two MG 131s mounted over the engine and one MG 151/20 firing through the spinner. This gave them a better power-to-weight ratio than the later, harder hitting but more sluggish G-6, which was (generally speaking) driven by the same engine. The early Gustavs were by no means perfect: Hans Joachim Marseille died when his G-2's engine failed during his first mission in the type. But once the bugs were ironed out, the G-2 proved itself as an excellent air superiority fighter, particularly on the Eastern and Mediterranean fronts. It entered service in mid-1942 and almost 1600 were built, about a third of them tropicalised machines.

The Bf 109 G-2 has been well represented in kit form, with Hasegawa's 1/32 example one of the best. Trumpeter released a 1/24 G-2 nearly a decade ago, which like the rest of its large scale Bf 109s received mixed reviews. The reception of Trumpeter's more recent 1/32 Bf 109 series has also been varied. The Emil kits have some inaccuracies, but build into satisfactory replicas. Mick Evans reviewed the F-4 kit here on Hyperscale in February 2011 and concluded that – while he liked the kit – it did not represent an F-4 but rather…a G-2!
It therefore comes as no surprise that, nearly two years later, Trumpeter has released a dedicated 1/32 Bf 109 G-2.
First impressions upon opening the box are that it is very full. Trumpeter has provided a lot of kit: 11 individually packaged sprues holding more than 200 parts, as well as two photo-etched frets and a big-ish decal sheet. This kit is considerably more ambitious in scope than the 1/48 Trumpeter kits I have recently seen.

The grey plastic parts are moulded to Trumpeter's usual high standard, with restrained panel lines and no obvious flash or sink marks. There are plenty of rivets, but they are very fine and should look good under paint. Engineering looks sensible, and construction should be straightforward. All control surfaces are separate, but appear to be designed to fit in the neutral position – if you want to reposition any of them, you will need to do some surgery on their placement tabs, at least.
An option is provided for displaying the upper engine cowls in the open position, and the cowls themselves have some nice structural detail on their inner surfaces. Unfortunately interspersed between this detail are some big ejector pin marks, which will be tricky to remove without doing some damage to the surrounding plastic.

A full DB 605 engine is provided, that with careful construction and painting will look very good. The moulded-on spark plug leads (a feature I don't normally like) appear convincing, and the individual, hollowed-out exhaust stacks are really lovely – a long way from the solid, chunky exhausts of the 1/24 Airfix Bf 109 E that I built as a teenager!

The cockpit is an improvement on that provided with Trumpeter's 1/32 Emil kits. All of the key features appear to be present, and while details are not up to aftermarket standards, the whole thing is suitably busy. Detail is built up in layers, and includes the option of a photo-etched seat pan that will require careful folding, but which will look good once installed. Etched rudder pedals and seat belts are also provided. The layout of dials on the instrument panel is accurate, although I would avoid the supplied one-piece decal – which is very bland – and instead use individual decal dials from one of the several manufacturers now producing these.

The three-piece canopy is well produced. It is thin, crystal clear and very well packaged, making damage during transit most unlikely.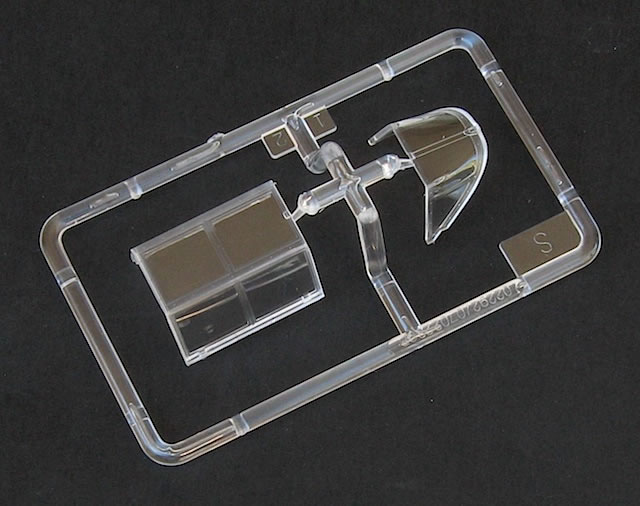 A comparison of the kit's main airframe components with the 1/48 plans in Lynn Ritger's SAM Datafile indicates that dimensional accuracy is pretty good. The fuselage and wings are the right shape, and almost all vents, hatches and panels are in the correct location. One anomaly that was pointed out in reviews of Trumpeter's earlier F kits was the undernourished rudder, which has not been corrected in this release. It's one of those things that once you're aware of you can't ignore, and which definitely needs to be fixed or replaced.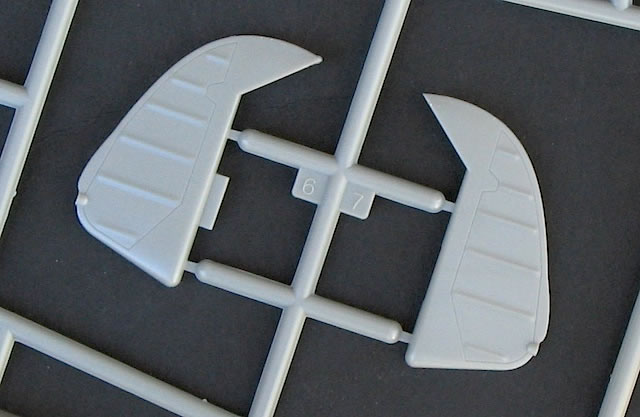 Rib detail on some of the control surfaces is also overdone, and is best sanded down to a more restrained level.

The shape of the spinner and propeller blades – something that has proven elusive for many kit manufacturers – looks reasonably accurate. However, Trumpeter has not captured the subtle shape of the cut-outs in the spinner where the propeller blades join the hub (although again, Trumpeter is not alone in this regard).

Trumpeter is unfortunately persisting with its rubber tyres, which I don't like at all – although I accept that not everyone shares this bias. While these tyres can be made to look acceptable, I will be replacing mine with aftermarket items.

The assembly instructions are set out clearly in black-and-white over 15 steps and 12 A4 pages. Trumpeter's suggested construction sequence looks OK, but some of the cockpit and engine assembly steps are complex and should be studied carefully before glue is applied. Interior colour call outs are usefully provided in both Mr Hobby and RLM paint numbers.

---
Marking Options
Trumpeter provides decals for three Bf 109 G-2s, all Eastern Front-based aircraft finished in variations of RLM 74 Grey Green and RLM 75 Gray Violet over RLM 76 Light Blue, with RLM 04 Yellow theatre identification markings:
Bf 109 G-2, 'Black 2' flown by Gunther Rall, JG 52, Russia 1943

Bf 109 G-2, 'Yellow 1', also of JG 52, Russia, Summer/Fall 1942

Bf 109 G-2, with a single black chevron and two horizontal bars, of JG 3, 1942, location not identified.
I'd have that, given the wide variety of paint schemes and markings that were applied to G-2s, these are a fairly conservative set of choices from Trumpeter. Fortunately, if none of the featured schemes appeal, there is a wide range of 1/32 aftermarket decals available for the G-2.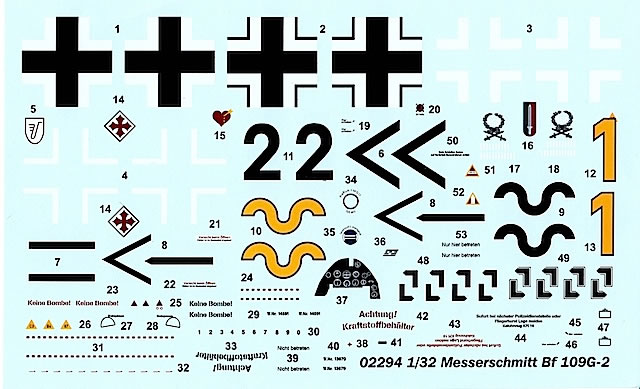 The painting and decal placement guide is one of the highlights of the kit. Printed in colour on a double-sided A3 sheet, the guide provides four view drawings of options A and C, and two side profiles of option B. Colour call outs are provided via Mr Hobby paint numbers, but there is also a handy table that cross-references these with RLM paint numbers and colours, as well as their Vallejo, Model Master, Tamiya and Humbrol equivalents – very useful indeed. Clear decal placement instructions are provided, including for the many small stencils.

The decals themselves appear to be of reasonable quality. The printing is crisp and the registration is good, even on the smaller markings. I don't speak German, so can't vouch for the accuracy of the stencils. An instrument panel decal is provided, which is correct in layout but (as mentioned above) otherwise quite basic. Each swastika has been split into four parts that will require careful alignment.
I haven't had an opportunity to compare this kit with one of Hasegawa's 1/32 Bf 109s, which have set the benchmark in this scale for a number of years. However, Trumpeter's 1/32 Bf 109 G-2 is a good kit in its own right – particularly now that it has been released under its own name, and is not masquerading as a Bf 109 F!
While I'm sure that 109 experts will find plenty in the kit to pick at, the G-2 represents a much better effort by Trumpeter than its 1/32 Emil series. It is well detailed and, with a couple of exceptions, looks reasonably accurate.
The undersized rudder is a frustrating – given that it was a known problem that Trumpeter could have fixed but chose not to – but not fatal shortcoming.
The G-2 is in my mind one of the best looking Bf 109 variants, and this kit should build up into an impressive representation of the type.

Highly recommended.
---
References
Lynn Ritger, The Messerschmitt Bf 109 – A Comprehensive Guide for the Modeller, Part 2: 'F' to 'K' Variants (SAM Publications, 2007)

Dominique Breffort and Andre Jouineau, Messerschmitt Me 109: Volume II – From 1942 to 1945 (Histoire and Collections, 2002, 1991)
Thanks to J.B. Wholesalers for the sample
---

Text and Images Copyright © 2012 by Brad Fallen
Page Created 28 September, 2012
Last updated 28 September, 2012
Back to HyperScale Main Page