Zoukei-Mura's 1/32 scale
Focke-Wulf Ta 152 H
by Douglas Esson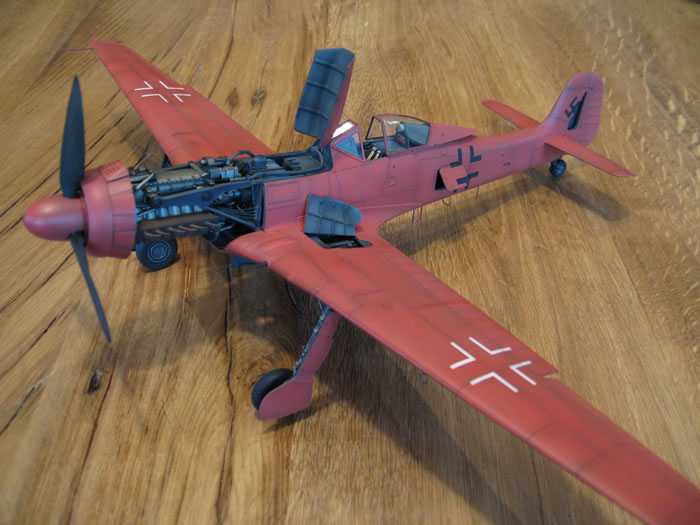 Focke-Wulf Ta 152 H

Hasegawa's 1/48 scale P-39Q/N Airacobra is available online from Squadron.com
I've always loved Kurt Tank's aircraft and in many ways the Ta-152H represents the pinnacle of the "butcher-bird" line. It certainly has the lines & elegance of a thoroughbred and for those with a serious interest, Thomas Hitchcock's outstanding text covers this aircraft in detail.

Having recently dabbled in the 1/32-realm for the first time, I was delighted to see the release of this aircraft by newcomer Zoukei-Mura. I elected to include most of their optional extras (including colored photo-etch, weighted tired & turned gun barrels) in my order and wasn't disappointed.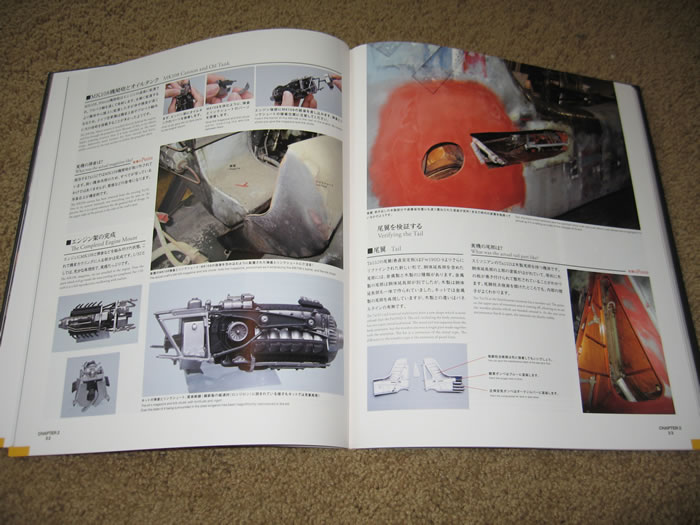 I also ordered the excellent accompanying "Concept Note" booklet, which is packed with useful photographs and step-by-step building & painting tips and I'd highly recommend it.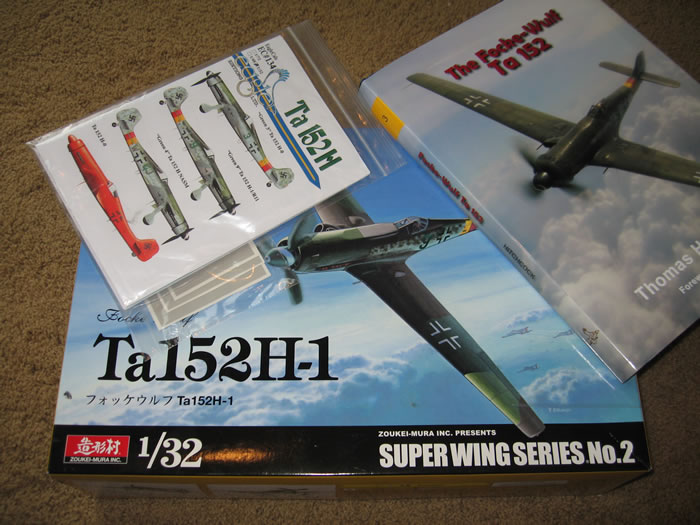 Finally, I ordered an Eaglecals decal sheet (most of which I didn't use with the exception of some small stencils) & a set of "Miracle masks" (thanks Mal!).


The build starts with the cockpit & attached structures and detail is excellent. The etched seatbelts were particularly pleasing, if a little tricky to assemble.
*First suggestion to ZM – lose the multicolored plastic components – pick a neutral color and stick to it. It's difficult to "read" the finish on the gimmicky "silvered" plastic when sanding etc.
The main components went together well, with just a smear of Mr Surfacer 500 to fill fine seams. This product is easily cleaned away from adjacent areas using Mr Thinner, without damaging the plastic in any way, which minimizes the necessity for sanding.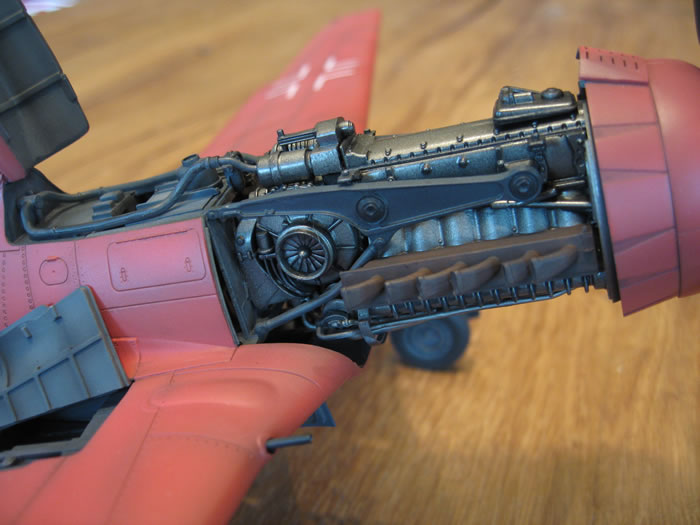 The engine is beautifully molded and goes together easily. Before installing it between the bearers, I airbrushed a mixture of Alclad metallics & Tamiya acrylics before sealing everything under a coat of Future and weathering it sparingly with mixtures of oil-washes & Mig pigments.

All control major surfaces are molded separately so can be positioned at realistic angles. Most components went together extremely well but the notable exception was the tail to fuselage joint, which required filler, profanity, elbow-grease & careful re-scribing!
*Second note to ZM – this type of poorly engineered joint is unacceptable in a kit of this quality & price.
I wanted something a little different from the "common-or-garden" TA-152, and found myself drawn (not for the first time!) to Fritz Aufhammer's red-orange aircraft. Several things are historically unclear which provided me the latitude of an artists eye. Also – the external stenciling on this particular machine was apparently over painted so I'll be keeping those for a future project.
Painting was very simple – a fine coat of diluted Mr Surfacer 1200, gloss black (Tamiya acrylic) pre-shading & then a custom mix for the red-orange.

The clear parts are perfectly molded and come with a set of nicely-fitting vinyl masks but beware – after drying under a coat of paint mine began to "curl" away from the underlying clear parts.
*Third note to ZM – the inclusion of masks is an excellent addition to this kit but I'd suggest re-evaluating the material from which they're cut.

Finally, panel lines were gently accented using "Flory/Promodeler" wash and several recesses weathered using a mix of Mig pigments and pastels.
This project was fairly simple and highly enjoyable. I'm thrilled that ZM has climbed into the ring with their expanding range of outstanding kits and can't wait for more to come…
No sooner had I put weathering pigments away, than my doorbell announced the delivery of a small package from the UK – "AIMS" HUGE mistel warhead in 1/32 scale. I can honestly say that I'm looking forward to taking the front-end off Revell's new Ju-88 & mating an Aires 109 engine to the attached fighter, more than I have ever looked forward to a modeling project.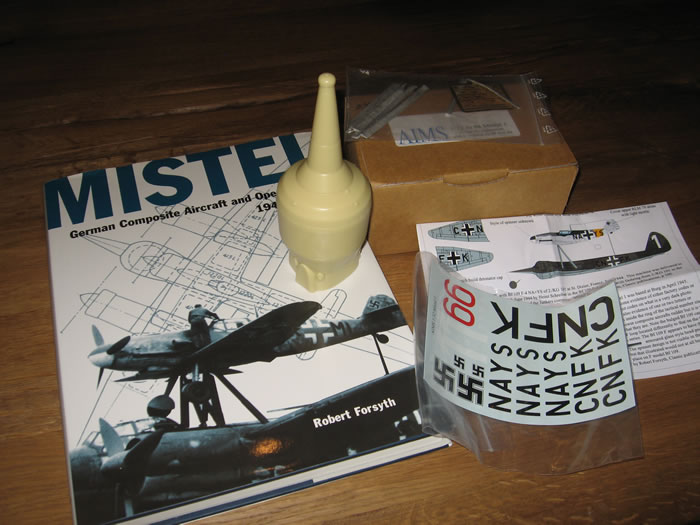 Even as I type, I see that Wingnuts has released their stunning DVII.
There is seemingly no end to the incredible options being put before us.
I'm going to need more spare time!

Best wishes to all from SoCal
---
Model and Text Copyright © 2013 by Douglas Esson
Page Created 18 February, 2013
Last Updated 20 February, 2013
Back to HyperScale Main Page