Airfix 1/72 scale
Spitfire F. Mk .22
by Roger Hardy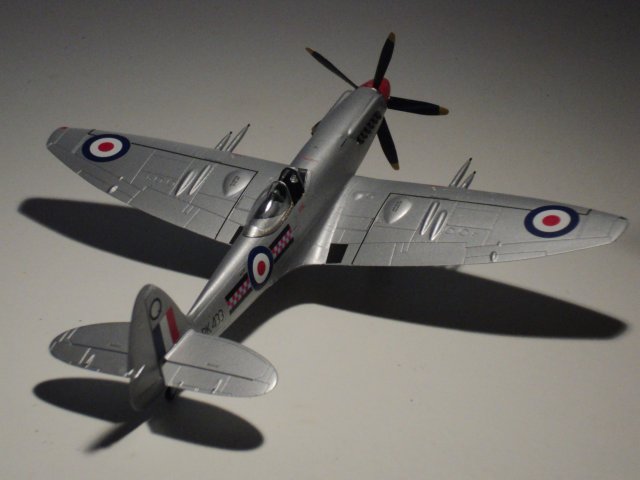 Supermarine Spitfire F. Mk. 22

Airfix's 1/72 Spitfire F.22 is available online from Squadron
for only USD$7.99
This kit came as a surprise to me, following shortly after the Xtrakit limited run release of the same mark and also shortly after the PR Mk.XIX. This kit, however, seems to owe nothing to these others and is an all-new tooling. I remember making the old Hawk kit back in the 1960s….lots of rivets and a Mk 21 fin, so this one is most welcome. I normally make 1/48 and 1/32 scale but wanted to get back into 1/72 scale to make a Lancaster, Sunderland, He111, B17, etc. I did this as a bit of practice and decided to complete it in a day, straight from the box. Did I do it?
OK, first things first. The kit is moulded in very soft plastic and the parts have quite large attachment gates to the sprues, suggesting that this is a low pressure moulding, as we are used to from the cottage industry. The large attachments are a pain when dealing with small parts, but as long as you are careful, it's no problem but you will need sharp side cutters and scalpel. The model features engraved panel lines which are realistic and quite fine. The canopy is in two parts and decals are provided for two variants, one silver, the other camouflaged. This variant was too late for the war so silver makes a nice change for a Spitfire. This was my choice: 603 Sqn, based at Turnhouse in 1951. These aircraft were not natural metal but were sprayed in high-speed silver.
The cockpit interior is quite complete but a little chunky, given the scale. In reality, little can be seen when the model is assembled, so I didn't lose a lot of sleep over this. Seat belts should be added but Airfix include a rather nice pilot figure to make these unnecessary. I didn't use him as I find that painting a crew member realistically is a bit of a mission and needs quite different skills that I don't have. The fit of the parts is extremely good and the trailing edges of the wings and tail surfaces are incredibly thin, actually, rather better than many state-of-the-art 1/48 kits I have built. I didn't follow the instructions because I wanted to spray the assembled aircraft silver and wanted it to be as complete as possible, so the prop, spinner and wheels went on last. If I'd been more careful with my liquid poly, the joints would have needed little fettling, but be aware that if you use runny glue, as I do, then you risk it squeezing out when parts are squeezed together. This is particularly true for the underwing joint between the wing and flap. In any case, a little Mr Surfacer and a scrape of the joints produced the finish I wanted for the silver spray. I used Alclad II Aluminium (a wonderful range of metallic finishes).
The decals are first class, the same standard as after-market decal sheets. Considering that this compete kit costs less than an Xtradecal sheet, this was a surprise and bodes well for the future standard of New Airfix. The decals need very little soaking and go on well; I didn't use Microsol or Microset as they seemed unnecessary. There is a myriad of tiny stenciled instructions, all of which also went on well….not one was lost!
So, overall? The look of the kit is absolutely right, it is delicate and accurate. It looks, to me, like a 1/48 scale kit in terms of quality and is a little jewel. I started it at 10:30, took a 2-hour break and it was finished by 19:30. So, my mission impossible was accomplished!
A Spitfire in a day. Fab.

---
Model, Images and Text Copyright © 2013 by Roger Hardy
Page Created 17 April, 2013
Last Updated 19 April, 2013
Back to HyperScale Main Page